Tasting Panel - Strong Beers
September 18, 2019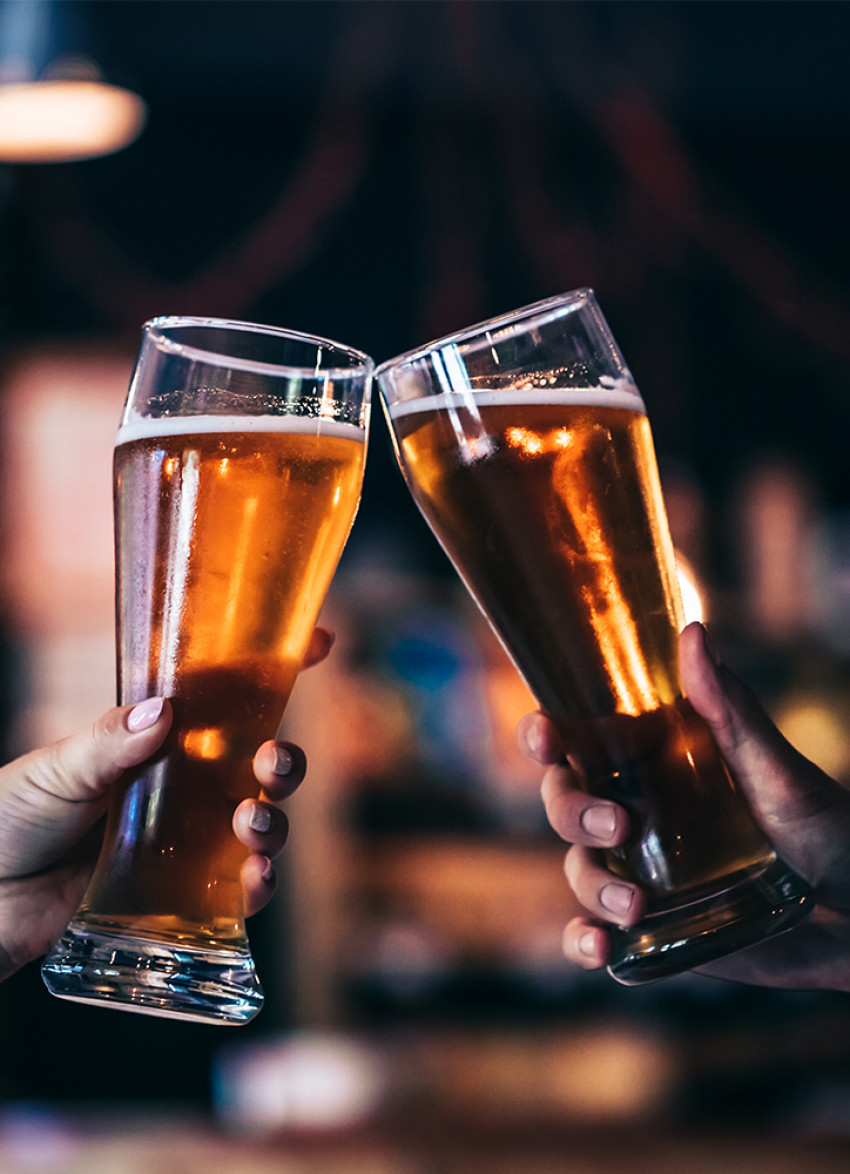 A beer's a beer's a beer right? Heck no! Our judges took on New Zealand's strongest beers to find the best of the big guns…
While the summer months are all about smashing through those crunchy, crispy, hoppy McHop face pilsners, pale ales, lagers and session brews, at dish we couldn't resist casting our gaze forward to cooler climes in order to slow down and embrace something more deep and meaningful. Something complex, comforting and constructed in such a way as to grip us around the gills and gums and leave a lasting impression on the palate. Strong beers it was to be. For us that means looking at the best New Zealand-brewed beers that rocked in at 6.5 per cent or higher.
"I like to think of strong beers as the symphony orchestra of the beer world," announced judge Martin Bridges. "More instruments mean more possibilities. They can be big and brash but also
multi-layered and subtle."
These styles are generally not quaffing beers (although a couple of the best examples in the tasting were dangerously drinkable), rather, according to our judges, they're beers to enjoy with friends while you put the world to rights, or to sip alone in quiet contemplation on the deck at the end of the day.
"They're also excellent food beers," adds Martin. "All those complex flavours pair well with a variety of dishes. Try a Belgian tripel with shellfish, or a barley wine with aged cheddar, and you haven't lived until you've poured an unctuous imperial stout over good vanilla ice cream." Yvonne and Cameron both nodded in the 'what he said' manner.
Our entire team were more than mightily impressed with the wide range of styles entered in the tasting, from IPAs through to imperial stouts and then into Belgian styles such as tripels and quadrupels.
"There were some amazingly delicate beers, as well as big bruisers," noted Martin. In fact our top beer of the tasting was not, as you might expect, a heaving, heavy, dark and inky example. Rather a beautifully balanced, deliciously decadent double IPA, which was also joined in the top tier by a Trappist Tripel Ale among the dark lords, porters and stouts. Something many brew fans don't often consider is the ageing potential of these stronger-structured beers.
"High alcohol examples can be cellared in the same way as fine wine," adds Martin. "I like to buy several bottles of, say, a big imperial stout and open one every Christmas to check on how its character is changing".
The quality of entries was staggering; 13 per cent in fact reached Gold Medal status. This proves there's no shortage of incredibly drinkable, sexy strong beers to steer you nicely into this new season.
So strap yourself in and let us introduce you to our dish magazine Delicious Dozen!...
---
TOP OF THE TASTING
1. Outlier Cartel Cloudburst Oat Cream Douple IPA 440ml can ($10.90) 8.5% ABV, 75 IBU
★★★★★ Gold Medal
Wow. Wow. And triple wow. This balanced beauty from brewer Carlos de la Barra pulls in huge hoppiness on the nose, hints of manuka honey and is quietly persistent, said Cameron. The hops hit Martin in the face with rocking resinosity (new word). "Light on its feet for such a big beer," he marvelled.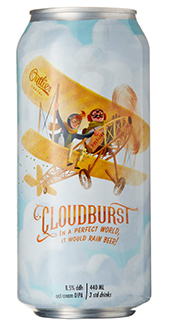 ---
2. Tuatara XV Russian Imperial Stout 500ml ($19.99) 11% ABV, 90 IBU
★★★★★ Gold Medal
"I love this deliciously rich, rumpty brew with its espresso-hued foamy head and aromatic intensity on the nose, that's matched by a long, creamy finish," said Yvonne on the first sip. Cameron felt it was as rich as a Turkish coffee mix, with creamy cocoa and smoky tones. "Other-worldly," sighed Martin, instructing future drinkers to pour over vanilla ice cream.

---
3. 8 Wired Lokomotiv Merlot Barrel Aged Russian Imperial Stout 500ml ($16.99) 11% ABV, 50 IBU
★★★★★ Gold Medal
"Such an interesting, complex and completely delicious beer," said Yvonne. "There's a hint of sour, some baked eggplant and nutty, earthy notes carrying through to the finish too." Martin added this Søren Eriksen-brewed star was unctuous and "black as Trump's soul", while Cameron felt it also showed solid spice, toast and Marmitey magic alongside its thick and creamy texture. A must-sip.

---
4. McLeod's Smugglers Bay 18 Tripel Belgian Style Trappist Ale 500ml ($14.99) 9.3% ABV, 38 IBU
★★★★★ Gold Medal
The huge, lifted aromatics of this beer had Martin seduced from the get-go. "Delicate florals and spice combine with a first impression that's sweet yet not cloying, dry and complex on the finish. It's like sitting in a lavender field with your love." Yvonne and Cameron agreed, adding its fruit intensity, hints of sour and gorgeously persistent, creamy head make this super-tasty.

---
5. Baylands Brewery Van da Tsar Bourbon Aged Russian Imperial Stout 500ml ($14.90) 10% ABV, 40 IBU
★★★★★ Gold Medal
Vanilla fans ahoy! "I love the vanilla and cola lift on the nose of this super stout" remarked Yvonne, while the choco-smoke characters seduced Martin – "It's like dark chocolate ice cream in a glass." That creaminess also made Cameron an instant fan. "No mistaking the Tahitian vanilla and chocolate mix here."

---
6. Sprig & Fern Barrel Aged Imperial Porter 500ml ($9.50) 8.2% ABV, 40 IBU
★★★★½ Silver Medal
With its toasty, nutty notes on the nose and beautiful, caramel-coloured, persistent head, it looks the part, smells the part and after boasting succulent, smoke and cocoa characters on the palate, this beer is mocha magic-tastic in the mouth. The judges were very impressed.

---
7. 8 Wired Baltyk-Tasman Baltic Porter 330ml ($9.99) 9% ABV, 50 IBU
★★★★½ Silver Medal
"It's the bitterness on the back palate that I really like," said Yvonne. "Plus the charred, nutty, cocoa nib notes and lovely length of flavour sing in the glass." Classic, creamy, Marmite, chocolate and caramel characters impressed Cameron, and Martin mused on its blue cheese and liquorice palate and umami-centric finish. "It'd be great with soy noodles."
---
8. Sawmill Brewery Strong Belgian Ale 500ml ($11.99) 8% ABV, 30 IBU
★★★★ Silver Medal
"Ultra-drinkable," declared Martin on the first sip. "Hazy with a soft, welcoming palate and enticing aromas of clove and spice, followed by a dry finish." Cameron also felt its calmness and textural talents alongside apricot and tropical tang in the mouth. "It's a very slick, stylish beer with freshness in spades," agreed Yvonne.

---
9. Sawmill Brewery Baltic Porter 500ml ($10.99) 8% ABV 27 IBU
★★★★ Silver Medal
"Darkly enticing to look at," said Martin "like the goth girl at the school disco. Yet it's surprisingly approachable. Soft, sweet but with a dark edge." Yvonne enjoyed its refreshing texture and savoury characters, while Cameron added that "roasted hazelnut, coffee and a hint of Bovril" is what booted this straight into silver medal territory.

---
10. Three Boys Imperial Oyster Stout 330ml ($9.99) 12% ABV, 58.2 IBU
★★★★ Silver Medal
"Chewy, chompy and boasting an espresso-shot head of foam, this is highly aromatic and refreshing, succulent and salty," said Yvonne. Cameron noted soy, jaffa and dark berry characters, while Martin called it "layered" and "intriguing".

---
11. 8 Wired Tall Poppy India Red Ale 500ml, ($9.99) 7% ABV, 70 IBU
★★★★ Silver Medal
With its russet-bronze colour, butterscotchy foam, biscuity aromatics and fantastic mouthfeel, this was a dead cert for silver. "Velvety, yeasty and creamy with a fruity undercurrent," noted Cameron.
---
12. Renaissance Stonecutter Scotch Ale 500ml, ($8.99) 7% ABV 38 IBU
★★★★ Silver Medal
"Peat smoke on the nose, like you're sitting by a roaring fire. Sweet, rich and decadent," mused Martin. Cameron loved the baked apricot and Vegemite notes while Yvonne loved the smoky, velvety finish.

---
Look for the Dish Tasting Panel selection sticker, which can be worn by our top wines.

With thanks to Janet Blackman from the Professional Wine Studies Department and the AUT School of Hospitality and Tourism. For more on the programmes in hospitality, food and beverage, and hotel management, visit aut.ac.nz. Water kindly supplied by Antipodes and glasses by Spiegelau.



Enter the dish tasting panel:
dish Tasting Panel - Aussie Shiraz
Our next dish Tasting Panel will focus on Aussie Shiraz, with results to be published in issue 102 of dish, on-sale March 21st 2022. Entries close on 21 January 2022. We'd love to see your Shiraz so please enter here!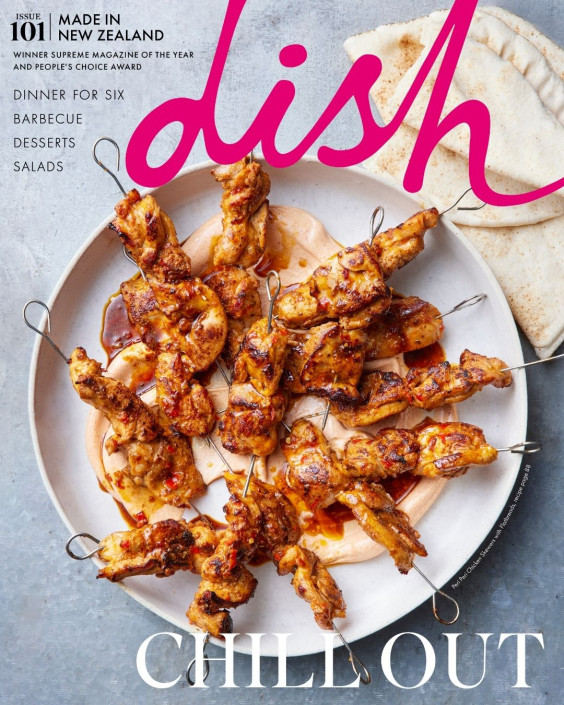 Check out our
latest issue:
Issue #101
It's summertime, and we're getting 2022 off to a sizzling start with the latest issue of dish! We crank up the heat and the drool-factor with our barbecue favourites including tandoori-style chicken and juicy steaks, followed by fresh and vibrant salads that are light on meat but big on flavour. We also, dunk, drip and drizzle our way through summer condiments that are good enough to eat on their own. And our Dinner for Six section is back to serve up another cracking set of menus that will impress your guests. We then speed things up with our latest collection of quick and easy Food Fast recipes before taking our sweet time with decadent bakes and desserts.