Tasting Panel - Sweet and Fortified Wines
Article by Yvonne Lorkin. March 19, 2019
If there's any time of year to get your sweet-freak on, it's now. Our judging team gave their tooth cavities something to scream about – all in the name of hunting out New Zealand's most luxuriously lovely, sweet and fortified wines just for you dear reader...
I adore a good, sweet, sticky wine. To be honest it doesn't even faze me when someone at the table refuses a glass because that generally means more for me. Many people refer to these wines as 'dessert wines', but I think that's terribly unfair. Kiwis have this habit of hiding these wines away (often in the fridge – eeek!) and not bringing them out until the very end of their big, often very boozy, dinner parties when (regrettably) brains are often too foggy and taste buds too tired to really appreciate them. I suggest opening the bottle right at the beginning of the evening to give everyone a sip or two as an aperitif. The sweetness will excite your taste buds,
making you eager for great flavours, and you'll still have enough left over to give everyone a taste at the end of the meal. One of the great misconceptions about dessert wines is that they're loaded with alcohol; not true. As a rule they'll contain between eight and 12 per cent alcohol – less than most dry whites. They're also not fortified with extra alcohol like ports, sherries or liqueurs (we'll get to those later). Another misconception is that they're made by adding sugar to a wine – wrong.
The theory is to concentrate the natural sugars in the grapes and then try not to ferment it all away into alcohol. So how do they end up so sweet?
The 3 main methods:
1 Encouraging botrytis cinerea (noble rot) infection of the grapes on the vine.
2 Delaying the harvest of ripe grapes (late harvest).
3 Freezing the grapes (ice wine).
Liquid gold
Many winemakers feel the botrytis method produces better-balanced wines, and on the shelf those bottles with 'botrytis' or 'noble rot' on the label are a wee bit pricier. So what is it? Well, it's a fungus. If botrytis spores take hold in the vineyard during periods of high humidity and it's uncontrolled, the results can be disastrous because the grapes will rot. However, if suitable conditions prevail (misty mornings, clear fine days, low humidity) then the results can create magic in a bottle.
Botrytis dehydrates the berry, increasing its natural sugar concentration. It also metabolises tartaric acid, which helps maintain the acid balance, plus it increases glycerol levels, creating wines with a more 'silky' mouthfeel. The berries end up looking like dusty, grey, mouldy raisins – heinously ugly – but containing precious drops of liquid gold.
Our blind-tasting of 60 entries was carried out under competition conditions and expertly coordinated by Janet Blackman at AUT University in Auckland. The majority of entries were traditional noble or late-harvest styles; however, our judges also assessed a selection of fortified wines. 'Fortified' wines have had 'spirit' added, raising the alcohol level of the wine to between 17 and 20 per cent and are commonly presented as ports, sherries, liqueurs and Muscat de Beaumes-de-Venise styles. The judging was tough, yet a whopping 62 per cent of wines earned medals, 13 scored silver, and our seven gold medal winners would have lovers of the world's finest sweet wines scratching their heads with disbelief at their value for money. Riesling clearly ruled the roost, but our judges were thrilled to see sensational examples of gewürztraminer, pinot gris, viognier and even an outstanding blackcurrant liqueur in the mix. We are absolutely oozing with excitement at being able to announce our Top 12 New Zealand Sweet and Fortified Wine Panel selection for Christmas 2018 – enjoy!
---
TOP SWEET AND FORTIFIED OF THE TASTING
1. Riverby Estate Marlborough
Noble Riesling 2016 ($35)
★★★★★ Gold Medal
Kevin Courtney of Riverby Estate has the Midas touch when it comes to creating gorgeous sweet wines. Every vintage of this noble riesling has won gold medals here and abroad. "I love the pretty pale bronze colour, the classic toffee and caramelised apple skin characters and its sweet, yet concentrated and refreshing palate," said Yvonne. James also noted its "lovely, glossy golden colour, richness and vibrancy with a creamy, beeswax finish". It showed outstanding balance above all; intense in its sweetness, yet with the acidity en pointe, this wine danced across the tongue and ​leapt ahead of the competition.
---

2. Nevis Bluff
Selection de Grains Nobles Central Otago Pinot Gris 2015 ($35)
★★★★★ Gold Medal
Our judges were wowed by the lifted, candied fruit characters in this wine and its luscious acid line. "Very fresh and delicate," noted James. Jane loved its candied pear and lifted fruit notes and its textural appeal. "The aromas of lanolin, white pepper, baked apples and complex, concentrated musky tones are gorgeous," said Yvonne.
---
3. Villa Maria
Reserve Marlborough Noble Riesling 2016 ($36.99)
★★★★★ Gold Medal
If you're looking for a sweet treat that has lifted and intense mandarin and toffee apple flavours with amazing, zesty textures on the finish, you've come to the right cul-de-sac says Yvonne. "It's gorgeous". Jane and James agreed, detailing marmalade and attractive ginger, stonefruit and spice, lovely acidity and impressive weight and depth of flavour.

---
4. Torlesse
Canterbury Cassis Liqueur NV ($20.99)
★★★★★ Gold Medal
Just the look of this liqueur had our judges reaching for the superlatives. "Exceptional colour!" said Jane. "It speaks so definitively of blackcurrants; such pure cassis!" That purity also wowed James: "Cleanly fruited, enticing and a lovely experience." For Yvonne, the intense purity of flavour, berries, blackcurrant and peppercorn made it pretty much perfect.
---
5. Tupari Wines
Awatere Valley Late Harvest Riesling 2017 ($34)
★★★★★ Gold Medal
"This is a lovely, juicy, refreshing late harvest style," noted James. "It's nicely proportioned, with lifted muscat notes, and beautifully presented, balanced and joyous to drink." Jane was seduced by the peach blossom aromatics and its delicate, fine lines, while Yvonne felt there were also excellent citrus and apple notes upfront.

---
6. Forrest Wines
Marlborough Botrytised Riesling 2017 ($30)
★★★★★ Gold Medal
If there's one thing the Forrest team know how to do, it's produce exceptional riesling. "It's incredibly juicy and fresh and while intensely sweet, it's beautifully balanced," said Yvonne. Jane found it reminiscent of Roxdale apricots and marmalade, and James felt it showed impressive acidity, weight and richness.

---
7. Wither Hills
Cellar Collection Noble Gewürztraminer 2016 ($35)
★★★★★ Gold Medal
Dessert gewürz is a rare thing, so our judges were thrilled to see one at gold medal level. "Beautifully balanced, refined and showing awesome aromatics," said James. "The texture is lovely and weighty." Jane enjoyed its bright, acid lines and purity of flavour. "It has bright, vibrant, Turkish delight notes; it's very subtle, very moreish."

---
8. Auntsfield
Busch Block Marlborough Late Harvest Riesling 2016 ($39)
★★★★ Silver Medal
Bright and sparkly in the glass, with attractive caramelised citrus, this wine was "gorgeous with lovely, pure fruit, lifted florals and deep, stonefruit notes – ethereal," declared Jane. James agreed, saying it was a clean, pretty wine, well-handled and presented, and very very nice.
---
9. Awatere River Wine Co.
Awatere River by Louis Vavasour Late Harvest Gewürztraminer 2014 ($59.99)
★★★★ Silver Medal
This example of late-harvest gewürztraminer is delightful, according to Yvonne. "I love the musky, ginger and luscious lychee layers." Jane added, "It's very bright, vibrant, slightly buttery and has lovely concentration, purity and texture."

---
10. Leveret Estate
Reserve Hawke's Bay Late Harvest Viognier 2016 ($29.90)
★★★★ Silver Medal
Dessert viognier is also uncommon in New Zealand, so our judges were excited to come across one so beautifully made. "With dried apricots and jasmine notes, it's an incredibly luscious, dense and caramelised example," noted Yvonne. Jane liked the botrytis influence, apricot kernel characters and that it was very seductive and concentrated.

---
11. Osawa Wines
Hawke's Bay Noble Gewürztraminer 2016 ($30)
★★★★ Silver Medal
This little cracker from the terraces overlooking the Ngaruroro River has delicious delicacy, freshness and purity said James, while Jane found impressive mandarin, rose petal and fruit friskiness, Yvonne loved the musky, ginger-spiced aromatics and sexy citrus-forward flavours.

---
12. Torlesse
Canterbury 10 Year Old Tawny ($35)
★★★★ Silver Medal
Kym Rayner is incredibly good at crafting sensationally focused, fortified wines from his tiny winery in Waipara. "Awesome leather, soy and savoury notes surround dried fruits and nutty notes in this warm, smooth port," said Yvonne. James loved the nutty, raisined characters and its lovely length of flavour.
Enter the dish tasting panel:
dish Tasting Panel - Aussie Shiraz
Our next dish Tasting Panel will focus on Aussie Shiraz, with results to be published in issue 102 of dish, on-sale March 21st 2022. Entries close on 21 January 2022. We'd love to see your Shiraz so please enter here!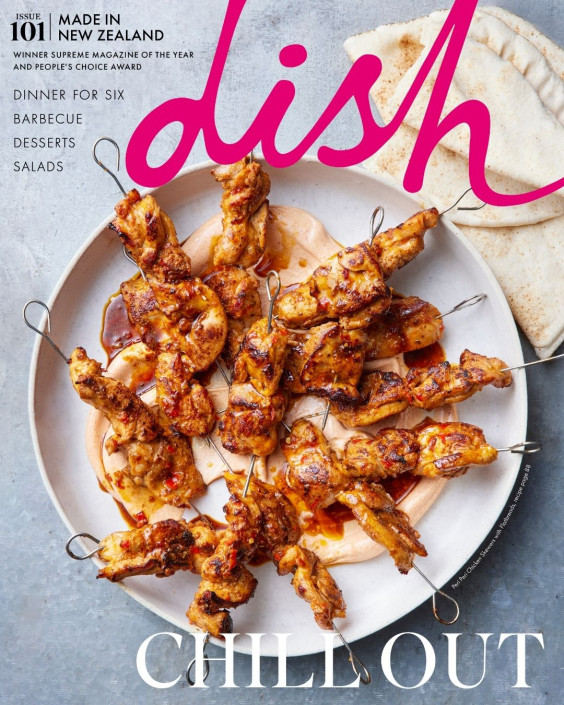 Check out our
latest issue:
Issue #101
It's summertime, and we're getting 2022 off to a sizzling start with the latest issue of dish! We crank up the heat and the drool-factor with our barbecue favourites including tandoori-style chicken and juicy steaks, followed by fresh and vibrant salads that are light on meat but big on flavour. We also, dunk, drip and drizzle our way through summer condiments that are good enough to eat on their own. And our Dinner for Six section is back to serve up another cracking set of menus that will impress your guests. We then speed things up with our latest collection of quick and easy Food Fast recipes before taking our sweet time with decadent bakes and desserts.