Cook the Books – The Huxtaburger Book
Article by David Parker. November 22, 2015
Photography by David Parker.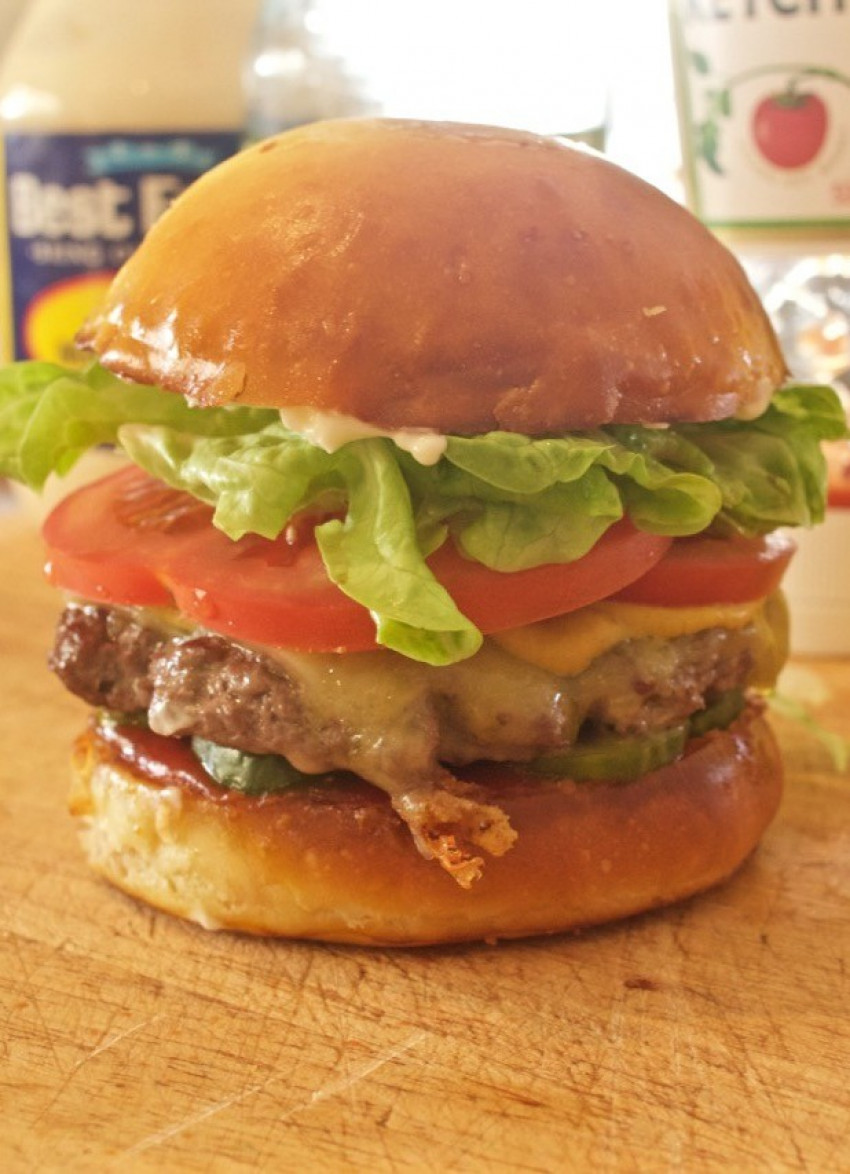 From baking brioche burger buns from scratch to mincing beef for patties and pickling cucumbers, this week David Parker discovered recreating chef Daniel Wilson's Huxtaburger requires more effort than initially meets the eye...
Read Daniel Wilson's original Huxtaburger recipe here.
---
Huxtaburger came heavily recommended to me on a trip to Melbourne in 2013, or as Instagram likes to inform me, 130 weeks ago (I knew those food photos would come in handy for something!).Since then, the burger restaurant has opened at three other locations in the city. From memory it wasn't life-changing. I did have a salted caramel milkshake (how very 2013 of me) that I remember being VERY good though.
Huxtaburger got its name from the owners' first restaurant, Huxtable (a portmanteau of Huxley, as in Aldous, author of Brave New World, and the word 'table'). However, most customers assumed it was named after fictional Cosby Show family, the Huxtables. The team embraced the misconception and designed their chain of restaurants with a Cosby Show theme, naming burgers after characters from the show.
In recent months that decision has become unintentionally controversial and I imagine the book was sent to print before the theme became very regrettable... but I'm here to test the food! I decided to make the Huxtaburger, the burger I ate when I visited the restaurant.
Burgers seem to be the easiest thing in the world to prepare, anyone can make one, right? But if you're starting from scratch there are many components to consider. The Huxtaburger Book provides recipes for almost every other topping or sauce required, but having read a little closer the restaurant itself uses Heinz Tomato Sauce and French's Mustard so for the sake of this review (and my weekend) I decided to follow suit and not make my own. I did however make pickles, I love pickles!

The pickles were easy enough: simply dry roast spices and blend, then boil the mix with vinegar, water and salt and sieve into a bowl. Once cooled, in went chopped lebanese cucumbers (or pickling cucumbers if you can find them). Then I placed a plate on top of the pickles in a large bowl to keep them submerged in the brine for 24 hours before bottling.
When I came to bottle the pickles I tasted a couple of them, they were far too salty and the spice was overpowering. I wasn't about to waste that many pickles though, so I boiled some water and vinegar, separated the cucumbers from the brine and then diluted the pickling brine with new vinegar water. I know it's going against the recipe but I really didn't want to waste all those pickles! They were still a bit too salty for my liking, but they were definitely pickles! It's amazing how simple it is. I will be making them again, but I need to find a really good traditional dill pickle recipe.
I also made the buns: a brioche-like enriched dough with egg and butter. I mixed the egg, salt, sugar, flour and butter in a stand mixer with a dough hook and then added the water and yeast before turning out onto the bench to finish kneading. The dough came together really well, it's quite a wet recipe but came out silky smooth.
Then the dough needed to rise, it didn't really rise as much as I'd like but it was a cold day! I separated it into bun-sized portions and left them to proof. I brushed them with an egg yolk and water wash before cursing myself for having forgotten to buy sesame seeds, I substituted with poppy seeds for some and left the others bare.
The buns came out looking amazing, some of the best looking buns I've ever made! But I'm not so sure about using the plain flour, they didn't have a very bready texture, they were almost cake-y. I think they needed the higher gluten content of a strong bread flour, I would be very interested to see how they turn out with a high grade flour. Other than that they were spot on, the yolk glaze looked amazing, the dough's air pocket structure was very even and they were very soft.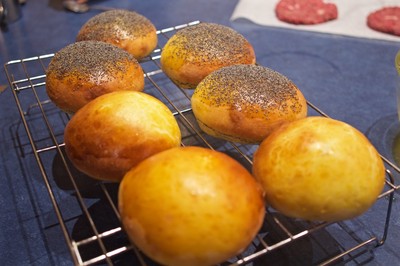 Huxtaburger insist on Wagyu beef but don't seem too fussy about the cut. I had problems finding somewhere nearby (in Oratia) that would mince Wagyu for me as I don't have a meat grinder. If I had time, I would have ventured to Neat Meat in Ponsonby, who would've ground me some no problem. Eventually in my frustration I discovered this article on how to grind meat with a food processor, it seemed to work okay.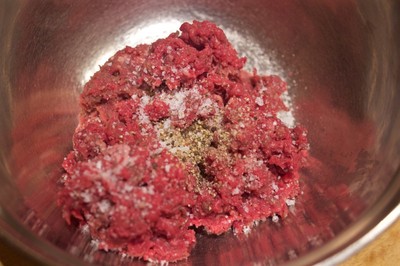 With the meat ground I was ready to start cooking and assembling burgers.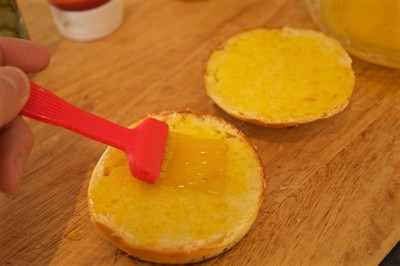 First the patty went into the sauté pan, Huxtaburger give 3-4 minutes on either side as cooking directions but after my first patty came out well-done, I decided to ignore their instructions and aim for medium to medium rare. After cooking the first side I flipped the burger and added a slice of cheese so that the cheese melted nicely. While the burger was toasting I brushed the bun with clarified butter and toasted in a second pan.
Then I followed the instructions to layer up: ketchup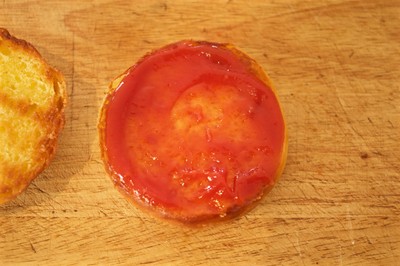 pickles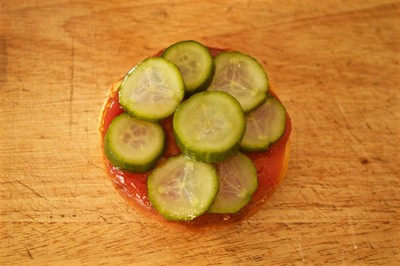 patty with the melted cheese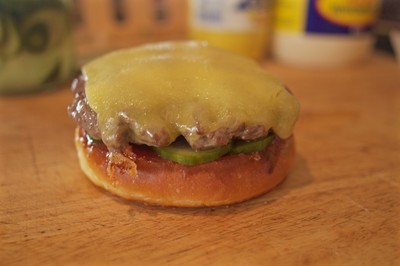 mustard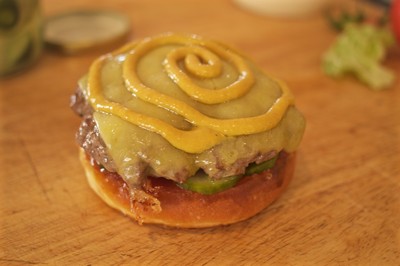 tomato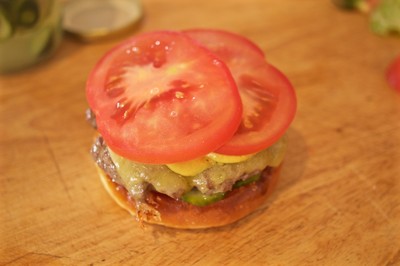 lettuce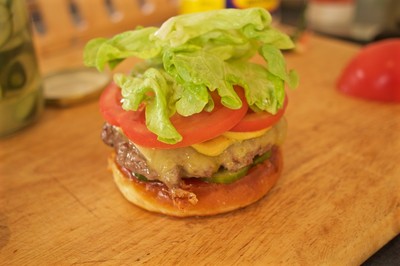 and then the top bun spread with mayonaise.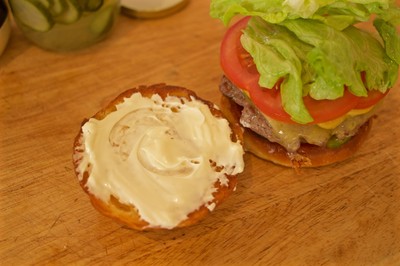 All in all it was a very satisfying and filling burger, probably one of the best burgers I've made at home, but for the amount of work I put into it I was a little disappointed. The bun was a little sweet and the texture of it wasn't spot on. Also the patty wasn't as flavorful as I thought it'd be but I used the cheaper grass-fed NZ Wagyu as there was no alternative I could easily source locally.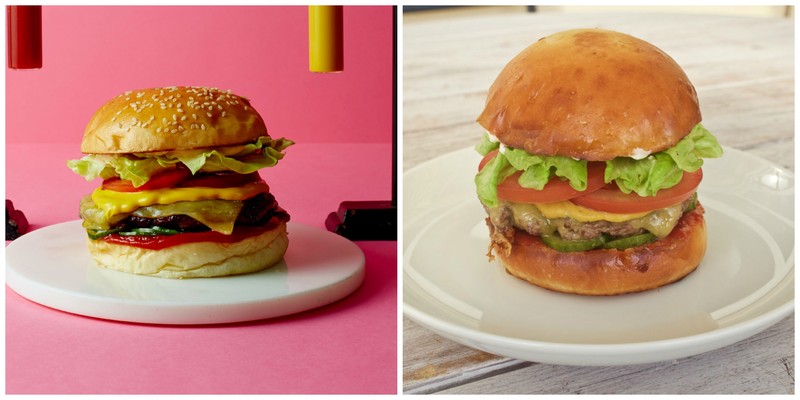 The Book Cooked:
Level of expertise required: Medium to low – it's a burger book! There isn't that much specialism involved, apart from maybe making the buns.
How many trips to the supermarket required? I had to make a special trip to a butchers for the Wagyu but almost everything else should be in your local supermarket.
How closely did dishes resemble those in the book? I think despite my lack of sesame seeds the burger I made looked pretty close to the real deal! I think I'd receive Dario D's tick of approval.
Ease of reading: The book's design is modelled on that of a science textbook, opening with a periodic table-inspired contents page and filtering into food styling with test tubes of sauce, microscopes and lab equipment in every photo. I think they look great!
But the book is hard to navigate, the numbers are on the inside of the page, not where you'd expect them and it's counter-intuitive when you're trying to flick through for a recipe. Also it took me a while to find the bun recipe. The recipe for the Huxtaburger said to look at page 10 for the bun which turned out to be a list and description of 4 types of bun, I had to look in the index to find the bun recipe! Plus occasionally it's hard to find the figures they reference in the recipes, especially towards the back and often they don't turn out to be helpful. These are little things but they add up.
Pretty on the coffee table or destined to be battered through over-use? If you're stuck for ideas for burger fillings Huxtaburger has quite a few that look interesting, but do you really need a whole book on burgers? I don't think I do.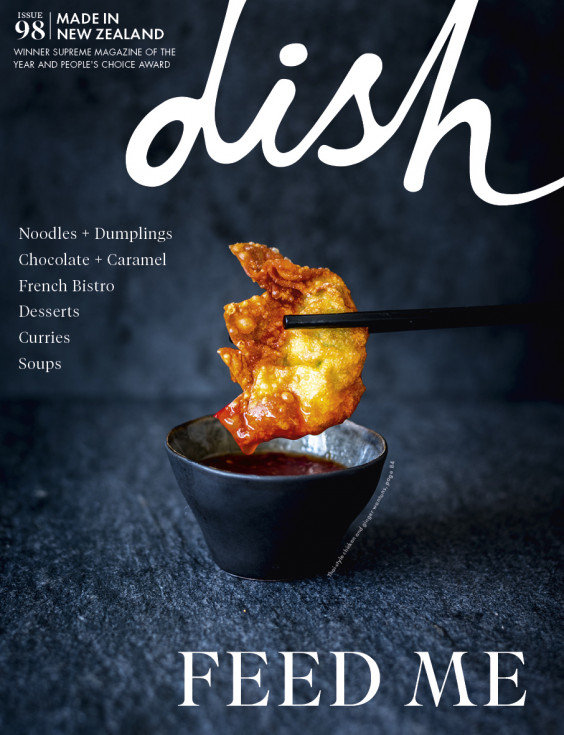 Check out our
latest issue:
Issue #98
We might be in the depths of winter, but the latest issue of dish will inspire you with delicious recipes to brighten even the most grim of days. We start with a selection of classic French bistro dishes – think beef bourguignon and creamy potatoes – before turning to sumptuous soups. Next, it's all about warming curries and bowlfuls of noodles and dumplings, perfect for those chilly nights. In the mood for something sweet? Check out our delectable chocolate and caramel treats, or turn to our Food Fast section, full of desserts quick enough to make on a weeknight.