Cook the Books – Milk Made
October 28, 2016
David Parker has always found arancini a little intimidating but he gave them a go for his practical review of Nick Haddow's Milk. Made.
A book full of cheese recipes! What could be better? Maybe a book made out of cheese...
Nick Haddow is a cheesemaker based in Tasmania who has travelled the world making cheese. For this book, he travelled the world to taste cheese and talk to other cheesemakers, which sounds like a dream job. The book covers cheesy recipes as well as cheeses themselves alongside yoghurt and even cultured butter. I decided to give the butter a whirl – you can get all the ingredients from the supermarket and it's pretty simple. I'd run out of unsalted butter for a recipe and had excess cream lying around and this seemed to work great. Plus, I'm sure lots of you will have seen Dish's butter in a jar video. This recipe is almost the same except for the culturing step: by introducing live yoghurt or cultured buttermilk the cream starts to ferment and lactic acid is produced, giving the butter a pleasant sour taste.
I added a couple of tablespoons of cultured buttermilk to 1.5 litres of cream... That's a lot of cream. I left it out at room temperature for a day to let it ferment, then chilled it in the fridge for a couple of hours before churning. I used a stand mixer with a whisk attachment until the butter started to form and then poured out the buttermilk.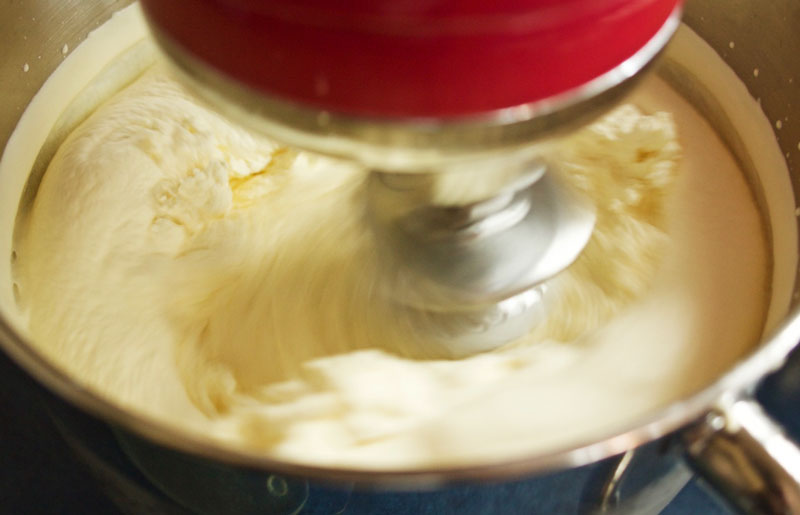 The mixture became too thick for the thin whisk and I switched to the paddle and beat until the butter came together. Then I poured out any extra buttermilk and added chilled water and continued to beat.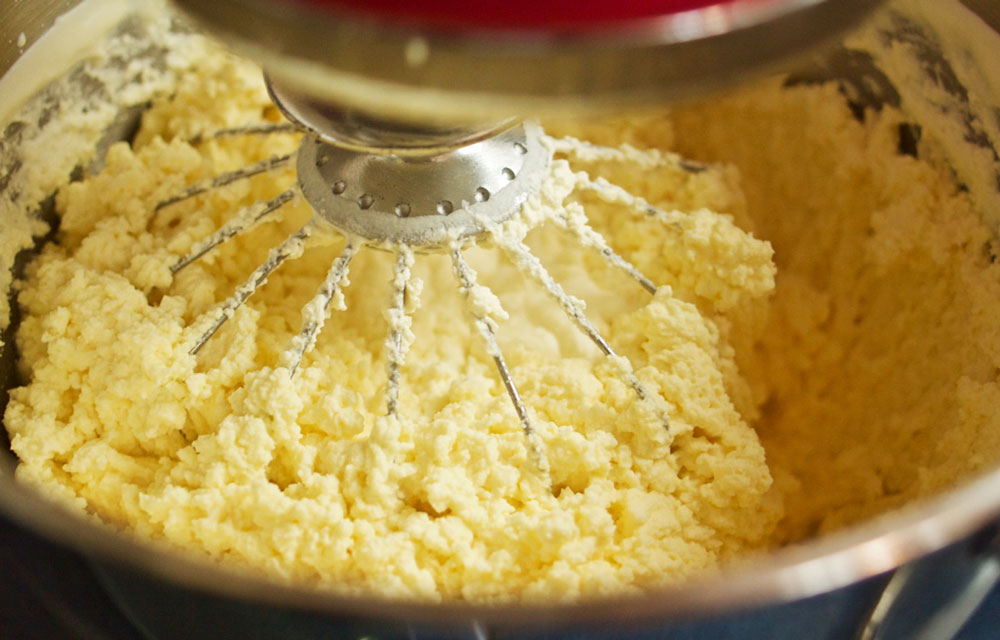 It was very messy – buttermilk and water splashed everywhere. I think a food processor would have saved a lot of clean-up time for those who don't happen to have a butter churner at home.
Eventually I was ready to knead the butter and incorporate the salt, then I wrapped the butter in baking paper, put half in the fridge and froze the other half. I put a little less salt than the recipe called for and I'm glad I did because the butter was really tangy and didn't need much salt at all. I've really enjoyed this butter, however from 1.5 litres of cream I only got about 600 grams of butter. This works out to be a little cheaper than artisan butters but still fairly expensive.
Anyway, on to the main event. I've been wanting to make arancini for a while but they just seem intimidating. I made breadcrumbs by toasting some from some stale bread and blending it in a food processor. Then I made the rice mixture – not risotto. Apparently you can use leftover risotto but risotto is from the north of Italy, so is almost never eaten in the south where arancini originate.

Instead of frying the rice and adding stock in slowly like you would for a risotto, I brought the stock to a boil, then added rice and a little water that had I been soaking saffron in for a couple of hours. I left it to simmer until all the stock was absorbed and the rice was cooked through. I removed it from the heat, seasoned with salt and pepper and added chunks of mozzarella (according to the internet our hard mozzarella would probably be the closest thing to a provolone) and grated parmesan.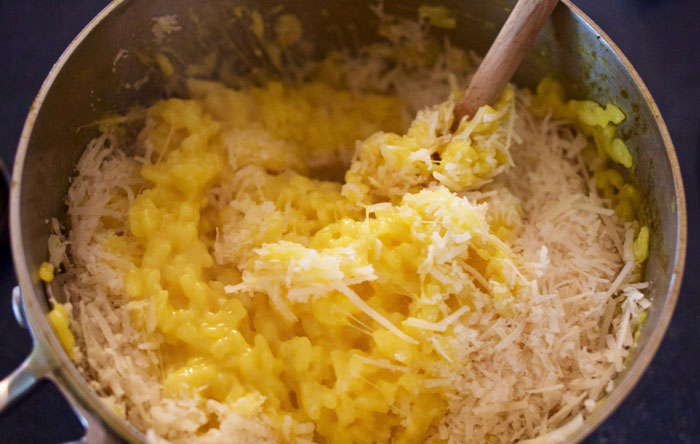 Then I spread out the rice mixture on a tray and left it to cool, then made balls of the rice and pushed bocconcini into the centre of each. The bocconcini were actually quite slippery and I found it was a little easier to wrap a flat piece of sticky rice mix around the little balls and then squeeze them into a ball.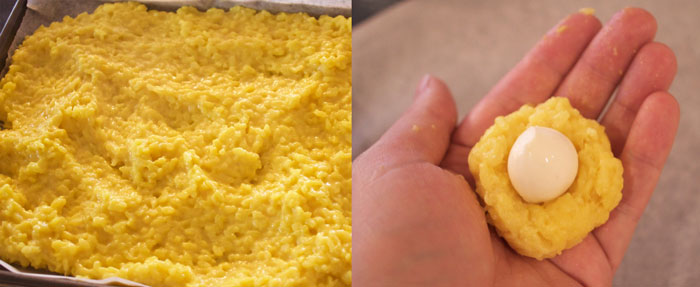 I dipped them in a batter made from egg, flour and "enough water to give it a thinnish consistency", then my breadcrumbs before dropping them into a deep-fryer 3 or 4 at a time.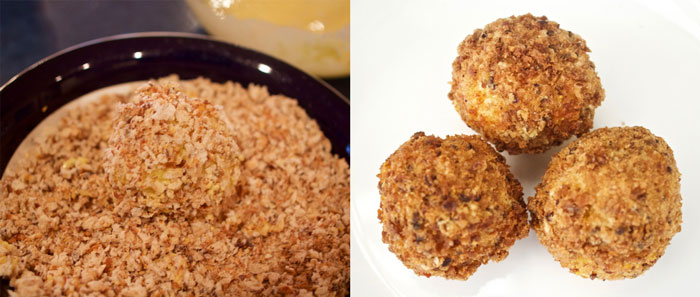 It was pretty messy, my hands were covered in eggs and breadcrumbs while I fried them all.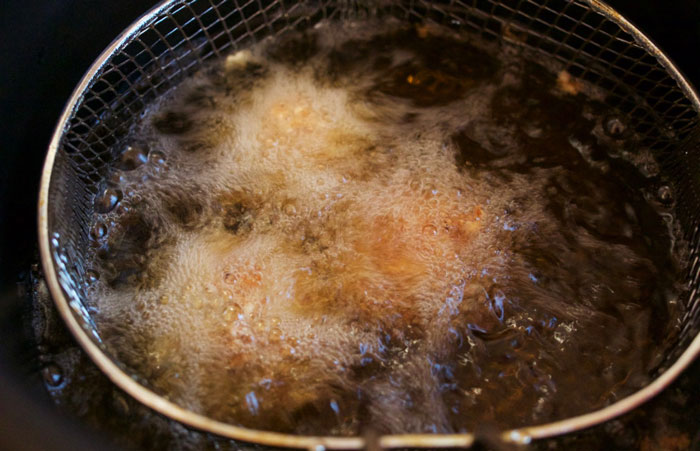 They were certainly very cheesy! Dare I say too cheesy? Maybe if I'd used provolone it would've been different but I found them a little heavy. They were delicious and creamy with crisp breadcrumb outsides, a sticky gooey rice layer and then the decadent creamy molten bocconcini centre.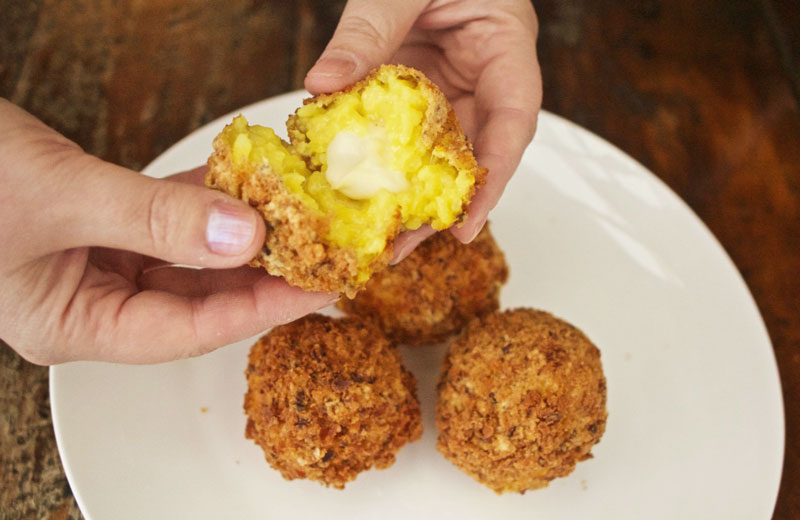 They were really good. I ate three and went back for more later, but if I'm being fussy I would say the cheese could've done with something to balance it out a little. The best arancini I've ever eaten were beetroot flavoured with molten blue cheese in the centre. The earthy beetroot balanced the cheesy rice and the blue cheese gave a punch of sharpness. These were still good though.
The Book Cooked
Level of expertise required: The recipes are fairly attainable to most – the arancini turned out to be a bit of a breeze. The cheesemaking stops at a fairly basic level too. It's not really intended for someone serious about getting into making cheese, more someone who just wants to have a go (like me).
How many trips to the supermarket required? Just one. If you're interested in making some of the cheeses, you need things like rennet. But mostly you should be able to find what you need in a supermarket.
How closely did your dishes resemble those in the book? Pretty closely. The butter in the book is really white and beautiful and I was disappointed that mine wasn't but it turns out it was a sheep's milk butter, hence the colour.
Ease of reading: I like the details about how cheese is made and that even though there weren't recipes for the hard cheeses there is a description of the techniques involved. Some of the interviews were really interesting too – if you want to learn a lot about cheese this would be a really good book.
Pretty on the coffee table or designed to be battered through overuse? This is probably going to spend more time on the coffee table, there are some good recipes in here though and the recipes for yoghurt, butter or feta will be popular. Most of the recipes seem to stay on the safe side, classics that you'd associate with cheese. Not that there's anything wrong with a classic.
Find Milk Made's recipe for Linguine with Mushrooms and Stinky Cheese here.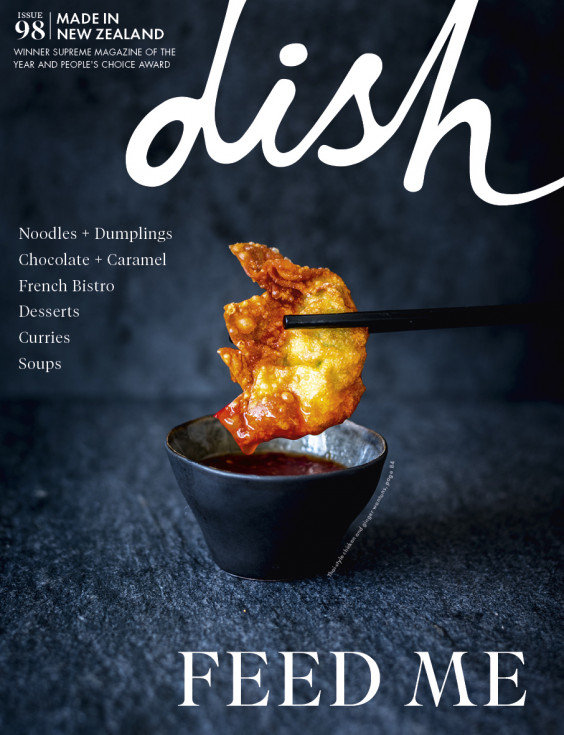 Check out our
latest issue:
Issue #98
We might be in the depths of winter, but the latest issue of dish will inspire you with delicious recipes to brighten even the most grim of days. We start with a selection of classic French bistro dishes – think beef bourguignon and creamy potatoes – before turning to sumptuous soups. Next, it's all about warming curries and bowlfuls of noodles and dumplings, perfect for those chilly nights. In the mood for something sweet? Check out our delectable chocolate and caramel treats, or turn to our Food Fast section, full of desserts quick enough to make on a weeknight.