Cook the Books – Pickled
Article by David Parker. August 10, 2016
Photography by David Parker.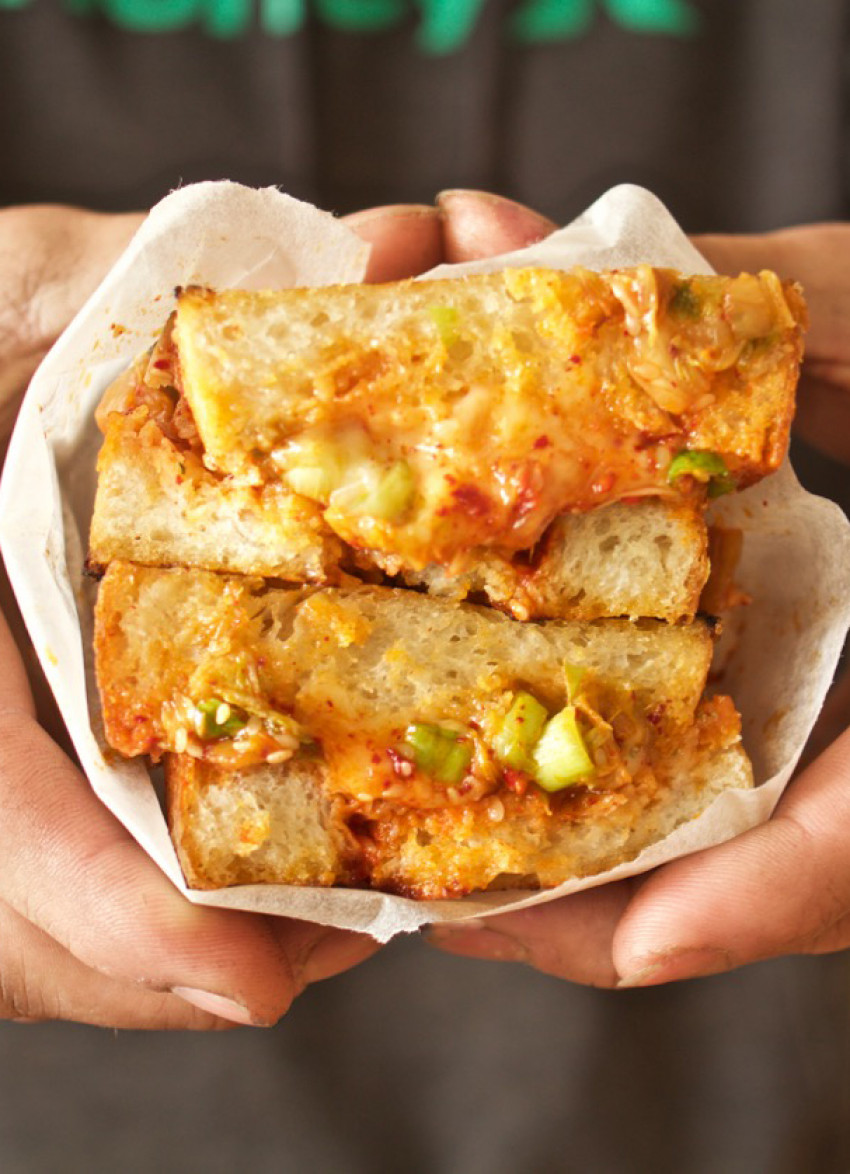 Full of cute illustrations and bright photos, Freddie Janssen's book Pickled is lovely to look at – read on to see if David Parker found its recipes to be as great as its design.
Pickling, preserving and fermenting is very hip right now – all the kids are doing it. It's the perfect time for a book on pickling. The simply named Pickled is written by Dutch-born (but now London-based) Freddie Janssen, who seems to have dabbled in everything food-wise, from working as a waitress in a small Indonesian restaurant at 17 to hosting dinner parties, catering events and running pop-up restaurants. These days she works in restaurant marketing and runs a weekend food stall which sells grilled cheese sandwiches and pickles. Now, to add another feather to her cap, she has this book.
Pickled isn't only about pickling, as you need something to go with all your pickles, there's a smattering of recipes that either use the pickles as an ingredient or a serving suggestion. As Freddie's stall serves sandwiches, I thought it would be apt to test out her Kimchi and Stilton Grilled Sandwich. Plus, when I saw that Dish had run a feature on toasted sandwiches last issue I knew it was a sign.
I first became aware of kimchi when a friend got me hooked on a Korean drama series and there was a scene where a family were doing some very strange things with buckets and cabbages. Upon further investigation they were making kimchi en masse! If you weren't aware, kimchi is basically fermented cabbages and other things, like a spicy version of sauerkraut. To allow enough time to ferment, I made the kimchi a couple of weeks before the sandwiches. There are a couple of different kimchi recipes in the book but for this recipe I made the F.A.T Sesame Kimchi (F.A.T being the name of Freddie's food stall). It seemed to be a vegetarian-friendly tweak on kimchi, substituting salted shrimp and fish sauce for sesame oil and sesame seeds and a little extra soy sauce.
The first step in the kimchi was to cut the cabbage up, place it into a plastic container with salt and sugar and leave it to chill for about 24 hours. After the salt and sugar had done its thing there was a pool of water in the container which I poured down the sink and then I proceeded to squeezed out what was left of the liquid from the cabbage by hand. At this point it looked like three quarters of the cabbage had disappeared.

In a separate bowl I mixed Korean chilli powder (gochugaru) with sugar, garlic, ginger, soy sauce and sesame oil. Then I mixed the paste in with the cabbage, sesame seeds and spring onion and put it back in the fridge to keep fermenting.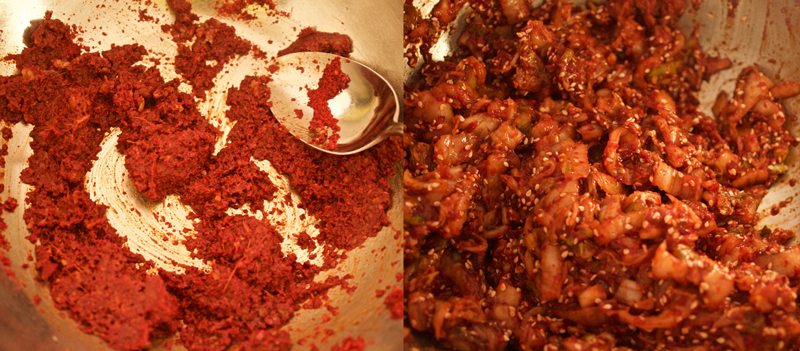 When I told my friend Martyn that I had made kimchi from scratch he called me a hero, when I tried to tell him it was easy he said, "Making kimchi from scratch is heroic in my books. Not all heroes wear capes." But really. It is very easy – if you want to be labelled a hero you should probably try it.
After the kimchi had been fermenting away for a couple of weeks I was finally ready to wrap my mouth around a toastie. We do own a toastie press but it doesn't cope well with thicker slices of bread and I didn't feel very gourmet making these fancy toasties in an actual toastie maker. Plus, I was interested to test out their technique! First I buttered the bread on one side and placed it down on the frying pan.

Then I added kimchi, spring onions, roquefort (as a stilton replacement) and cheddar. I didn't have cheese curds, they were optional. I did consider making some but I didn't have rennet since that one time I tried to make cheese with a friend a few years ago and we made a pretty average mozzarella that cost so much money to make so little cheese... So I didn't make the cheese curds. Okay?
With all the toppings inside I closed the lid on the sandwich, placed a piece of baking paper on top and then a baking dish on top of that to weigh the sandwich down like a press. After a while I flipped the sandwich over to get cooked on the top and it was done.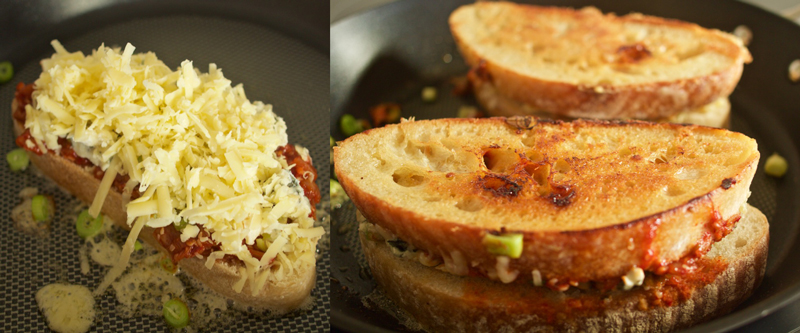 My somewhat unadventurous tasting panel cautiously bit into the pieces of sandwich I gave them. They claimed to not like blue cheese or kimchi, but everyone enjoyed it. I even made one without blue cheese and everyone thought it was better with the blue cheese as it cut through the kimchi a little more. However I think I found the blue a little much in a toasted sandwich. As I went to the effort of making kimchi I'd have liked to have tasted it with just cheddar so it could shine a little more. I really liked the sesame oil and sesame seeds in the kimchi, gave it a really interesting warmth and depth of flavour. I felt like maybe it was a little more spicy than most people would like but the heat seemed to mellow a little as it fermented. I've made myself a fair few, slightly less fancy kimchi toasties since and enjoyed it with other food too.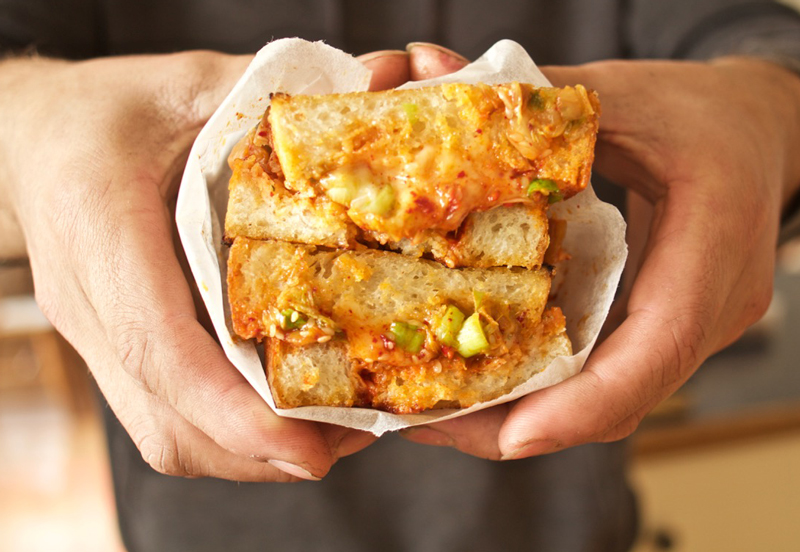 But I felt guilty leaving this book without having pickled something! I decided to do something that had intrigued me for quite some time; Pickled Watermelon Rind. I'd seen it mentioned in a recipe from Nopi and wasn't sure what to think of it, but maybe it would make sense. I assumed as the rind would be porous it would just taste like pickles but a different texture I could be into that. I know watermelons aren't in season but there was a perfect half watermelon sat on the shelf for the measly sum of $4 so why not?

To get to the rind I had to cut the watermelon into quarters, then using a sharp knife I carefully cut the skin off the watermelon. Then I cut the watermelon into cross section triangles and then cut most of the flesh off the rind. It felt quite odd to not want the centre of the watermelon and to be saving the rind but I put all of the discarded watermelon into a safe warm place (my mouth... not all at once). Then I cut the strips into chunks of watermelon rind, ready to be pickled.

The pickling brine consisted of water, sugar, salt, rice wine vinegar, cinnamon, star anise, ginger and Szechuan peppercorns (a Chinese pepper, it can make your mouth feel a little numb). After warming the brining ingredients I added the watermelon rind and brought the mixture up to a boil, then let it simmer for five minutes. I poured the watermelon and brine into a couple of jam jars and left it to cool. Of course, I couldn't resist, and had to try a piece of piping-hot watermelon rind: it tasted strange, but I thought it must taste better cold. According to the book it was ready to eat as soon as it had cooled, so a few hours later I grabbed a jar from the fridge and tried it.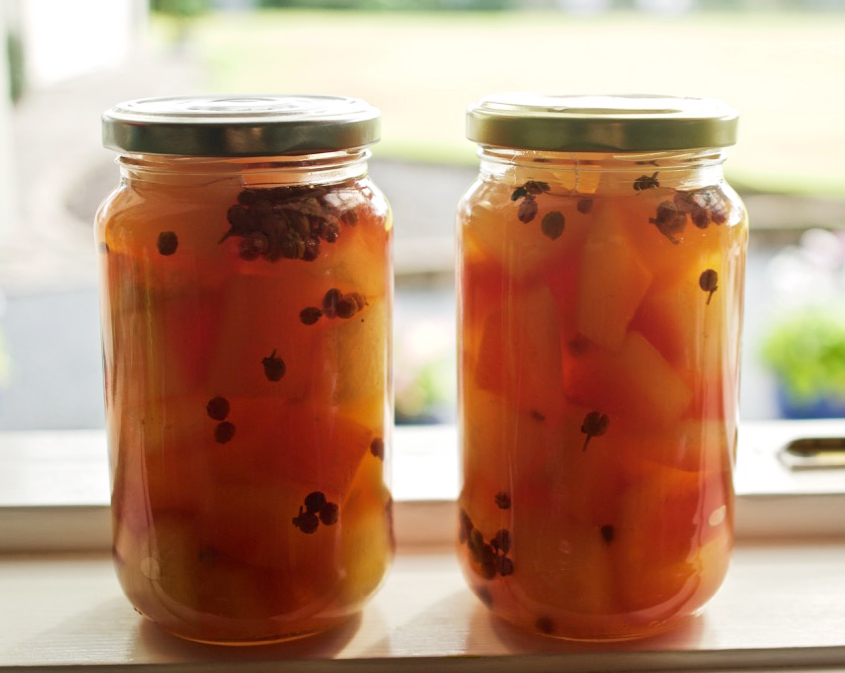 No thank you. It was pretty disgusting. So sweet and sour and salty and a strange slimy texture. Plus, the weird mouth-numbing thing that Szechuan pepper does to me. Everything seemed wrong about it. I was very disappointed – I had very high hopes for the pickled watermelon. But alas, I'm sure the other pickles aren't as weird and gross as this one.
The Book Cooked
Level of expertise required: Medium to low. Pickling isn't exactly rocket science, but it is nice to have recipes for suitable spice mixes and ratios of salt and vinegar etc. The recipes for other dishes aren't too complex either, a bit of deep frying but that shouldn't scare anyone with a fryer. I guess if you've made the pickles and then the recipe using the pickles it could feel like a lot of work but it isn't that hard.
How many trips to the supermarket required? You may need to take a trip to an Asian supermarket to pick up some of the items but nothing that crazy. Speaking of which, I have a giant bag of Korean chilli powder in my cupboard now as it was all they had in stock when I was shopping for kimchi ingredients... Kimchi anyone?
How closely did your dishes resemble those in the book? I thought they were pretty spot on. Everything should be pretty achievable in Pickled, as I said, we're not talking super cheffy restaurant food, it's street food and home cooking.
Ease of reading: I found the book easy to read and the recipes easy to follow, no issues there!
Pretty on the coffee table or designed to be battered through overuse? This is actually quite a pretty book, I love the quirky design and all the cute little illustrations of vegetables and ingredients in the recipes, sunbathing or taking selfies or cooking smaller versions of themselves... But should you be interested in making pickles or ferments I think you'd get a lot of use from it too. Its a bit more of a fun, modern, interesting take on pickling rather than a stuffy pickling how-to book.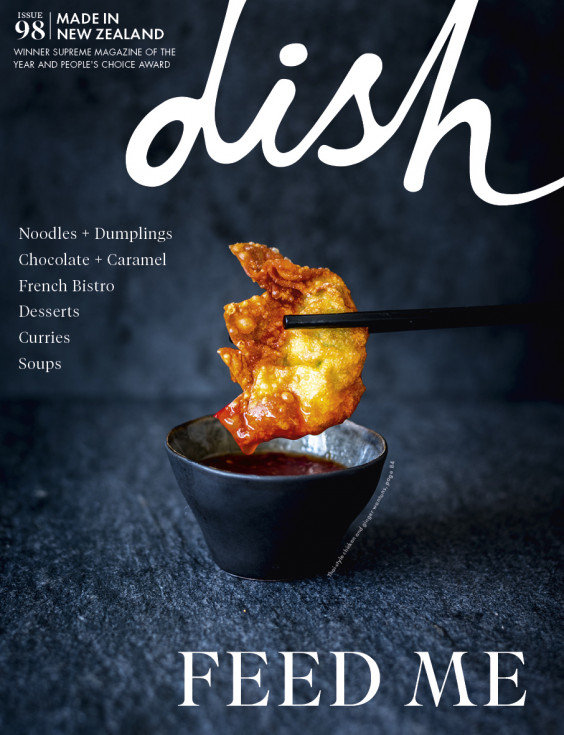 Check out our
latest issue:
Issue #98
We might be in the depths of winter, but the latest issue of dish will inspire you with delicious recipes to brighten even the most grim of days. We start with a selection of classic French bistro dishes – think beef bourguignon and creamy potatoes – before turning to sumptuous soups. Next, it's all about warming curries and bowlfuls of noodles and dumplings, perfect for those chilly nights. In the mood for something sweet? Check out our delectable chocolate and caramel treats, or turn to our Food Fast section, full of desserts quick enough to make on a weeknight.