Cook the Books - Plenty More
Article by David Parker. February 09, 2015
Photography by David Parker .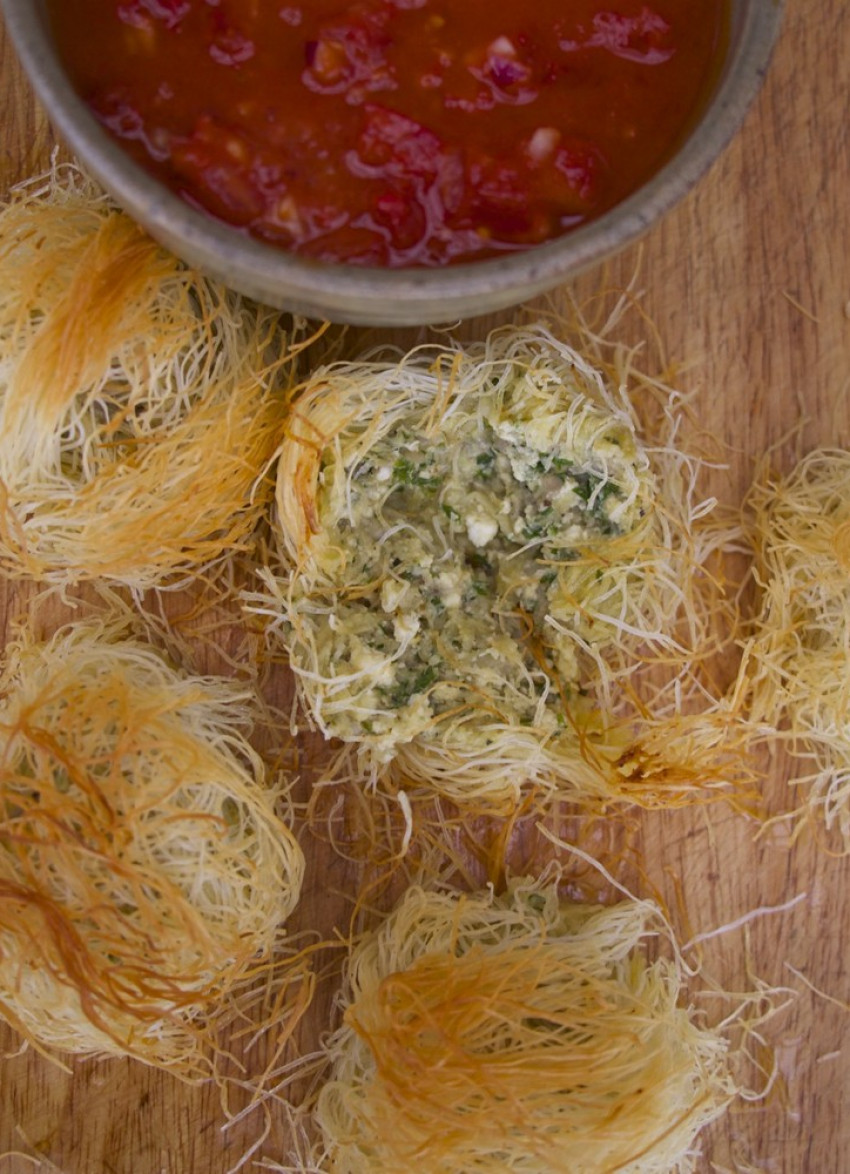 David Parker prepares an unusual Greek inspired aubergine dish from one of the most popular cookbooks of 2014/2015, Yotam Ottolenghi's 'Plenty More'. Is it worth the hype?
Yotam Ottolenghi is lauded as the man who 'sexed up vegetables' and I initially wondered if he was to blame for the somewhat rude looking photos you can find of various vegetables on the internet. While I couldn't find evidence to support this, I did discover he is a well-known writer, chef and restauranteur. You may be familiar with his successful book Plenty, which the aptly named Plenty More follows on from. He is a somewhat expert in vegetarian dishes having written a column entitled 'The New Vegetarian' in the Guardian (UK) for years, and this book focuses mainly on vegetable-based dishes.
Of all the recipe books I've brought home this has been the one most people have wanted to own. I've already recommended it as a wedding present. There are so many vibrant and relatively simple recipes that you know are going to taste good. As a result, it was hard for me to find a recipe to measure the quality of the book by, but as soon as I saw the Kadaifi Aubergine Parcels I knew I had to try them.
Kadaifi is a shredded pastry from Greece, also known as Kataifi, which is actually surprisingly easy to find if you happen to live near a Farro Fresh. How horribly Auckland of me to assume that everyone reading this would live in Auckland. You probably don't, in which case Yotam suggests buying it online, or you could click here and look for a local supplier.
I will definitely be buying it again to experiment with - it's so beautiful and unlike anything I've seen before really. Apparently it's most commonly used to make something very similar to Baklava and imagining the crisp texture of the pastry with the honey and nuts I'm sure that is well worth an attempt too!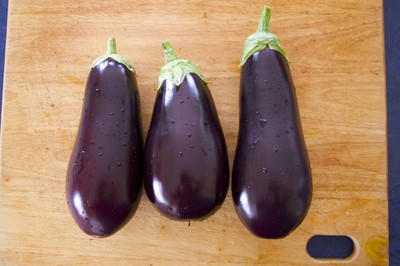 So. The recipe. The aubergines needed to be roasted until the skins had charred so I pierced them and got them into the oven. The recipe had called for four medium aubergines but I got three large ones that equalled the weight specified in the recipe. It's not often recipes give you weights with vegetables but it's quite handy.

While they were roasting the recipe suggests getting on with the Pepper Salsa, so into the oven went a capsicum, red chilli and three cloves of garlic. The chilli exploded in the oven with a deep 'poof' sound, which gave me a bit of a fright but certainly made peeling the skin off of it easy! The capsicum stayed in the oven for a further 20 minutes and when it was cooked I put it in a bowl covered with plastic wrap to cool and further steam itself.
While this was going on I started to dice the tomato, but as I started I realised that I should probably de-seed it before dicing. In the book it says to de-seed half of the tomato to be blended but it didn't say to de-seed the diced tomato...I took a look at the photo and I couldn't see any seeds so I de-seeded! I would usually do so for a salsa to get rid of excess liquid, and the seeds that can have a bit of a bitter taste. I also finely diced the onion.
The capsicum was cool enough to peel by now so I did so and put it in the food processor with 2 de-seeded tomatoes, the garlic and chili. I then blended that into a paste, but it was more like a soup. I added the olive oil while blending more, but instead of making a thick sauce it was quite runny, maybe my food processor is too good?
When I added the diced tomato and onion it looked more like the picture but still quite watery. When I decanted it into the bowl I used a slotted spoon to get rid of a bit of the liquid.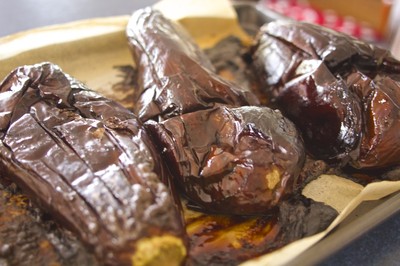 The aubergines had charred quite nicely by this point, my family were beginning to complain about the smell of them with cries of "They're burning!" (sigh, they're meant to!) so I pulled them out of the oven, but having nothing to do by this point I got stuck right into slicing them up and scooping out the centers.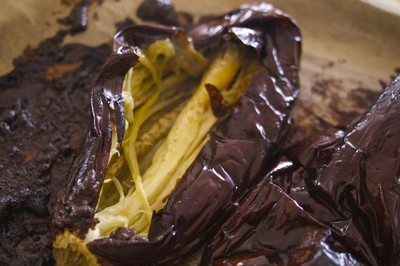 The aubergine flesh got put into a colander and left to drain and a surprising amount of liquid came out.
Next I travelled to the garden to gather together 25 grams of parsley. I returned with a big handful, but upon weighing discovered it was a mere 3 grams worth. I went back out to the garden and picked almost all of the parsley growing and it amounted to 18 grams. It was A LOT of parsley. I don't think the photo conveys accurately how much parsley there was - I was worried by it - but once it was chopped up it didn't seem too much.
When the aubergine was fully drained I combined it with a beaten egg, the ricotta, roughly grated peccorino, parsley and salt and pepper and I was ready for the assembly of the parcels!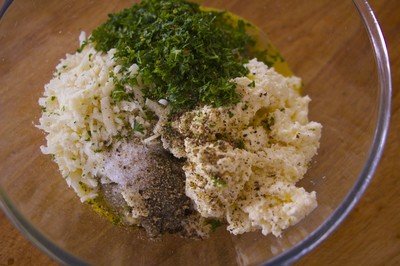 I measured out 20g of the Kadaifi pastry in a bowl, rubbed through a mixed tablespoon of melted butter and oil and spread the pastry onto a work surface.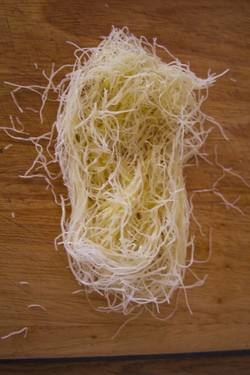 In the book there was a long photo essay of one of these parcels being assembled and I thought it would be very difficult. It was in fact very easy. A generous 1½ teaspoon of the filling placed on top and then rolled into a ball my first parcel was ready to be placed into the baking tray.
I don't know if I was being parsimonious with the filling but I managed to get 18 nests before running out, even after I started going for 2 heaped teaspoons per nest halfway through. Fortunately the pastry comes in a 375g bag and I had exactly the right amount to use up the filling.
These were as impressive as the photo suggested - they were almost alien looking. They're quite light in the mouth but surprisingly filling. The salsa is the perfect accompaniment, though personally I would prefer a little more kick - perhaps an extra chili or two and more onion. The filling was great! Everyone loved them, even my parents who don't usually enjoy sheep and goat's cheese (I waited to tell them peccorino is from sheep's milk) which I could definitely taste.
The Book Cooked
Expertise required: The recipes are mostly pretty simple, with techniques explained in a good amount of detail. If you're wanting to impress someone with delicious food that's easy to prepare, Plenty More is for you.
Trips to the supermarket: Just one! I found the Kadaifi pretty easily but I'm sure it won't be as easy for everyone. Most of the recipes use ingredients which are usually available at the supermarket.
How closely did the dishes resemble the pictures? 8/10. This is rustic cooking so you're never going to match the book's images perfectly, but it'll be close and beautiful in its own right anyway.
Ease of reading: Very easy! This recipe missed a step in de-seeding the tomato but common sense prevailed.
Pretty on the coffee table or destined to be used again and again? Shh! Don't tell anyone about this book. Hide it somewhere safe so when people ask "Wow this is amazing, where is the recipe from?" you can brush off their questions with "Oh this old thing? I just threw it together!"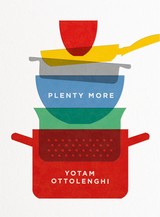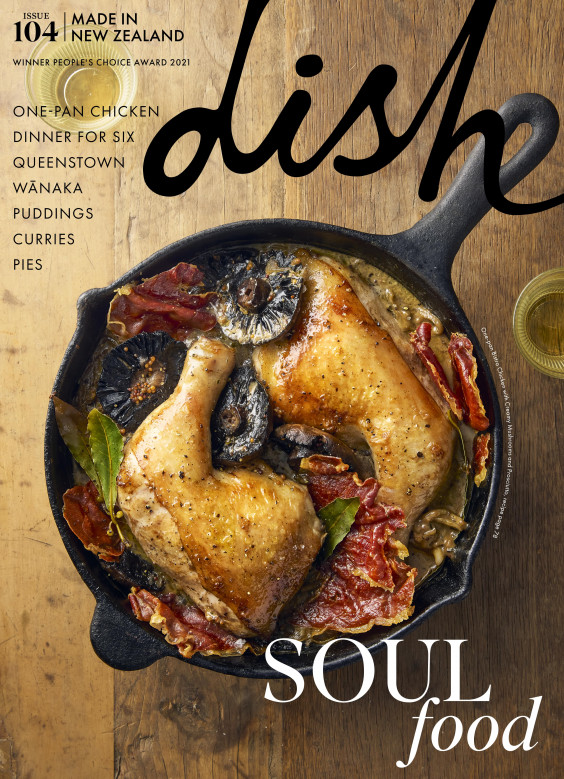 Check out our
latest issue:
Issue #104
The latest issue of dish has arrived just in time to crank up the heat and the comfort factor! Grab a spot by the fireplace with our Après-Ski inspired dishes - think golden, crispy potato rösti and mulled wine. The temperature rises with our spicy curries while our flavourful one-pan chicken dinners keep the dishes to a pleasing minimum. Our Dinner for Six section will bring friends and family together for two festive mid-winter feasts, but beware, the puds and desserts from our Sweet section may cause them to outstay their welcome. There's no time like pie time, but when you don't have any time, our Food Fast section will help you whip up some delicious meals in a hurry.