The start of the 2021 Bluff oyster season: why there's a season and where to get shucking
Article by Alex Blackwood. February 24, 2021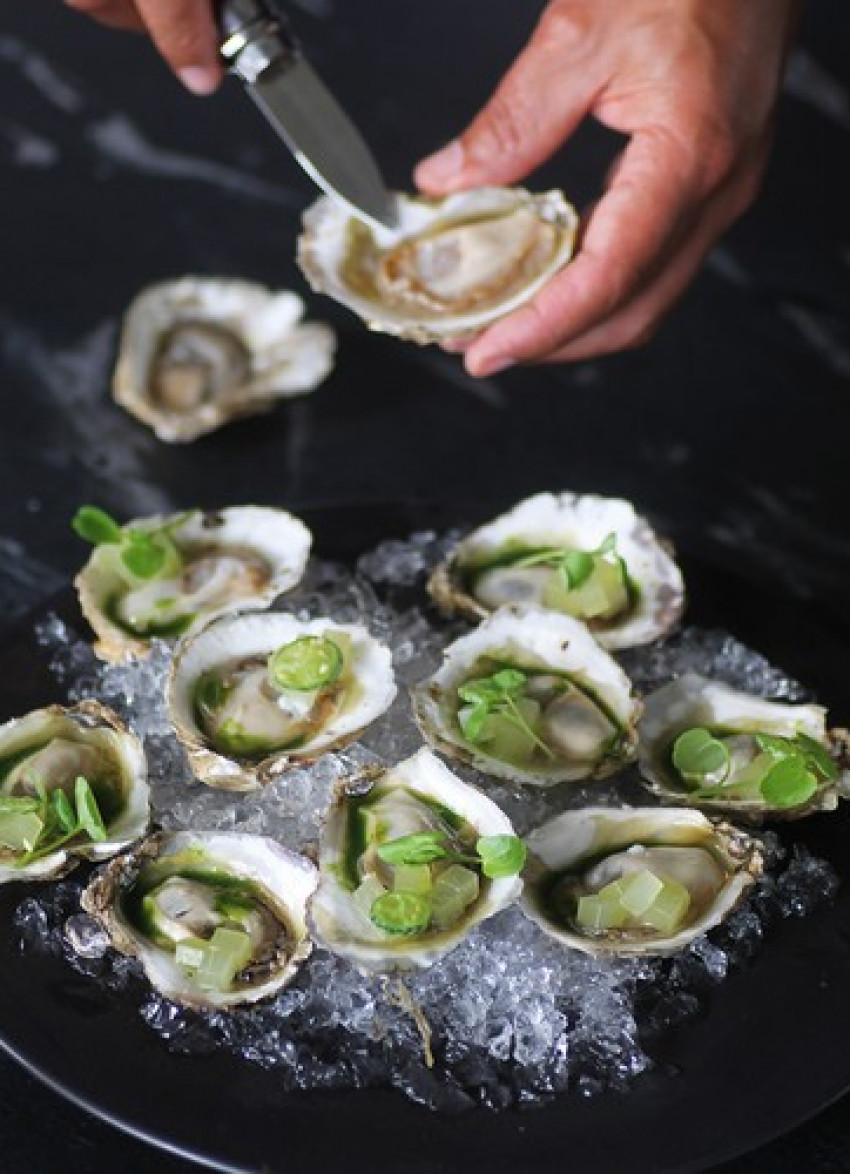 Bluff oyster season begins in March, so to celebrate these shucking brilliant bivalves, we looked into why there is a season for them, and put together a list of where to get them throughout the country.
When commercial oystering first began in Foveaux Strait in the 1860s, demand was high and consumption was rampant. The Strait's position at the bottom of the world, meant cold, clean waters, ideal for pure, flavourful seafood. In addition, the stretch of water between Bluff and Stewart island was only around 18-22 metres ideal for dredge oysters, mud-oysters, or deep water oysters that we in New Zealand recognise as Bluffies.
The oysters were so sought after that the beds were depleted by 1877 and had to be closed. However, in 1879, new, larger beds were discovered in deeper water. The centre of oyster-fishing activity gradually shifted from Stewart Island to Bluff, and in the 1960s, a quota system was introduced along with the Bluff oyster season so that the precious kai moana would be available for generations to come.
The dredge oyster species can actually be found elsewhere in New Zealand, though it's the terroir of the waters (if you will) of Foveaux Strait that make the Bluffies so famous. They're rich, with a clean sea-flavour. The rest of the oysters that we are lucky enough to have year-round in the rest of the country are the Pacific oyster spiecies, also known as rock oysters: look at the irregular shape of their shells and you'll see a big difference between the flatter, almost scallop-like shells of the Bluff oysters.
In addition to keeping the Bluff oyster population stable and sustainable, we at dish love that the Bluff oyster season gives an element of ceremony to the consumption of our favourite bivalves. Those precious six months feel special each year - so we've put together a list of places you can get Bluffing from the beginning of March to the end of August... listed from North to South with special attention paid to Stewart Island's township, Oban, and Bluff of course!
---
Please note, as it was back in the 1860's, Bluff oysters are in hot demand and are always subject to availability. Even in Bluff and Oban, where the Bluffies are shucked straight off the ship, they aren't always available. Personally, I am amazed and grateful these juicy treats make the 1,663km journey from Bluff to a restaurant near me at all!
---
Country wide in selected supermarkets
Miraculously, wherever you are, you'll be able to get your hands on some Bluffies, because Sanford had the bright idea of punnetting them. They're available at the Auckland fish market, and to order on the Sanford website.
---
Auckland
Euro
Book a ticket and get down to Euro on the 4th of March for their Bluff Oyster lunch: all you can eat Bluff Oysters, a glass of Mumm Grand Cordon Champagne on arrival, a main course specially designed for the day, and summer sounds from internationally acclaimed DJ Frank Booker!
Click here for event details.
Saxon and Parole
Chef de cuisine Logan Coath really knows his oysters - so much so that he has around six on the bar at all times (from briny and strong Matakana oyster to the sweet and delicate Mahurangi ones, to the arguable crown jewel: the Bluff oyster) so you can choose what kind of oysters you're in the mood for or try one or two of each kind and pick your favourite... Think of it as an oyster tasting panel.
Non Solo Pizza
Celebrate the incoming Bluffy season with a long Italian-style lunch with all you can eat oysters and summer beats by Jaimie Webster Haines. Tickets include a Peroni, flute of Veuve Clicquot or an Aperol Spritz on arrival; all you can eat Bluff oysters and a seasonal main course.
Click here for event details.
Oyster and chop
This classic steak and oyster joint has a fabulous whiskey list, and the earthy flavours of a whisky can do great things with the marine salinity of an oyster for those who enjoy both!
Billy Pot
Billy Pot have given the world a gift by putting Bluff oysters on UberEats. I might have splurged on an order of 4 dozen that I then ate greedily at my table with white bread, chardonnay and only one other person to share them with. I recommend you do the same.
St Alice
Are you even an Aucklander if you haven't tried the Oyster McMuffin at St Alice? What an invention!
The Oyster Inn
Waiheke's own oysters are fabulous, and here you can compare them with those from the deep South. Call it educational.
Shucker Brothers
They tout their specialty in the name - and shuck they do. There's no better spot to wait for a ferry!
Harbourside Ocean Bar and Grill
On Friday the 5th of March, Harbourside have an all you can eat Bluff oyster buffet from 12pm to 3pm. Sounds like a challenge to us!
Click here for event details.
The Culpeper
I think 2021 is the year we make craft beer and oysters a thing and Culpeper has both. What do you say, Auckland?
---
Wellington
Dockside
On the Wellington waterfront, Dockside is Wellington's contribution to New Zealand's seaside oyster eating list. And you know what they say...you can't beat Wellington on a good day!
Charley Noble Eatery & Bar
Charley Noble are a wine and craft beer bar - so they have a truly kick-ass selection of beverages to pair with your oysters - hot tip, the hoppiest of the hoppy IPAs will go beautifully with a briny Bluff.
The Mt Vic Chippery
Every city needs a good fish and chip shop that serves Bluff oysters. I have heard arguments that deep frying an oyster is gilding the lily, but some of my best oyster moments have been deep fried, so I will hear those arguments no longer. Fish and chip oysters are gold-standard simple luxuries.
Hippopotamus
In their own words, Hippopotamus is "named after the world's giant aquatic ballet dancer", and perhaps the oyster is the ballet dancer of the tastebuds?
Noble Rot Wine Bar
A wine bar that serves oysters gets a tick in our book: you've heard of oysters and Champagne, but have you tried them with a crisp, buttery chardonnay? Please, please have a go, it's a match made in heaven!
Floriditas
Cuba Street's iconic eatery has the Bluffies and we love the idea of consuming them in the gorgeous 1930s-style space. Perhaps even in 1930s-esque garb...
---
Christchurch region
The Athens Yacht Club
Where better to enjoy oysters than a yacht club? Better yet, bottomless Bluff oysters and Champagne. It's on from 6 till 9pm on the 4th of March and it's too good to miss.
Click here for event details.
Fisherman's Wharf Lyttelton
By this point in the list, you'll have noticed that we love an oyster by the sea, and Fisherman's Wharf Lyttelton serves just that: Bluffies and sea views.
Mac's Fish
Timaru's local fish and chip shop has crunchy, golden Bluffies. Holy moly, New Zealand has some great towns.

Twenty Seven Steps
This swish little restaurant has homemade bread, which goes incredibly well with oysters if that is your thing!
---
Queenstown
Boardwalk
Oysters on the lakefront is a neatly wry take on oysters on the seafront, and we appreciate that. Boardwalk are selling bluffies by the dozen and half dozen.
---
Dunedin
Kaikorai Fish Shop
An oyster or two a week from the local fish and chip shop kept me sane during uni and it's a big call but the fish and chip shops of Dunedin have some of the best deep-fried oysters in the country!
Best Cafe
The owner of this little family-owned eatery, Jessica Marks, drove down to Bluff to retrieve the oysters personally last year, and we think that is pretty cool.
---
Bluff
The Bluff Oyster & Food Festival
The Bluff Oyster & Food Festival was an unfortunate cancellation due to Covid last year, but thankfully, it is back! On the 22nd of May 2021 the bucket list destination for any oyster fan worth their salt is being held in Bluff. With an absence of international travellers this year, there'll be more for you to gobble to yourself.
Oyster Cove Restaurant and Bar
There is something about eating an oyster while looking out onto the tumultuous South sea that spawned them that really captures our imagination. The panoramic views at Oyster Cove allow you to do just that.
Stella's Cafe
Stella's have lightly battered Bluff oysters, of course, but also an oyster pie, which, if you're anything like me, combines two of your greatest loves: oysters, and pies (we actually have a recipe for a Beef, Bacon and Oyster Pie on this very site, if you aren't quite up to making the journey to the deep South).
Galley Takeaways
With oysters and blue cod a-plenty, crunchy batter and multitudinous chips, Galley is a great spot for a fish-and-chips by the sea experience.
---
Oban
Church Hill Restaurant
A visit to this tiny Stewart Island township, which faces onto Foveaux Strait, necessitates the consumption of Blue Cod and Bluff Oysters. And Church Hill Restaurant is a beautiful place to have them.
South Sea Hotel Dining room and Pub
When I first walked into this gem of an establishment, I was greeted by the sight of three Swann Dri-clad Southern men standing at a bar, each with a Speights in hand. It's a grand, old, proper pub on the Oban beachfront, where you can play a game of pool and quaff oysters while you watch the next boatload of seafood pull up to the dock.
KaiKart Takeaways
Fish, chips and deep fried oysters on the Foveaux Strait beach front is a must. The bay is actually a stone's throw from Big Glory Bay, which you might recognise from Big Glory Bay Salmon - how lucky is southland with all this great seafood in one spot!
Did I miss your favourite spot? Let me know at [email protected] and tell me what you love about it!
Check out our
latest issue:
Issue #97
As we rapidly approach the shortest day of the year, the latest issue of dish is set to inspire and delight with a fabulous round-up of mid- winter dishes. We start with the humble-yet delicious sausage, which we celebrate it in all its forms. From there it's all about extreme comfort food with soothing pasta bakes and irresistible puddings. Love a good pie? We share five of our all-time favourites, with luscious fillings encased in crisp, flaky pastry. The cooler weather invites us to slow down, and we do just that with a selection of tender braises which contrast perfectly with our epic, time-saving Food Fast section.