The Lighthouse Keeper: How Lighthouse Gin Distiller Rachel Hall stays faithful to the brand's original recipe
Article by dish with Lighthouse Gin. December 17, 2020
Rachel Hall never set out to become a distiller, but now, as the Distiller for Lighthouse Gin in Martinborough, who recently won two golds at the Gin Masters in London, it's fair to say that she's among the best in the world. And it all started after one particularly long hot day bottling apple juice...
This article was created in partnership with Lighthouse Gin
"I never really set out to be a distiller. In fact, I never intended to make gin my career – I didn't even like the taste of it," admits Rachel Hall, Distiller for Lighthouse Gin. "Maybe because I grew up at the pub my parents owned, The Greytown Hotel, and gin was just another spirit in the bar. And back then most of it was a bit rough. But after coming back from my OE and my kids heading to school, I started a part-time gig in apple-juice sales and marketing and I guess the rest is history!"
Today, Lighthouse gin is a coveted staple in all the best bottle stores, bar shelves and liquor cabinets. The striped bottles harking back to the brand's namesake: the lighthouse at Cape Palliser, the image is beautiful, classic, and without frills - much like the product itself. Lighthouse Original is just that - the original recipe that the company spent five years to perfect way back when they began. It's a recipe they are dedicated to. Other than that, they have one other gin, the Lighthouse Gin Hawthorn Edition, an intense, silky and bold iteration of a classic gin, inspired by Wellington's Hawthorn Lounge.
Lighthouse, which was established in 2005, don't bring out a new gin every year (although Rachel does do her fair share of experimenting behind the scenes), preferring to stay faithful to the excellent, classic gin recipes they are known for.
Yet Lighthouse Gin has humble beginnings, hailing from a hand-made copper pot still in the back of an old apple packing shed where Rachel was working at the time. While Rachel worked making apple juice, Neil Catherall, the original distiller, was distilling the very first bottles of Lighthouse Gin.
"I'd never thought about where gin had come from before so I was curious to learn more," says Rachel. "After one particularly long hot day bottling apple juice, someone suggested gins all round. I thought 'oh no' but by the time I got to the bottom of the glass, I had fallen in love with gin."
From then on, Rachel got more and more involved with Lighthouse Gin, helping bottle the spirit, going to food shows and sampling different gins. So in 2014, when Neil started to look at retiring, he trained Rachel on the job over the course of the year till she was ready for the mantle to be passed to her.
---
We spoke to Rachel about how she tastes gin, what her job involves, and what she loves most about being in a role that all gin lovers covet...
dish: What is the process you go through when tasting?
Rachel: First I smell it, then I let the gin wash over my tongue and see how it feels going down my throat. Lighthouse is always really smooth with a soft lingering finish. We're a London Dry style gin so the juniper must be at the forefront with lovely mix of spice lingering in the mid palate and overall citrusy highlights.
I taste every batch at every step for our hallmark Lighthouse style - clarity and smoothness. I taste when I'm cutting off the heads and tails (these are the first runnings and last runnings from the still) Once we've taken the best part of the batch (the heart) I taste the over-proof gin to make sure its balanced. Then I taste again as the over-proof is blended with our pure Remutaka water.
When you started as a distiller, women in the industry were fairly rare, are there more now, and what does that mean for the industry?
When I first started I was New Zealand's first female head gin distiller. More woman are starting to take up distilling which is fantastic. I think it gives the industry more diversity and depth. Women tend to see things a little differently from men. It's good to have a good mix as everyone brings something different. The New Zealand gin scene is really starting to boom so hopefully we will see more women coming through as distillers.
How has the industry changed since you started?
It's changed hugely! When we were first selling Lighthouse Gin, people were surprised that Kiwis were making gin, and they were also very sceptical. Gin had a bad name: it made people cry, it's what your Granny drank or it was very harsh. Now a lot more love, time and effort goes into making gin and there are a lot more categories too.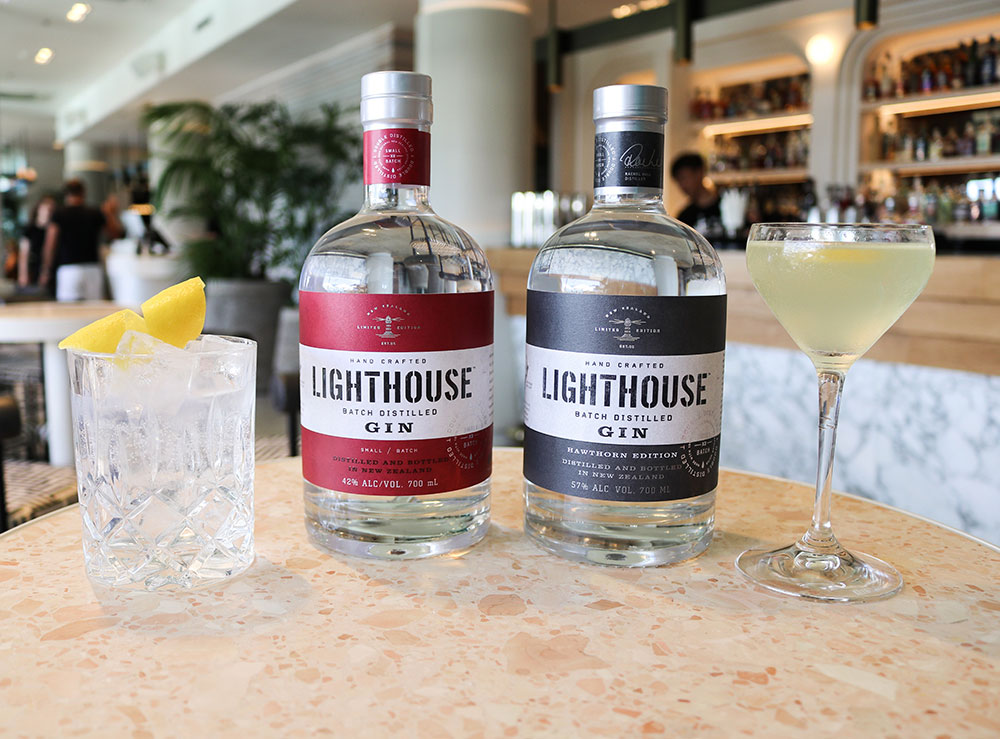 We hear that both Lighthouse Original and Hawthorn Navy Strength edition both just won gold at the Gin Masters in London, what does that mean for you?
I would like to say everything. This year has been a whirlwind to say the least. With lockdowns we really saw sales boom which meant a lot more distilling and longer days, so these two gold medals have been even more meaningful and rewarding this year. They're proof that I'm not cutting corners and I am making a world class gin.
When distilling an established gin, how do you make sure you are staying faithful to the original recipe?
We don't cut any corners. It took five years to perfect the recipe and I see myself as the custodian of that hallmark style. Ten years on, I still hand zest the citrus, I still use the same high quality botanicals, and of course that special water that has filtered through the Remutaka Ranges. I also have a library of previous batches, so if I think I'm going off track or if I'm second guessing myself I can go to the library and taste against that. Consistency is really important to Lighthouse Gin and we make gin as it should be. Also, Neil still comes to visit from time to time so we will taste the gin and we can talk frankly about it.
We hear water from a natural spring at the base of the Remutakas on the Wharekauhau estate is an essential ingredient – how does it affect the final product?
Water is really important to Lighthouse Gin. We handcraft our gin with water that filters down from high in the Remutaka Ranges, it emerges in a spring on the breath taking Wharekauhau Country Estate in Palliser Bay. This exceptionally pure water is the perfect partner to our nine botanicals. Using soft water that has spent years running slowly over rocks and filtering down through the ranges results in a clean, pure taste. So it's worth the 100km round trip just to collect it direct from the spring. I wouldn't have it any other way.

Cinnamon and Cassia Bark used to make Lighthouse Gin.
The ingredient list for Lighthouse original is quite exotic: juniper berries, coriander seeds, Yen Ben lemons and Naval orange zest, cinnamon quills, almonds, cassia bark, orris and liquorice root, where do you source all of those?
It's a very unique blend of botanicals that we use. We've learnt where to source the best ingredients from around the world. I source as much as I can from New Zealand, like coriander seeds, Navel oranges and Yen Ben lemons. We use Yen Ben lemons as they are a true lemon as they have never been crossed with a grape fruit or mandarin – they're a real lemony lemon! Ingredients like Ceylon cinnamon and Juniper berries have to be sourced from countries that specialise in producing them like Sri Lanka and Italy.
What's your go-to cocktail?
Gosh, well that really depends on the day and the mood. I love a negroni or martini but tend to drink them more in the winter. In summer I love a French 75. Recently I made 'ginjito' i.e. I swapped out the white rum in a mojito for gin and added fresh pineapple along with the mint – absolutely delicious. But my absolute favourite anytime, anywhere is a good old Gin and Tonic. I just love a good G&T – they are so rewarding.
What do you love most about what you do?
I love everything. It's so exciting to part of something like Lighthouse Gin. To see something start off so small and to watch it grow is a real thrill and so rewarding. A lot of time and hard work goes into Lighthouse Gin and now all that hard work is paying off, we are able to build a brand new distillery. We are currently in the midst of a new development at the Te Kairanga winery that will have a restaurant, dedicated tasting room for both Te Kairanga and Martinborough Vineyard wines and Lighthouse Gin. You will also be able to look through to the distillery where you will see my custom built German still. You might even see me working away on the gin!
---
Lighthouse Gin
lighthousegin.co.nz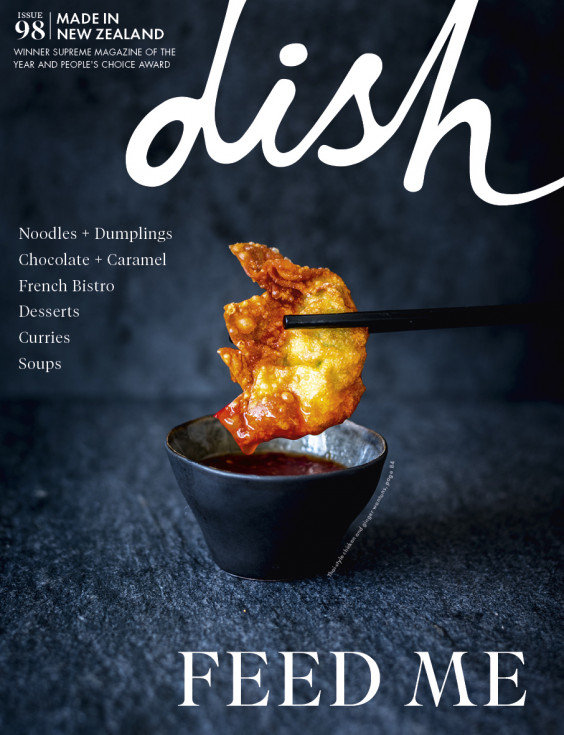 Check out our
latest issue:
Issue #98
We might be in the depths of winter, but the latest issue of dish will inspire you with delicious recipes to brighten even the most grim of days. We start with a selection of classic French bistro dishes – think beef bourguignon and creamy potatoes – before turning to sumptuous soups. Next, it's all about warming curries and bowlfuls of noodles and dumplings, perfect for those chilly nights. In the mood for something sweet? Check out our delectable chocolate and caramel treats, or turn to our Food Fast section, full of desserts quick enough to make on a weeknight.