The plating game: We asked Antonia Prebble about her food loves so we could create a dish especially for her
Article by Maria Hoyle. February 10, 2021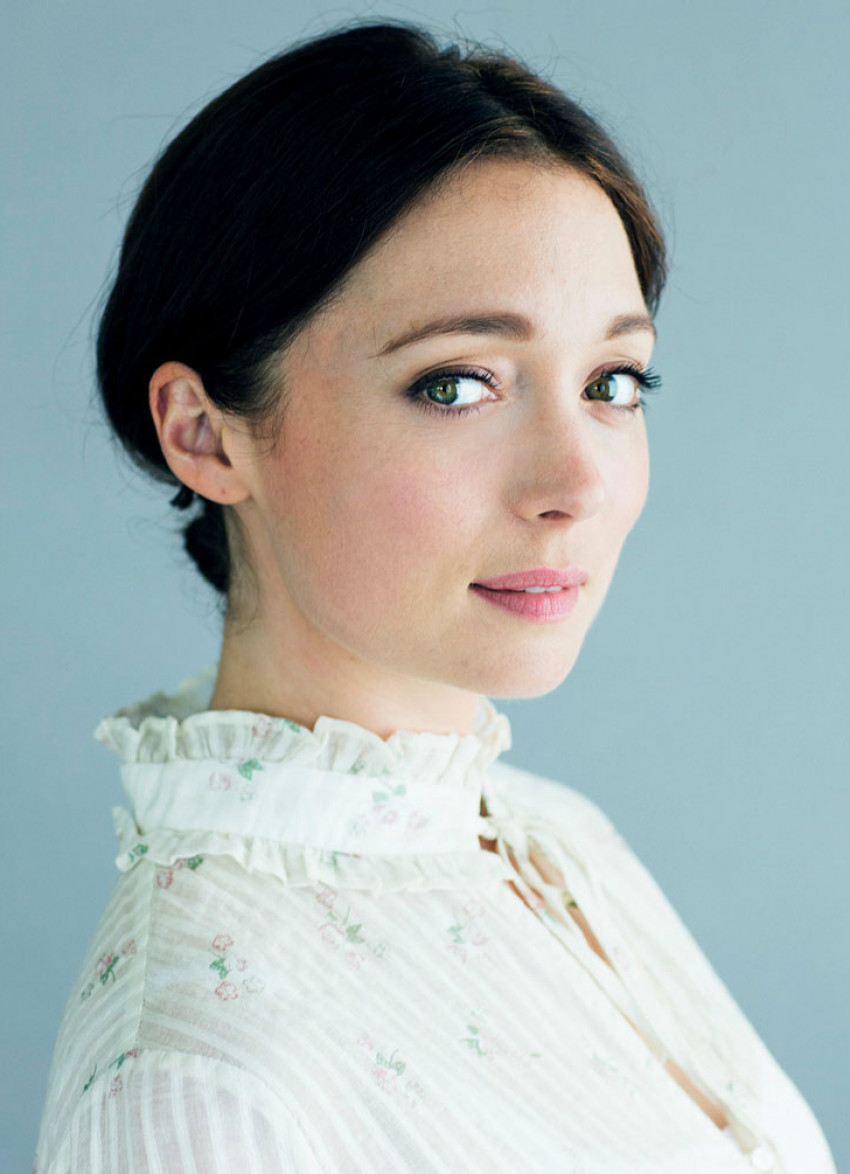 We talked to actor Antonia Prebble about her love of France and French flavours, her cooking style, and her favourite dish at her go-to restaurant, the Engine Room, then created a recipe especially for her: Double-baked Smoked Salmon Soufflé with Rocket, Fennel and Caper Salad.
When you're a Kiwi actor in hot demand, you'd be forgiven for delegating the cooking duties to the local takeaway (or the nearest available family member). Especially when you also have a toddler son in tow. But despite her full-on schedule, Antonia Prebble doesn't just love cooking; she's developed a new-found respect for the process, and a fascination for experimenting in the kitchen. The star – perhaps best known for portraying not one but two members of the infamous West clan in TV series Outrageous Fortune (Loretta West), then Westside (Rita) – talks us through her food favourites and foibles, the Paris meal she'll never forget, and the a-ha moment when she fully understood the mean of 'great cooking'.
What's your go-to dish when you are busy with work or other commitments?
When I am filming I do very little cooking. Mainly because we get fed so well on set. The buffet lunches for cast and crew are like dinners. I don't usually get home till 7.30 or 8pm so I don't need dinner or feel like cooking. I might have eggs on toast or a ready-made meal.
However, last year I really changed my relationship with cooking. In part it's due to becoming a mum and domestic life being higher up the priority chain. I didn't used to get much pleasure out of cooking but over the two lockdowns I had time and inclination to do a lot more and I loved it! That has endured. Before I'd do things in a way my partner [Dan Musgrove; Antonia's co-star in Westside] would probably call slapdash. Now I get a lot more joy out of creating something.
When I was 25, my mum gave me a cookbook she had put together of 'tried and true vegetarian recipes' because I was a vegetarian for quite a few years. She gave me this notebook where she had cut out 25 or 30 recipes she had made over the years. And I had cooked hardly any of them since she gave them to me. So over lockdown I cooked all the recipes and absolutely loved it. Dan was like 'Who are you, who is this person I am with?!' Because I was cooking three meals a day for him. I suddenly became like this traditional housewife!
A few years ago I had low iron levels so I started eating meat again. But I mainly eat pescatarian; it really suits me. I have meat once a week, usually chicken.
Freddie is 18 months old. We really enjoy eating together, which we do quite a few evenings. Freddie goes to bed at 7 and we have dinner at 6. It's a great way for Freddie to try a bigger variety of food; he will happily eat broccoli, zucchini, asparagus and so on if we are eating it.
What's a tried and trusted dish you whip up when entertaining?
I'm quite big on one-dish or one-pot meals. Even though I find a lot more joy in creating complex things I am probably still early on that journey! So if I am having friends over I like to make it relatively straightforward so it's not too stressful. I have been making risotto for years; it's something I can do with my eyes closed. And I really like making pies: chicken or mushroom, vegetable. One of the dishes in my mum's book is a delicious spinach and ricotta pie. It looks impressive when you pull a pie out of the oven and I often decorate the top with 'Hello' then the name of the person who is coming. A lot can be forgiven, with how something looks, if you put 'Hello so-and-so' on the top! With a pie you can do most of the preparation before people arrive. I cook a lot of salmon as well.
What's your style of cooking?
Nothing too fiddly. I try to eat a range of food and eat relatively healthily. We make a lot of Thai curries. Tofu curries – as much plant-based as possible. I make a lot of lentil-based foods – tray bakes or lentil shepherd's pie. Often we'll just have a protein and vegetable, like tarakihi and salmon with vegetables or salad. I really don't like wasting food. If I can see there are vegetables going off I will use them.
You are a Francophile and speak good French, plus you spent time in Paris doing a theatre course – do you have any memorable food experiences from your time there? What foods did you particularly enjoy?
I had one amazing culinary experience. I would have been 22/23 when I was over there; I'd rarely travelled on my own before and hadn't had that many food experiences as an adult. One night we went out to dinner to my friend's uncle's restaurant. The meal was lovely but what I remember about it was the uncle kindly gave us a free dessert – an exquisite chocolate tart – with wine to match. I can't recall what it was but it was a beautiful red, and it was the first time I'd ever had a food and wine pairing. I remember going 'Oh my gosh, I get it now. I get why this is both an art and a science' because to my naïve, immature palate, the taste of the tart and the wine just exploded. It has stuck with me all these years. I'd never quite appreciated what the pairing of wine can do to both the wine and the food! It was quite something. I love wine. That's my drink of choice. If we are having fish or a risotto I tend to get a white. I really like chardonnay. If we are eating something heavier or having a cheese platter I'd get a shiraz.
The one meal that defined my Paris experience, which is absolute anathema to what French cuisine is all about, was a sandwich Grècque. I'd go to this street vendor by the Pompidou Centre with my fellow students and get one. It was like a kebab with hot chips in it! It sounds so horrendous but it was absolutely amazing.
I had one other tricky experience. I ordered a steak tartare because it was the cheapest steak on the menu. This patty of raw meat turned up and I was like 'oh gosh, what have I done!' and couldn't eat it. I tried a little bit though; I'll generally always give something a go.
Apart from steak tartare, Is there anything you don't eat?
I tend to not really like sophisticated tastes! I'm not good on crayfish, or caviar or olives. They taste a bit too much like the ocean, very salty and full-on. I don't really like champagne! I'll drink it because I love the ritual around it but if I had a choice I'd always go for wine over champagne. I'm not good with most seafood. I'll happily eat prawns but not mussels and oysters, for example.
What flavours do you gravitate to?
Definitely milder flavours rather than strong, rich ones. I'm not good with spicy flavours, so I'd go for a mild curry. I love Vietnamese food, and I love Italian and French flavours too.
Do you have one food memory or experience you wish you could re-live?
I went to Heston Blumenthal's restaurant, The Fat Duck, in Melbourne. I was filming a TV show called Sisters there. I had heard about this incredible food scientist guy so I went for dinner and it was pretty amazing. There was one dish that looked exactly like a tomato but it wasn't that at all. It was some kind of terrine. I also remember the first time I went to Logan Brown in Wellington and ate mashed potato and thinking 'this is the most incredible mashed potato I have ever tried in my life!' It was one of those moments where I just understood what good cooking was. If you can create something delicious from the humble potato you are clearly doing something very different to what I am doing!
Your favourite places to eat out?
I love going out for dinner. Obviously recently I haven't been able to go out nearly as much as I would like. In Auckland I love Amano, Coco's Cantina, Lilian, Orphans Kitchen, Odettes Eatery, The Engine Room – with their famous cheese soufflé… With all these places the food is delicious but the vibe and the atmosphere is also quite accessible. If you feel like dressing up you can, but if you don't you don't have to.
If you could have a cooking class with anyone, who would it be with?
Heston – he is so extraordinary. I want to go to The Fat Duck and just lick the walls! I'd love to learn the magic of what he does, the science. It's like a Willy Wonka thing. Then Sid at The French Café. I'd love someone to teach me how to create fine-dining dishes – how to chop an onion properly, how to sauté mushrooms, to make mashed potato. Sid could really show me how to create exquisite food. A couple of years ago, Dan bought me a voucher to learn about fine dining; he took me to a cooking class that purported to be fine dining but it was more like fine dining in the 80s! It was wonderful but not what I was wanting. I would love to have in my repertoire two or three options that are at that fine-dining level, that are really impressive, using those age-old techniques to create exquisite food. I'm determined to learn these skills at some point.
Your food weakness?
Cereal! I can't have it in the house because it will go. I never have it for breakfast because it's ridiculous to start the day with it. But I can have four or five bowls of rice bubbles or cornflakes a day! Apart from that, biscuits and chocolate.
If you could eat anywhere in the world – we're paying – where would that be?
The Fat Duck!
---
SERVES 6
Recipe by Sarah Tuck
Photography by Josh Griggs
From issue #95
This recipe was created by Sarah for Antonia Prebble: I created this recipe for Antonia to celebrate her love of France and French flavours, as a nod to her go-to dish at the Engine Room (their famous cheese soufflé), and because salmon is one of her favourite fishes! It may seem tricky to make, but it is super-straightforward, and as a dish for entertaining can be made the day before (or even weeks before and frozen), ready to whip out, and puff up to golden gorgeousness at the last minute. The rich flavour of the salmon is beautifully complemented by the fresh, zesty notes of the salad.
INGREDIENTS
40 grams butter
1 large leek, trimmed, sliced
30ml white wine
1 small clove garlic, crushed
350ml cream
sea salt and ground pepper
100 grams smoked salmon, roughly chopped
¼ cup plain flour
1½ cups whole milk
finely grated zest 1 lemon
1 cup firmly packed grated Gruyère cheese
4 free-range eggs, separated
Rocket, caper and herb salad
8 cups wild rocket
¼ cup soft dill or fennel tips
2 fennel bulbs, cored, thinly sliced
2 tablespoons capers, drained
Dressing
3 tablespoons extra virgin olive oil
3 tablespoons lemon juice
1 teaspoon Dijon mustard
1 teaspoon caster sugar
sea salt and ground pepper
METHOD
Equipment: Grease 6 x 1½ cup-capacity ramekins and line the bases with baking paper.
Melt 20 grams of the butter in a medium frying pan and add the leek, wine, garlic and 100ml of the cream. Season with salt and pepper. Cover and cook over a gentle/medium heat for 10 minutes; remove the lid and cook for a further 15 minutes, or until the leek is soft and most of the liquid has reduced. Cool for 10 minutes then whizz in a food processor until smooth. Stir through the smoked salmon so it is broken up. Heat the remaining 20 grams butter in a pot over a gentle heat, and whisk in the flour. Whisking continuously, pour in half of the milk with the lemon zest. Once it thickens, add the remaining milk and cook for a few minutes more, whisking until thick and smooth. Stir in ½ cup of the Gruyère, whisk well and remove from the heat. Whisk in the egg yolks, then combine with the leek and salmon purée, stirring to incorporate well. Set aside to cool.
Preheat the oven to 190°C.
Whisk the egg whites with a pinch of salt, to firm peaks. Add one-third of the egg whites to the leek and salmon mixture, folding it in to loosen the mixture slightly, then add the rest of the whites, folding in gently. Divide the mixture among the prepared ramekins and place in a small roasting dish. Pour very hot water into the baking dish, coming halfway up the sides of the ramekins. Bake for 35 minutes, or until the soufflés are risen and lightly golden. Don't panic if they're slightly one-sided or have exploded at the top – they will be fine. Remove the ramekins from the roasting dish and allow to cool for an hour; they will deflate and settle down. Once cool, run a small knife carefully around the inside of the ramekins to release the soufflés slightly, and tip out onto another roasting dish or individual ovenproof dishes. Store in the fridge until ready to finish and serve. The soufflés can be prepared to this point the day before serving and frozen once cool, to be defrosted before re-heating.
Preheat the oven to 200°C. Sprinkle the soufflés with the remaining Gruyère and pour over the remaining cream. Bake for 15-20 minutes, or until the soufflés are lightly puffed and golden. Switch the heat source to grill for the last minute (watch them closely) to ensure a golden bubbling top.
Dressing: Shake the ingredients together in a sealed jar.
Salad: Toss all the ingredients together in a bowl with the dressing.
To serve: Serve the soufflés warm with the salad on the side.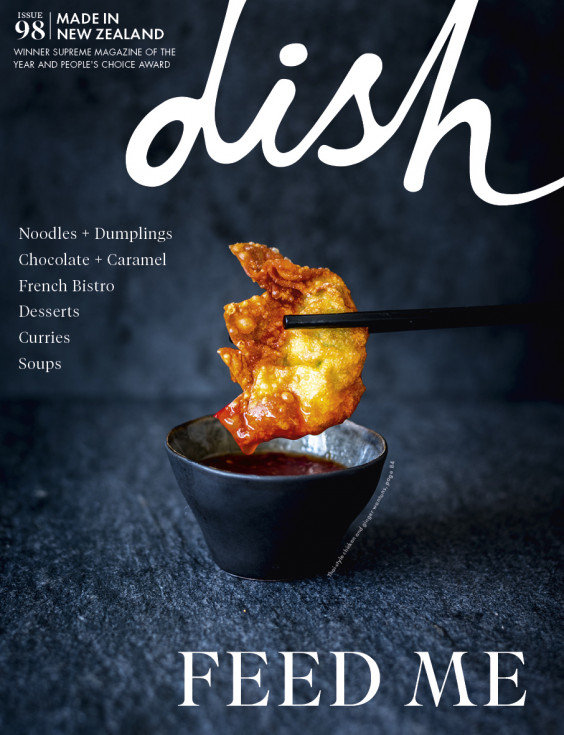 Check out our
latest issue:
Issue #98
We might be in the depths of winter, but the latest issue of dish will inspire you with delicious recipes to brighten even the most grim of days. We start with a selection of classic French bistro dishes – think beef bourguignon and creamy potatoes – before turning to sumptuous soups. Next, it's all about warming curries and bowlfuls of noodles and dumplings, perfect for those chilly nights. In the mood for something sweet? Check out our delectable chocolate and caramel treats, or turn to our Food Fast section, full of desserts quick enough to make on a weeknight.