The plating game: We asked Sam Neill about his food loves so we could create a dish especially for him
Article by Maria Hoyle. February 10, 2021
Our interview with Kiwi actor Sam Neill ranged in topics from the restaurant he'd like dish to whisk him to, the ubiquitous American food he can't stand, to the duck dinner he'll remember forever with love...and resulted in us creating a dish we think is him to a tee: Honey-Roasted Duck Legs with Apricots.
National icon and global star Sam Neill is one of those actors who is like a litmus test for viewing quality. Enter Sam on-screen and you sink comfortably into your seat, thinking: 'ah it's him; must be a good movie'. Over a career spanning almost 50 years, he's brought his trademark gruff charm to a raft of landmark film and TV productions – from Hollywood blockbusters to independent (many Kiwi) gems. The Piano, Jurassic Park, The Dish, Gallipoli, Peaky Blinders, Thor Ragnarok, Rams, Hunt for the Wilderpeople, Ride Like a Girl, Dead Calm… the list is endless. And yet he comes across as a regular Kiwi bloke, the sort you could easily imagine shooting the breeze with over a glass of red (perhaps a delicious pinot noir from his Two Paddocks vineyard in Central Otago). Here Sam reveals the restaurant he'd like dish to whisk him to, the ubiquitous American food he can't stand, and the duck dinner he'll remember forever with love.
dish: With a successful acting career and a vineyard to run, you're obviously super-busy – but do you like to/find time to cook?
Sam: I am so sorry, this is not at all what you want to hear. But the truth is, cooking is one of my least favourite things. I find it hard to understand how people find it enjoyable. I mean, I love eating, I love good food, I love the conviviality of sharing food and wine, but the preparation of food I find stressful and frankly tedious. It's getting everything ready at the same time for instance. Look, it's not as if life isn't chock-full of deadlines as it is. And yet to put more deadlines on yourself within the cosy confines of your kitchen… why? I like friends who cook. I encourage my family to cook. I encourage them to come over and cook for me. What are friends for? One of my sons is a very good cook, thank god, but no thanks to me.
What's your style of cooking?
I'm grateful to the occasional smart business person who can provide really good 'meals for one'. I am a microwave type of cook. However, most of these 'meals for one' are utterly dismal. They can be found regularly in any supermarket in what I call 'The Sad Aisle'. Where you see single people, solitary souls with baskets for one. I am told in more racy climes these serve as dating sites, but the only ones I've ever been to are peopled by the saddest bunch, all of whom avoid catching another one's eye.
We've invited you for dinner and ask the usual question, 'Is there anything you don't eat?' What would the answer be?
I am an absolute omnivore, but if you were to give me a choice I'd say my preferences lean towards game and seafood. As for things I don't really care for – avocados are fairly slimy and unappealing. Cinnamon is simply disgusting – and one reason to avoid America, where they throw it on pretty much everything. I don't particularly like South Asian food, but that is probably because I found it all so terrifying when I was in India. South East Asian food of any kind is fantastic. Sadly, I think the French have forgotten how to cook, but astonishingly London is the best place in the world for dinner these days (Covid aside). If you were offering pudding; a lovely crumble would be my request – either apricot or rhubarb.
Can you share a vivid food memory?
So many: but here is one. My last great dinner with my late father was in Paris. We had duck cooked with honey, to a 2000-year-old Roman recipe, and it was completely gorgeous. We all ate with great relish. That was my father's last dinner he really enjoyed. The next time we had dinner was in Portugal; he had gone off his food, which was quite unlike him. It was the beginning of the cancer that ultimately killed him. RIP Dermot Neill, Food and Wine Enthusiast.
Your Two Paddocks vineyards produce both riesling and pinot noir, but pinot noir was your first love, so to speak. What's a dish/food that you personally love to eat
with the Picnic Pinot Noir and the Proprietor's Reserve?
With the Picnic Pinot Noir I would probably recommend a nice leg of roast lamb. With some pink inside. I rather deplore the slow cooking thing with lamb, which to my mind ruins it. My mother had many talents, but cooking was not one of them. Like most women of her time, it would take her a day to cook a roast, by which time it was reduced to the barely edible. People seem to be doing the same thing again; who knows why.
With one of the Proprietor's Reserves (The Last Chance, The First Paddocks, The Fusilier) something very smart. Wild venison maybe or, if I was in England, some grouse.
What's your style of entertaining?
The most important thing is that we are all sitting round a table laughing, telling porkies and drinking good wine. I think a table is everything; not too big, not too small. One of the many sad things about 2020 is that there was so little sitting round a table with friends and family.
When you're away working on a project, how do you tend to eat and what do you crave when you are away from home?
Sam: I've just finished more than four months locked away on Jurassic World 3 in England. Chef Jamie was engaged by the production to cook for us three times a day. Amazingly it was not only delicious; he never cooked the same thing twice. Furthermore it was strictly calorie counted and I lost about 7 or 8kg. Fantastic. However those kilos will be back before long and all that good work will be undone. It's back to The Sad Aisle.
Your favourite places to eat out?
So many, but here are a few of my favourites: Auckland: Kingi, Depot, Ortolana, Amano and Ebisu. Queenstown: Rātā, Madam Woo and Wakatipu Grill. Arrowtown: La Rumbla and Aosta. Wanaka: Kika Wanaka and Urban Grind. Clyde: Olivers and Paulina's. London: St John and Scott's. Sydney: Sean's Panaroma (Bondi) and Saint Peter (Paddington).
My thoughts go out to everybody in hospitality. What a tough year and I am hoping to see all of you up and about really soon.
What flavours do you tend to gravitate to?
Anything that is not hot. I don't enjoy chillies and I don't know why anyone does. And it seems to me they were only invented to disguise faults. All right, I hear howls of outrage from hot food enthusiasts, but personally I love delicacy in food. Think New Zealand whitebait.
What's your food weakness? Do you have a sweet tooth?
Yes, a terrible sweet tooth. I am old enough to remember sweet rationing, and I don't think I have really ever gotten over that. I absolutely love sweet things. My idea of bliss is a golden syrup steamed pudding with way too much golden syrup.
If someone said 'Sam, I'm taking you to dinner – my shout. You can eat anywhere in the world' where would that be?
Thank you so much for the offer. I would like to take you up on that immediately. I would like to climb on first class (whoever is still flying) and let's go to Copenhagen. I'd like to go to Noma once in my life. I expect tickets in the mail any day now. Can't wait.
---
SERVES 4
Recipe by Claire Aldous
Photography by Josh Griggs
From issue #95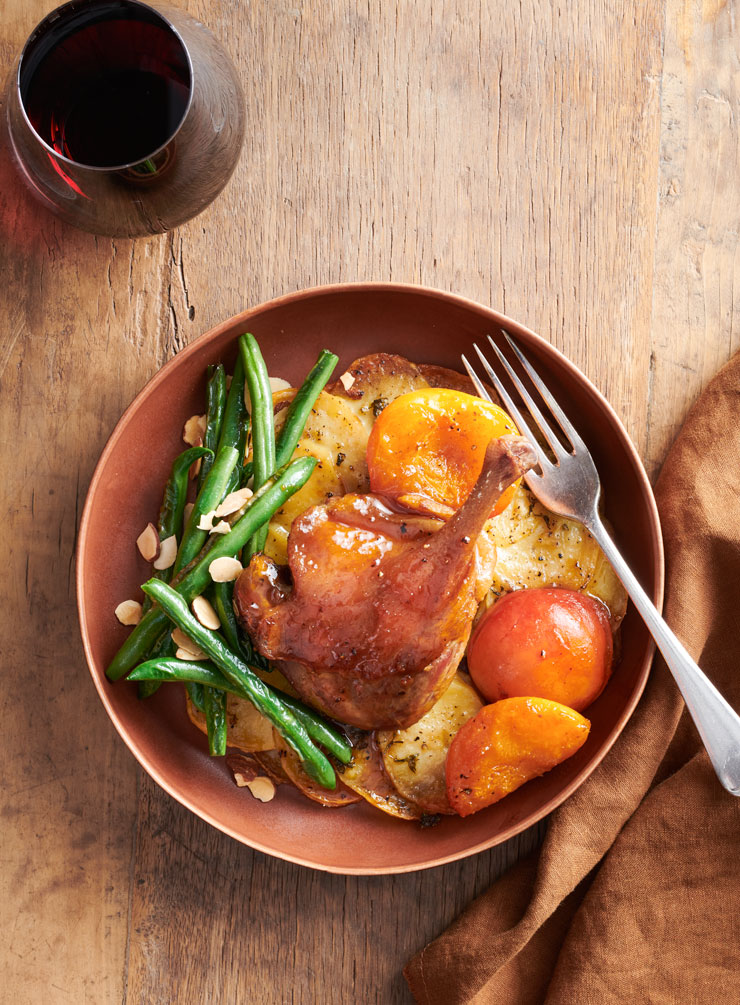 This recipe was created by Claire for Sam Neill: As soon as I read Sam's vivid food memory I knew I'd have to cook a duck recipe in honour of his late father Dermot Neill. That meal in Paris, indulging their shared love of good food and wine for what turned out to be their last great dinner together, is such a heart-warming recollection. Duck is a rich meat that cooks to a melting tenderness and works well with many seasonal fruits. I served it here over a slice of potato gratin with green beans and toasted almonds.
INGREDIENTS
4 whole duck legs
sea salt and ground pepper
2 teaspoons olive oil
3 tablespoons honey
2 tablespoons sherry vinegar
6 apricots, halved, stoned
½ cup good-quality chicken stock
1 tablespoon butter
METHOD
Preheat the oven to 180°C fan bake.
Season the flesh side of the duck with salt and pepper. Heat the oil in a large ovenproof sauté pan over medium heat and add the duck, skin side down. Cook until the skin is golden. Turn skin side up, brush with 1 tablespoon of honey, season with salt and pepper then cover and roast for 30 minutes. Uncover and cook for a further 15 minutes, or until very tender. Transfer the duck to a plate and cover to keep warm.
Pour most of the fat out of the pan, leaving any sticky bits behind. Add the vinegar and the remaining honey and let it bubble up. Add the apricots cut side down then add the stock. Simmer for about 8 minutes, occasionally spooning the pan juices over the apricots until they're tender but not collapsing. Gently whisk in the butter a little piece at a time, to make a glossy sauce. Season with salt and pepper if needed.
To serve: Place the duck legs on serving plates with your vegetables of choice. Add the apricots and spoon over the pan sauce.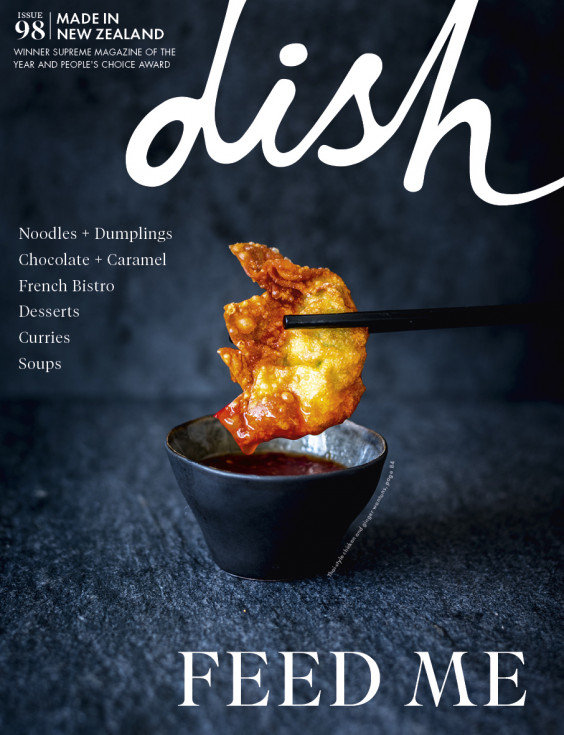 Check out our
latest issue:
Issue #98
We might be in the depths of winter, but the latest issue of dish will inspire you with delicious recipes to brighten even the most grim of days. We start with a selection of classic French bistro dishes – think beef bourguignon and creamy potatoes – before turning to sumptuous soups. Next, it's all about warming curries and bowlfuls of noodles and dumplings, perfect for those chilly nights. In the mood for something sweet? Check out our delectable chocolate and caramel treats, or turn to our Food Fast section, full of desserts quick enough to make on a weeknight.