The power of two: Josh and Helen Emett
Article by Maria Hoyle. December 11, 2020
Photography by Alex McVinnie.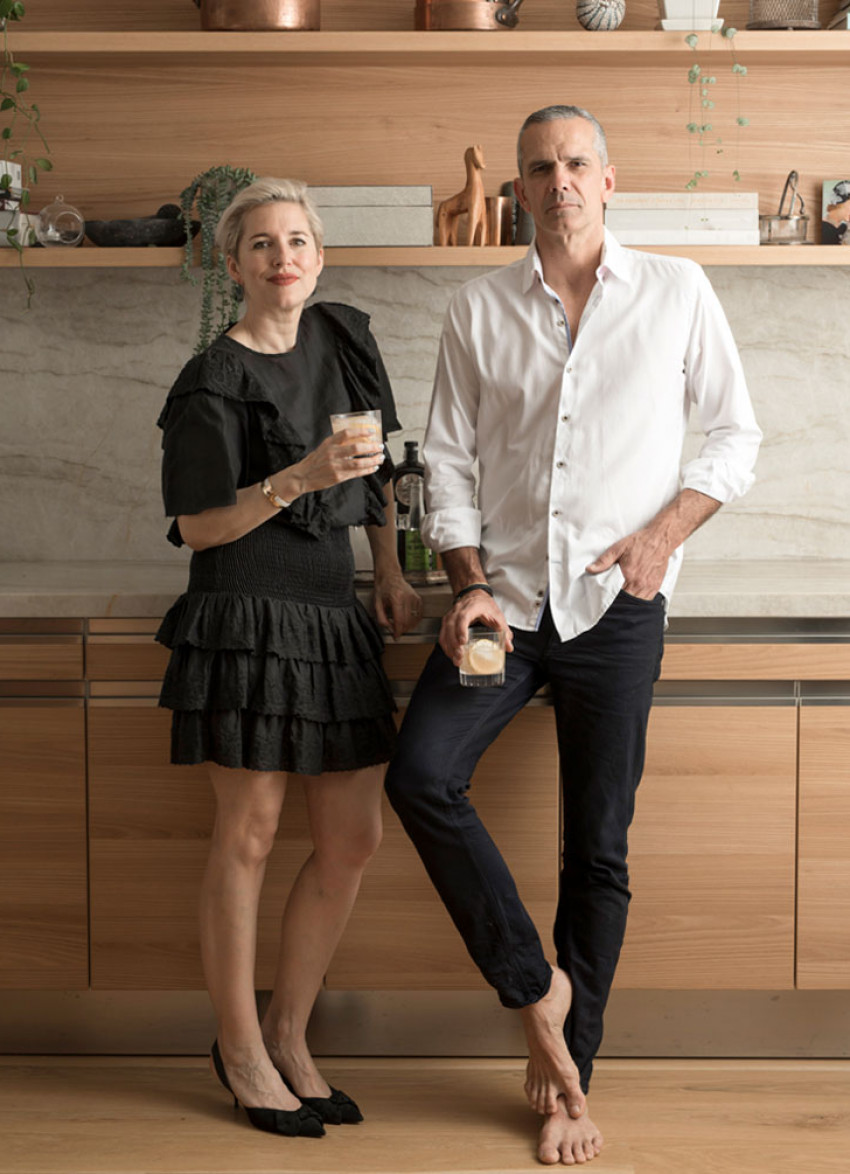 Hospo power couple Josh and Helen Emett bring all their firepower to the table in new Auckland restaurant Onslow. They tell dish about staying true to their vision, and why they make such a formidable team.
It's 9am on a Tuesday morning in October, one week after the opening of Josh and Helen Emett's new restaurant, Onslow. Josh jokes he's had a sleep-in thanks to dish's visit to their Auckland home. With sons Louis and Finn to get to school, an exceptionally cute and rambunctious dog to be walked, ongoing hands-on involvement in Waiheke Island's Oyster Inn – which he and Helen purchased in February – and a newborn restaurant to nurture, there's a lot going on.
But if Josh seems unexpectedly calm for someone who's just launched a much-anticipated eatery in the midst of a global pandemic, that would be because he is no stranger to the practice.
"I have done this so many times – like 25 at least – where I have controlled the complete kitchen, had input into the wine list, the whole design of the restaurant."
Because Josh Emett is not simply an excellent chef; he is a globally recognised brand. He's our homegrown culinary celebrity, the Hamilton boy done good. Having honed his craft in the UK's top dining establishments, he didn't just stand the heat of Gordon Ramsay's kitchens; he flourished in them. As head chef at the fiery restaurateur's Savoy Grill in London, Josh earned the prestigious venue its first Michelin star in more than 100 years. Over their 11-year partnership, he opened restaurants for Ramsay in New York, Los Angeles and Melbourne – racking up a swag of Michelin stars along the way – before returning home in 2011 to launch Rātā in Queenstown, the first of a string of successful partnerships with Kiwi restaurateur Fleur Caulton.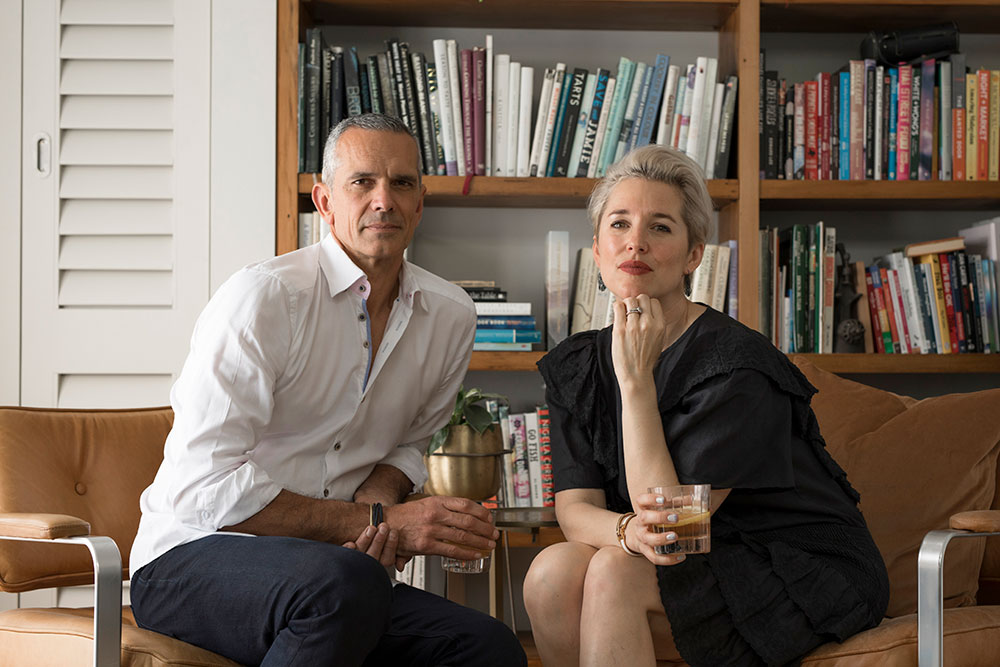 Wife and business partner Helen, meanwhile, has trodden a rather different route, and until now been much less in the limelight. But their latest venture – in a beautiful heritage building on Auckland's Princes Street – is an elegant distillation of everything they have learned about hospitality, individually and together, over the years. The result is a very refined blend indeed. Refined but – they are quick to point out – certainly not stuffy.
While opening restaurants is familiar terrain, this time there's a crucial difference. Onslow – a 100-seat venue on the ground floor of multimillion-dollar apartment complex The International – is Josh and Helen's first 'from scratch' joint venture.
"Helen and I have wanted to do one for a long time with our ideas and no one else's input."
And it's clear they're in their element. Firstly, and most obviously, food is their passion.
"I love my food so I will eat anywhere, anytime really," says Josh. "I love going to places that are a little bit down and dirty, places that are a little bit hipster or whatever."
"Remember that time you ate 10 pastries at the market?" Alex, our photographer, calls out.
"Oh yeah," grins Josh.
As for Helen: "From the moment I could get into work, from about 14, I went into hospo. I worked as a waitress, I did anything in any kitchen. I used to wash dishes. I worked a lot of hours, but I loved it. I went to uni and worked in a bar, made lots of money. I didn't go out that much but I loved the social aspect."
Her obsession with the food itself started earlier still.
"Even aged four in Singapore I'd eat hawker noodles… in France, aged six, I'd eat frog's legs. I just love flavours and, living in Europe, those Spanish influences. I spent nearly every summer holiday in Spain."
She first met Josh in New York. He was there overseeing the opening of Gordon Ramsay at The London NYC, she was working for Merrill Lynch. After university in the UK, she'd ended up working in banking recruitment, then later reporting and doing global client coverage for investment banks, and eventually landed a job with Merrill Lynch in the Big Apple. She also took advantage of her stay to polish her cooking skills, doing a six-week course at the French Culinary Institute.
"I wasn't trying to be a chef. I just really loved cooking and wanted to prove I was as good a cook as I thought I was!"
She met Josh at a party and, with newfound confidence in her culinary savvy, began "showing off" about the fact she was going to cook for 20 people.
"Then I realised Josh was a chef and I was like 'oh, I bet he works at a little café on the Lower East Side'. Then I found out he had two Michelin stars!"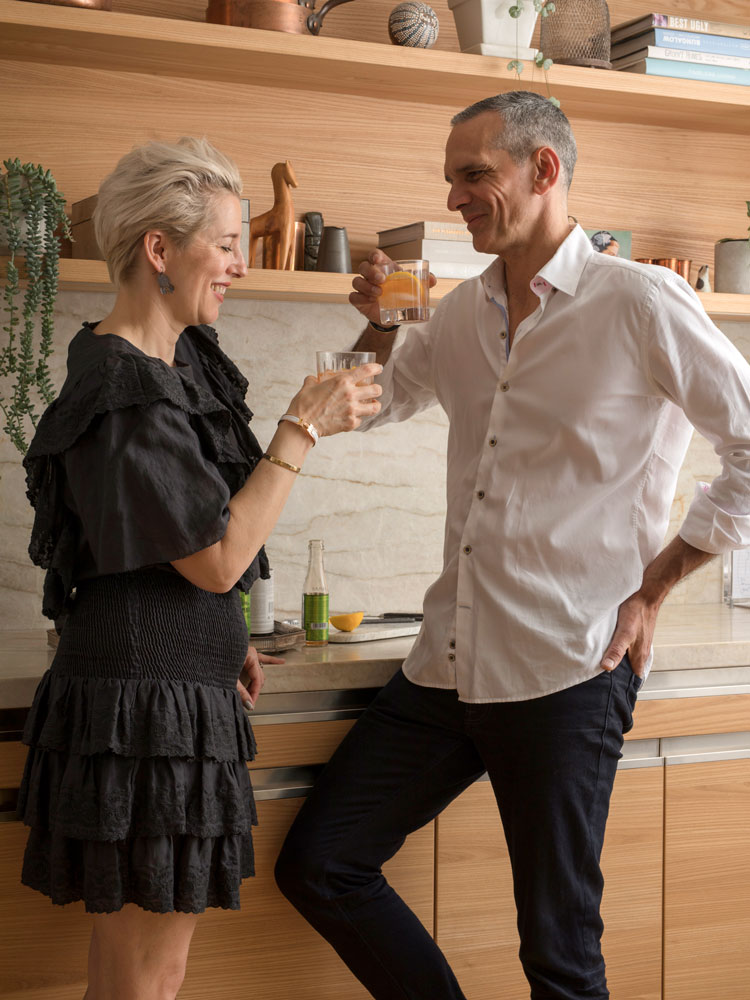 Helen and Josh live and breathe hospitality – and their latest venture is the ultimate expression of their complementary strengths and shared vision.
Watching the vivacious Helen and the quieter Josh interact, their constant humorous banter, her ability to pick up the thread of a conversation while multi-tasking – fetching props and taking direction from our photographer – you can immediately see why that initial encounter morphed into a lasting partnership. Onslow is the ultimate expression of how well they work together both personally and professionally, and while Josh wins the public accolades, it's a partnership of equals. They have similar tastes, they share more or less the same aesthetic – plus Helen credits much of their healthy dynamic with the fact she is "brutally honest".
"Josh will come to me with an idea and I might go 'Hmmm…. It's okay'. I've never lacked the confidence to say 'how about this?'. It might not be the dish it ends up as, but he will turn round and go 'oh you've given me an amazing idea. I'm not going to do it with that dish but I'm going to do it with the fish'."
They also have complementary strengths, and each of them acknowledges which bits of the business are safer in the other's hands.
"Josh has oodles of talent in that culinary space. What he doesn't have headspace for, a lot of the time, is stopping, looking at, say, emails coming in, understanding what that response might be, whether it's something we should work on or not," says Helen.
"We talk things through, so he then has a sounding board; it's not that I take a decision and run with it. The other thing I am good at is spreadsheets. I love taking stuff that he's been doing; even a cookbook, and filtering the data. Sometimes when he's working on something and I make a comment, he'll say 'I know! It's not finished; why are you criticising me?'. Because of the pressure. But then he'll go away and invariably he'll say 'you know what you asked me to do? Well here it is'."
Josh is nodding silently, then adds: "Helen can verbalise things very easily. She can put my thoughts on paper extremely well. She knows what I want to say. She'll do it in a way that is creatively written. I haven't got the time."
He's also keen to point out that they collaborate closely on the food and wine too. They wanted the wine list at Onslow to be a reflection of what they both love, says Helen, to showcase interesting wines and not to be tied to certain suppliers.
"We wanted to speak to lots of suppliers and see what the best are. We've ended up with a better offering because of that."
They were both involved "with every last styling detail" too, agreeing on most things – with one exception, where Helen was sold on something that Josh was neutral on, and the team were against.
"We had a big issue – not big, but an issue – with water glasses. I chose them – they are Danish and very uneven, unfinished looking. I wanted a bit of a mismatch. Josh was like, 'okay, if you feel strongly about it'. I ordered them and it took seven weeks to get them from Denmark. Most of our team didn't like them. At one point we were going to change them and I said, 'hang on, I love them!' And the comments! Every now and then people will say 'where did you get those glasses?!' and I think 'yay!'" she says with a mischievous smile. "Some people will hate them, but it's just one of those things."
The unusually shaped glasses, while very much Helen's thing, are reflective of their joint approach to Onslow. One of not simply falling back onto what's worked in the past.
"We did approach it with a 'let's do things differently' attitude," says Josh. "We're very open to trying new ideas in terms of training, culture within the business, style of service, layout of the kitchen, what we do with the menu, how we set everything up. With every decision – from where the water glass goes on the table, where the cutlery goes, what our wine service style looks like, what glassware we use – we want to go over and above. Especially with the style of service. It needs to be quite tailored to the individual."
They want every diner to get the best possible experience – whether they prefer a quiet table, or a noisy table, or a big table, whether or not they want to be seen.
"That's what we love about restaurants. It doesn't matter who it is, right? Everyone has to be extremely comfortable," says Josh.
And at Onslow, it would be hard not to be. The décor is incredibly stylish, but invitingly so, the prevalence of dark oak lending warmth and a cocooning feel to the minimalist layout. There are lovely touches; the beautiful textured upholstery on the booth seats; the floor-to-ceiling linen drapes, the crystal bowls. Those water glasses.
"Rufus Knight did an incredible job building the foundation of that architecturally, but [interior designer] Sonja Hawkins added all the flourishes to make sure it feels extremely warm," says Josh. "It's got that softness, all those nice textures going on. You sink into one of those seats and you don't feel like moving."
Onslow has been labelled 'refined but not fine dining', a place where Josh can showcase his culinary wizardry. But the couple also want their customers to 'feel something'. Not just to remark on the freshness of the salmon, the tenderness of the slow-cooked pork belly, the lightness of a showstopping chocolate soufflé that looks like it might float away with the faintest breeze. In order to best achieve an unforgettable experience for the diner, the couple put themselves in their shoes.
"We've spent a huge amount of time in there," says Josh. "On late nights over the past six to eight weeks, when it was near completion, we'd come back from the Oyster Inn, go to the restaurant, sit down at one of the tables, have a glass of wine, dim the lights, open the drapes, close the drapes, turn the music up, just try to see and feel… We could say 'oh this is a really nice table and from this one you can see that'… If you want to get it right you have to walk it through, you go and live in it. It's common sense but you often overlook those things in the busy-ness of trying to get the jobs done."
It's clearly working; so far the feedback has been overwhelmingly positive, with diners remarking not just on the excellence of the food but on the incredible attention to detail.
But right up to Onslow's opening, it was nail-biting – even for a veteran like Josh. Because as much as you plan, and tweak, and refine, you can't know how it will all work until the diners start coming in.
"People are what make it. Without people… that's the stress early on," says Josh. "Even right up to the point you open, you know the bookings are coming through, and you think 'thank god, people are going to turn up'."
Josh has devised a kind of mathematical formula for gauging the outcome: 50 per cent capacity + positive energy = You've Nailed It.
"You often look at your restaurant and think 'how does it feel when it's 40 or 50 per cent full'? If it feels full and lively, then you've got it right. I really like it when even at 50 per cent capacity it still feels warm and energetic."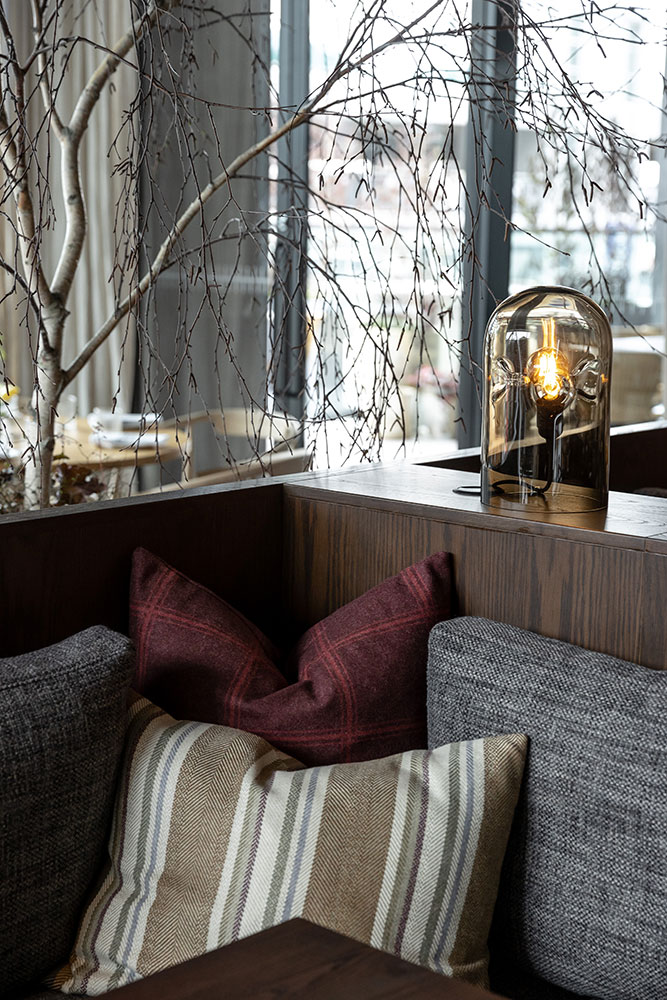 With Madam Woo and Hawker & Roll – the Malaysian street food-inspired chains he co-owns with Fleur Caulton – Josh indulged his love of fast-casual dining. With Onslow, he returns to his love of "sophisticated, timeless restaurants that are not fine dining but high-end, classy".
Again, it's not just about the sophistication of the food, but providing an ambience that can transport you to another state entirely, where you can "shut things out for a few hours" – something Josh and Helen feel is more important than ever.
"We are going a little bit against that instant gratification, that 'we want everything now, feed me and get me out of here'… where it's noisy and chaotic and you're not necessarily getting much of a level of service. So much of hospitality is going in that direction, whereas we're pulling back, saying 'slow down, enjoy yourselves, we are going to take care of you, pamper you a little. Because people are looking for experiences, 100 per cent," says Josh. "They are looking for a bit of theatre, a bit of engagement, and warmth. That all relates to how people are feeling these days. Mentally strained and feeling stressed out."
There's an online seven-minute TEDx talk about the importance of looking after people that they like to show their staff.
"You don't know what customers are dealing with up until the point they enter a restaurant. Potentially dad's working late, the wife's just got the kids out of school, taken them to sports, it's been chaotic, they're running late, bad traffic, it's their anniversary, they're on the brink of an argument when they walk in the door and then we take over. We're like 'Don't worry, we'll organise this. We're in control. Sit down; we know it's a special night for you!' Everyone's lives are difficult, right?"
This sentiment, of food being a transformative experience, is something that strongly underpins the Māori world view, interjects Helen. "At the opening of Onslow, we had a whakatuwhera, a Māori welcoming blessing. And they talked about the fact that when you eat food in Māori culture, you should go into a place and leave feeling differently. It lifts your spirits."
Māori culture and history are physically referenced at Onslow too, the site of the restaurant speaking to both Josh's New Zealand heritage and Helen's British one. No 9 Princes Street once housed the Grand Hotel, which was opened by the Earl of Onslow in 1889. A focal point in the restaurant is a photographic triptych of the whare Hinemihi o te Ao Tawhito that once stood near the famous Pink and White Terraces. After the eruption of Mount Tarawera in 1886, which buried the terraces, the Earl acquired the whare and later had it shipped to his family seat in the UK. While talks are underway to return Hinemihi to New Zealand, Josh and Helen see the photograph as a symbolic homecoming. Onslow also features sculptures by the couple's Waiheke friend Anton Forde, of Taranaki/Ngāti Ruanui descent. His work includes a large huia feather inside the restaurant, two benches on the terrace, and a pounamu sculpture – a koha from Anton.
As well as its English aristocratic roots, the name 'Onslow' has a more personal, rather lovely, connotation for Helen.
"My parents, when they were courting, would go to Onslow Gardens in London. And later my father had an office there. We were going to call the restaurant Princes Street; it's very American to call a restaurant the name of the street. Then we found the signage on the front of the building was going to say '9 Princes Street', not just 9. So we thought that wouldn't work. We love the name 'Onslow' now. We feel it fits. And we like that it has 'slow' in it as we felt you should come in and take a moment and enjoy."
So what about Josh and Helen? Does 'slow' have a place in their personal lives? How do they recharge… or get any space at all from talking about work?
"Right now is the crazy time," says Helen. "But normally we'd try and work from home and have lunch together. And yes, we do end up talking about work, but it's what we like to talk about."
Fitness is also key; they like to work out together. Then there's ball of energy Raffy the dog to walk. With a house so close to the ocean, Josh likes to swim in the summer, too, almost daily.
For total switching off, however, "The spa is the big thing," says Helen. "Even though I am not a massive fan of them, Josh loves his spa. It means no technology, no interruptions."
While they love to entertain and cook at home – "what we record on Instagram is a true representation of what we love to eat – we eat a lot of fish; the kids love it. And fish pies, shepherd's pies" – they enjoy eating out too, often with their sons. Though never at one of Josh's restaurants. "It'd be like 'why aren't you in the kitchen'?" laughs Helen.
Instead they're fans of The Engine Room, The Blue Breeze Inn, Ponsonby Road Bistro or eating locally at the likes of La Fourchette.
Still, there's no getting away from the fact that they'll be spending a fair bit of time at 9 Princes Street. So what are they enjoying most about having Onslow in their lives?
"Having people in it!" says Helen quickly. "Since we've been in New Zealand, we've made so many friends and contacts, and seeing those people enjoying it and giving us feedback –most of it has been really positive. I love the interaction. That's what I love about hospitality. I love speaking to people. People we don't know are coming in for their wedding anniversary, and I'm trying to get them a better table, telling them 'give me 10 minutes, are you okay at the bar?' that kind of thing. I love that."
Seeing their staff grown into their roles has been another satisfaction. "They're real hard workers. Seeing them enjoying what they do is really cool. We've got the salmon trolley and they absolutely love serving it. We thought they'd hate it!"

At Onslow, the fresh cured salmon arrives on a trolley and is carved right in front of you; it's all part of Josh's love of 'theatre'
The trolley is an idea Josh introduced at the Savoy Grill back in 2003.
"It's my love of that sort of thing. The theatre – carving it at the table in front of you. It's very fresh cured salmon. We serve it with dark rye bread and pickled cucumber."
Those years with Ramsay can't have been easy; I ask if the word 'brutal' is overstating it. It's not overstating it, says Josh. But it's Helen who jumps in:
"Interestingly, while Gordon Ramsay does have that reputation as the world's worst place to work, one thing Josh would say is that he is extremely talented from a chef's point of view, that he's very meticulous on that process and detail. All of the chefs that have come out of that training have got that same structure. So even watching the way Josh puts the whole process together, it's complete and utter precision. Almost military. So we treat our staff really well but if you are told to do it that way, it's the only way."
It comes back to that fine focus. Helen refers to a quote from their staff training documents. She can't recall it exactly, but the gist is: 'it's all the details that create a great experience'.
"Making sure our staff know that all those tiny bits and pieces that we do turn things from mediocre to amazing. For us, it's really important."
---
Onslow
onslow.nz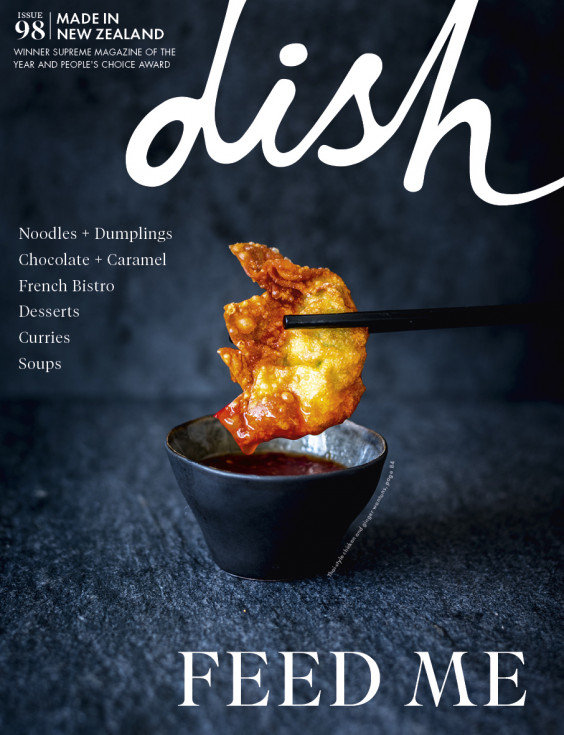 Check out our
latest issue:
Issue #98
We might be in the depths of winter, but the latest issue of dish will inspire you with delicious recipes to brighten even the most grim of days. We start with a selection of classic French bistro dishes – think beef bourguignon and creamy potatoes – before turning to sumptuous soups. Next, it's all about warming curries and bowlfuls of noodles and dumplings, perfect for those chilly nights. In the mood for something sweet? Check out our delectable chocolate and caramel treats, or turn to our Food Fast section, full of desserts quick enough to make on a weeknight.