Moroccan Sfinge Doughnuts
Recipe by Uri Scheft. November, 2016
Photography by Con Poulos.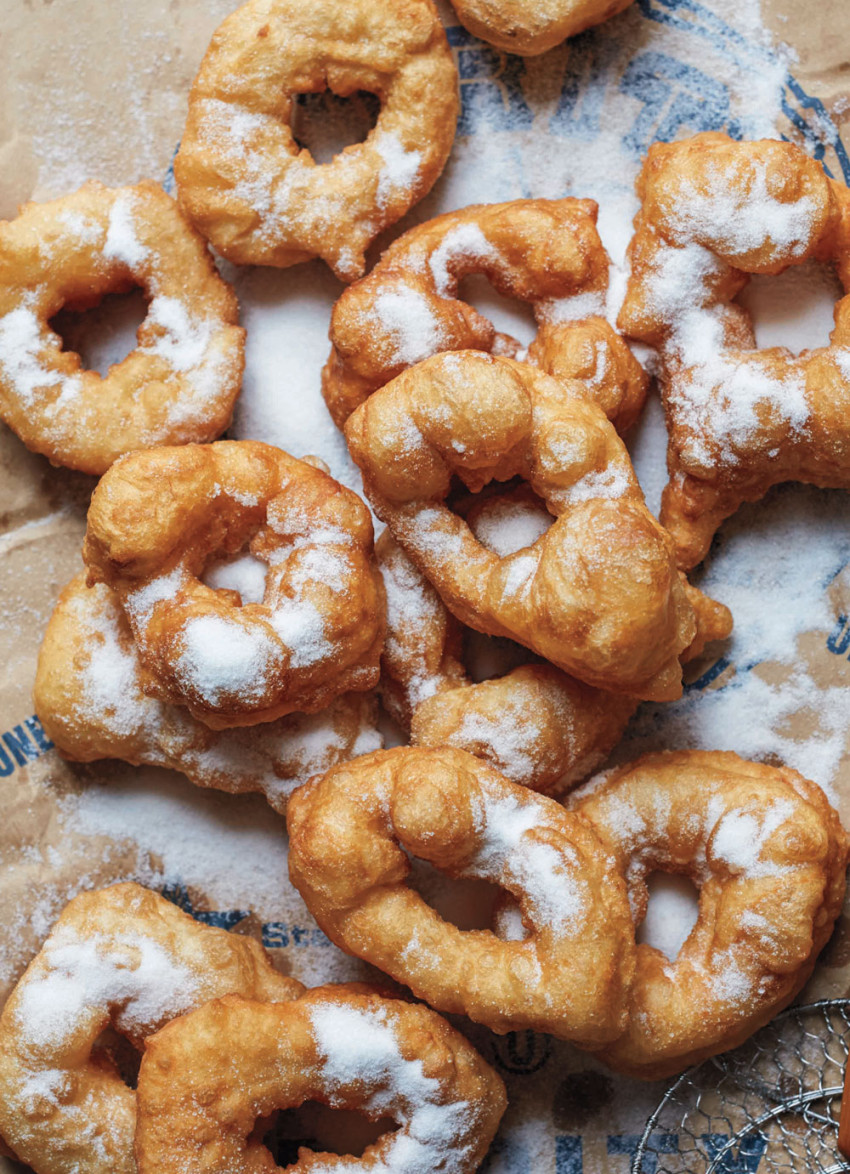 Sfinge is an airy and very light doughnut made with a sticky, almost batter-like yeasted dough that fries up like an Italian zeppole. To make these doughnuts from new book Breaking Breads, use wet hands to simply pinch off a knob of the batter and gently stretch the bit of dough into a ring shape before dropping it into hot oil.
INGREDIENTS
2 cups cold water
15 grams (2 tablespoons) fresh yeast or 5 grams (1 teaspoon) active dry yeast
650 grams plain flour, sifted
1 tablespoon plus 1 teaspoon granulated sugar
1 teaspoon salt
4½ cups vegetable oil or as needed for frying
To finish: granulated sugar or Honey Simple Syrup (recipe below)
Honey Simple Syrup
1 cup sugar
1 cup water
2 to 3 tablespoons of honey
In Morocco, vendors sell these in the street, suspended from a wire that hooks through the doughnut holes. They should be eaten warm, either coated in sugar or doused in honey syrup, soon after frying.
METHOD
Pour the water into the bowl of a stand mixer fitted with the dough hook. Crumble the yeast into the water and use your fingers to rub and dissolve it; if using active dry yeast, whisk the yeast into the water. Add the flour, sugar, and salt, and mix on low speed until the ingredients come together, about 30 seconds. The mixture will be very loose, sticky, and runny and not like a traditional dough. Grease a large bowl with a drop of oil, and use a plastic dough scraper to transfer the very sticky and loose batter to the oiled bowl. Cover the bowl with plastic wrap and set it aside at room temperature for 30 minutes. The batter should just about double in volume.
Remove the plastic wrap, wet your hands, and flop one side of the batter over on top of itself. The batter is very loose and sticky, so just do the best you can (wet hands help prevent sticking). Give the bowl a quarter turn and flop the next side over. Repeat until all 4 sides of the batter have been folded over; then repeat 3 more times so you have folded each quarter of the batter over 4 times. Cover the bowl with plastic wrap and set it aside at room temperature for 30 minutes.
Heat the oil in a medium or large saucepan over high heat until it reaches 175°C on an instant-read thermometer. Reduce the heat to medium. Set the bowl of batter to one side of the saucepan and place a paper towel–lined sheet pan on the other side. Place a bowl with cool water next to the batter.
Fill a medium bowl with water. Dip your hands in and then break off a fistful of the batter, and force your thumb through the center of the mass. It may seem awkward because the dough is so soft and sticky but this is a key characteristic of the spongy sfinge. Gently use both hands to pull the dough into a rough doughnut shape (again, the dough is very sticky and loose, so this needs to be done quickly and without too much thought). Carefully place the doughnut in the hot oil – it should not look perfect! Repeat with 1 or 2 more doughnuts – don't overcrowd the pan, or the doughnuts will stick together. Use a soup spoon to baste the top of the doughnuts with hot oil – this helps them puff up as the first side fries.
Fry the doughnuts until they are golden brown on both sides, using a slotted spoon or frying spider to turn them often so both sides cook evenly. Once both sides are golden brown, after just 2 to 3 minutes, transfer the doughnuts to the prepared sheet pan and repeat with more batter.
 While the next batch fries, roll the still-warm doughnuts in granulated sugar or brush them with honey simple syrup. Serve warm or within 1 hour of frying.
Honey Simple Syrup
Combine sugar and water in a medium saucepan, and bring to a simmer. Add honey and stir until dissolved. Remove from the heat and let the syrup cool before using.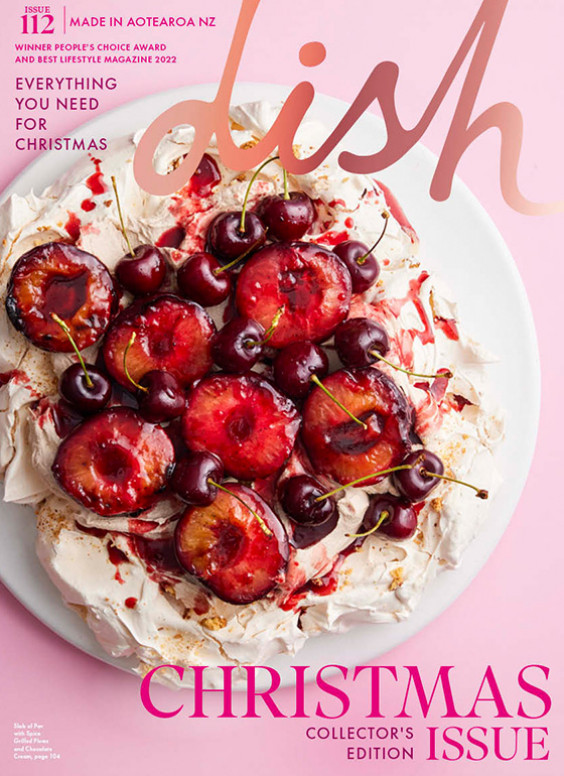 Check out our
latest issue:
Issue #112
'Tis the very best season of all. We are thrilled to share our annual collectors Christmas edition. It's a bumper issue with over 70 recipes for all kinds of occasions – meals for a few or plenty. We have thrifty festive recipes, the full Christmas fare with a twist, vegetarian options, decadent desserts, cakes and sweet treats to gift. Last year the Christmas issue sold out in some retailers so don't miss out – get yours today!