Tasting Panel - Chardonnay 2021
May 26, 2021
It was chardonnay all day as the stars aligned for both the big names and lesser-knowns in a heavenly tasting for our judges.
Well, well, well. If there was any denying Marlborough's emergence as a chardonnay powerhouse then we'd recommend shaking that all the way off, because our results have our largest wine region neck and neck with Hawke's Bay and chasing golden glory. And boy, haven't we had a glorious past few years for chardonnay. In fact, if aliens arrived on earth, aimed a plasma pistol at your face and demanded you "divulge the best recent years for chardonnay in five seconds or the planet gets pulverised" you could simply blurt "2020, 2019 and 2018" and you'd be a truth hero.
Whilst we at dish look forward to the results of every Tasting Panel, the chardonnay results seem to always generate an electric sort of excitement. There is much wringing of hands, nibbling of nails and chewing of cheek amongst our team to find out who will top our list and for our judges, while chardonnay is, for the most part, highly delicious, it's a tough job.
Tough because swirling, sniffing, sipping, slurping and spitting their way through 123 entries, plus recalls and rankings, takes its toll on the teeth and turns them into something resembling baked beans, but this year the standard definitely brought the grins.
The entries were expertly shepherded blind to our judges by New Zealand's top back-room team supervised by Janet Blackman. No fewer than ten gold medals were awarded, and such was the impeccable quality of our top two, our usually highly collegial team of judges had to have cups of cold water hurled at them to stop biffo from breaking out over which one would rule. We're lovers not fighters at dish, so a first-equal situation was declared, and much mirth occurred when it was revealed that Wairau River and Nautilus Estate are literally located across the road from one another!
Chardonnay is also a great equaliser, in that while we expected that in our top scorers we might see some big guns (Matawhero's Irwin from Gisborne, the 1 from Church Road, Tony Bish's Heartwood, Villa Maria Reserve and Man O'War didn't disappoint), it was exciting to see lesser-known producers such as Osawa feature and to have two under $25 wines score gold medals and best buy status. The selection presented at this tasting really did have it all.
There's a plethora of chardonnay styles now available on our shop shelves, from pure, flinty, Chablis-like styles; juicy, tropical fruit-bombs; buttery, nutty numbers; and funky, struck-match-packed sulphidic examples, it's clear winemakers are pushing the bounds as far as possible in all directions, and we at dish think that's a great thing.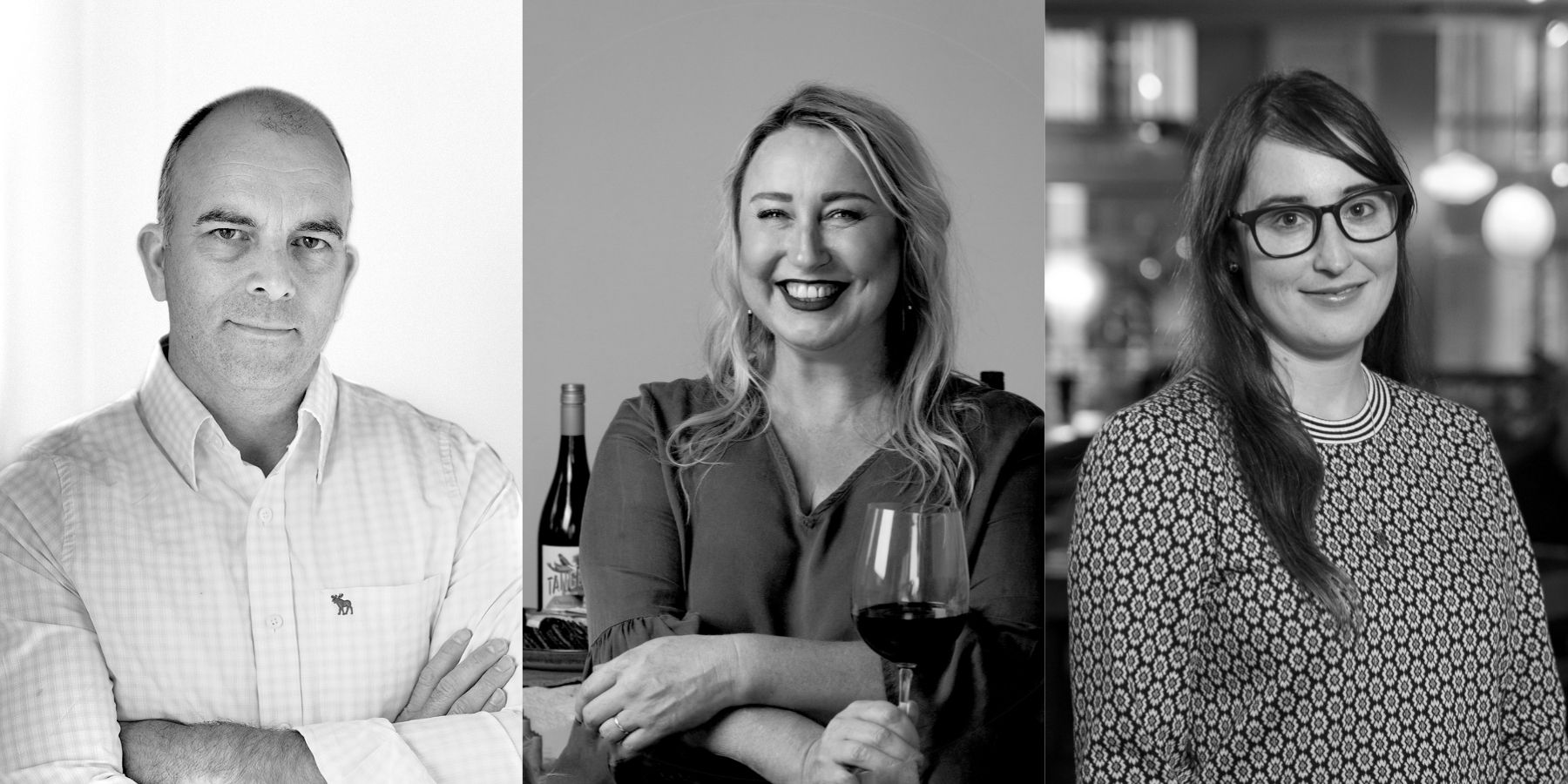 Cameron Douglas, Master sommelier and lecturer at AUT; Yvonne Lorkin, dish drinks editor and experienced beer, wine and cider judge; Rebecca Reed PhD Wine Science lecturer University of Auckland
Yvonne Lorkin's Fave Chardonnay Food Match:

My go-tos for a lovely chardonnay experience are a never-fail wodge of oozy, ripe brie or a juicy slab of crispy-skinned, free-range chook roasted with tarragon butter. But in the summer months I have a swapsie arrangement with one of my mates who sets his pots at Waimarama beach. If there's an extra crayfish going, I buy him a chardonnay in return for a crustacean that I'll boil in salt water and serve with lemony mayo. Yummo!
---
OUR TOP CHARDONNAYS
1. Wairau River Reserve Marlborough Chardonnay 2020 ($30) Gold Medal
"This is a wine that smells so good I'm struggling to wrest it away from my nose long enough to actually taste it!" said Yvonne. "It's so vibrant, alive and saturated with flavour." Rebecca loved its clean, balanced use of sulphides and notes of oatmeal and straw: "It has a lovely acid line that slices through notes of popcorn, buttered toast and lemon zest." Cameron agreed, noting its intense toasty richness, citrus complexity and cashew nut creaminess. Outstanding.

---
1. Nautilus Estate Marlborough Chardonnay 2020 ($39.95) Gold Medal
With buckets of toasty oak, popcorn, bacon and citrus on the nose, this chardonnay is a bold style with supermodel sleekness. Cameron and Rebecca immediately remarked on how well made this wine is. "Classic, clean grapefruit, butterscotch, tropical notes and layers of apricot," noted Rebecca. Yvonne was seduced by its powerful generosity and stonefruit saturation. This chardonnay is world class.

---
2. Lawson's Dry Hills Reserve Marlborough Chardonnay 2020 ($28) Gold Medal
With its lifted roast-peach aromatics, citrus complexity and creamy, nutty richness, this classically styled chardonnay had our judges smiling, nodding, sharing knowing glances and muttering muted "mmmms". "It's a very well-made wine, intriguing and showing fine complexity and palate weight," noted Cameron, while Rebecca loved its attractive textural elements. It's a truly delicious thing.

---
3. Osawa Wines Prestige Collection Hawke's Bay Chardonnay 2019 ($60) Gold Medal
"Roasty, toasty, this chardonnay is up there with the mosty. A powerful, barrel-fermented style, bursting with scorched peach, caramelised oak notes, spiced lemon and crushed-almond aromatics. "I love the flinty, gunsmoke and charred wood notes," said Rebecca, while Yvonne felt it stood out for how it unveils so many different dimensions of flavour as it opens up in the glass. This vintage is a huge step-up in quality for this tiny Hawke's Bay winery.

---
4. Matawhero Wines Irwin Gisborne Chardonnay 2018 ($59.95) Gold Medal
"How gorgeous does this wine smell!" announced Yvonne, clearly impressed by its strong oak and nutty complexity, which leads to a silky, satiny mouthfeel. Its exotic spices and seductive stonefruit saturation is balanced out by a rich, creamy mid-palate. "A bold, hay-scented style with deep lemony layers," noted Rebecca, while Cameron agreed that it was a riot of golden flavour and seriously weighty.

---
5. Villa Maria Reserve Hawke's Bay Chardonnay 2019 ($39.99) Gold Medal
Our judges' notes were filled with expressions like "power", "drive", "boldness", "texture", "juiciness" and "tension". This wine is a clean, powerfully structured style, laced with pineapple, popcorn and gunflint-struck goodness according to Rebecca. Yvonne admired its undercurrent of scorched peach and sleek acidity. Superb.
---
6. Church Road 1 Hawke's Bay Chardonnay 2018 ($70) Gold Medal
If you're a fan of gunflint, charred stonefruit, and layers of smoke cloaking ripe nectarine, grapefruit and roasted walnuts, then this is your magic spell of a sip. "It's got marathon-like mouthfeel and commands a second sip," said Yvonne. Muscular, multi-dimensional yet smashing out delicate citrus and smiles for days. Stunning stuff.

---
7. Saint Clair Omaka Reserve Marlborough Chardonnay 2019 ($39.90) Gold Medal
All judges noted how cleansing and focused this chardonnay is. "Super elegant and precise," said Yvonne. "Peaches and cream with terrific toasty, nutty intensity, superb texture and length of flavour," said Cameron, while Rebecca was bowled over by its bright line of acid tension, lemon zest, creamy oatmeal notes. Superb.

---
8. Church Road McDonald Series Hawke's Bay Chardonnay 2019 ($24.99) Gold Medal
It was the clean jolt of sulphides, almond meal and soft lemon pith that Rebecca was wowed by: "Great acidity throughout, a lovely lean texture and clearly they've used high-quality oak". Cameron agreed, adding that subtle apple and vanilla custard characters blend with baking spices and toasty complexity in the mouth. "It's a finely tuned firecracker of
a wine," said Yvonne. "Highly perfumed, roasty, toasty, mouthfillingly fruity and ultra-lengthy. Love it!"

---
9. Delta Estate Marlborough Chardonnay 2020 ($20) Gold Medal
Fans of a highly oaked, massively creamy styles will want to hop in line to get their mitts on this new release. "I love the crème caramel intensity from woah to go," said Yvonne, while Rebecca felt they'd cleverly preserved solid acidity to balance that creaminess out. Dangerously drinkable.

---
10. Man O'War Vineyards Estate Waiheke Island Chardonnay 2018 ($31.50) Silver Medal
Wound around a core of oak are power, stonefruit weight and seriously rich textures according to Cameron: "Sweet peach, brazil nut and caramelised wood spices add to its youthful energy and vibrancy". Yvonne felt it had a buttery lusciousness and tropical intensity to complement the flinty, smoky oak, while Rebecca enjoyed the straw bale and lemon aromatics. Very well made.
---
11. Tony Bishop Wines Heartwood Hawke's Bay Chardonnay 2020 ($34.99) Silver Medal
The subtle stonefruit sensations on the nose gently unfurl in the glass to reveal muscular, solid oak, caramelized spices and buckets of fresh grapefruity layers, masses of minerality and a long, stylish finish. Clean, precise and packed with personality.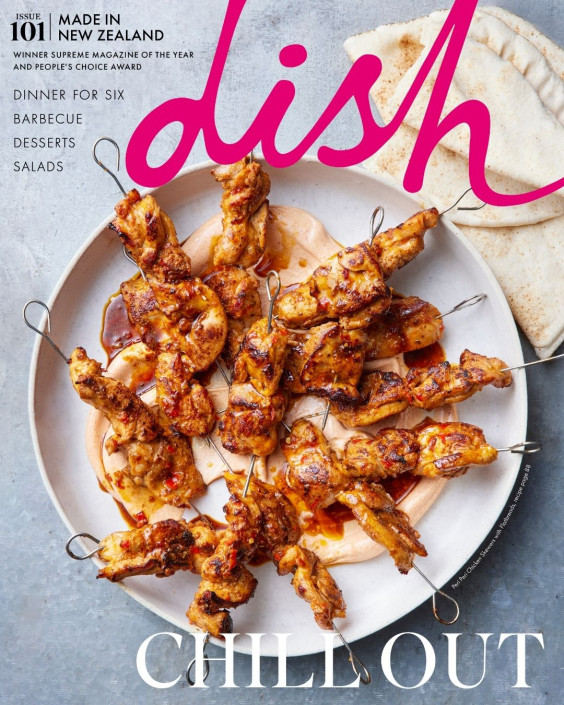 Check out our
latest issue:
Issue #101
It's summertime, and we're getting 2022 off to a sizzling start with the latest issue of dish! We crank up the heat and the drool-factor with our barbecue favourites including tandoori-style chicken and juicy steaks, followed by fresh and vibrant salads that are light on meat but big on flavour. We also, dunk, drip and drizzle our way through summer condiments that are good enough to eat on their own. And our Dinner for Six section is back to serve up another cracking set of menus that will impress your guests. We then speed things up with our latest collection of quick and easy Food Fast recipes before taking our sweet time with decadent bakes and desserts.