Tasting Panel - Merlot
From issue #60.May 19, 2015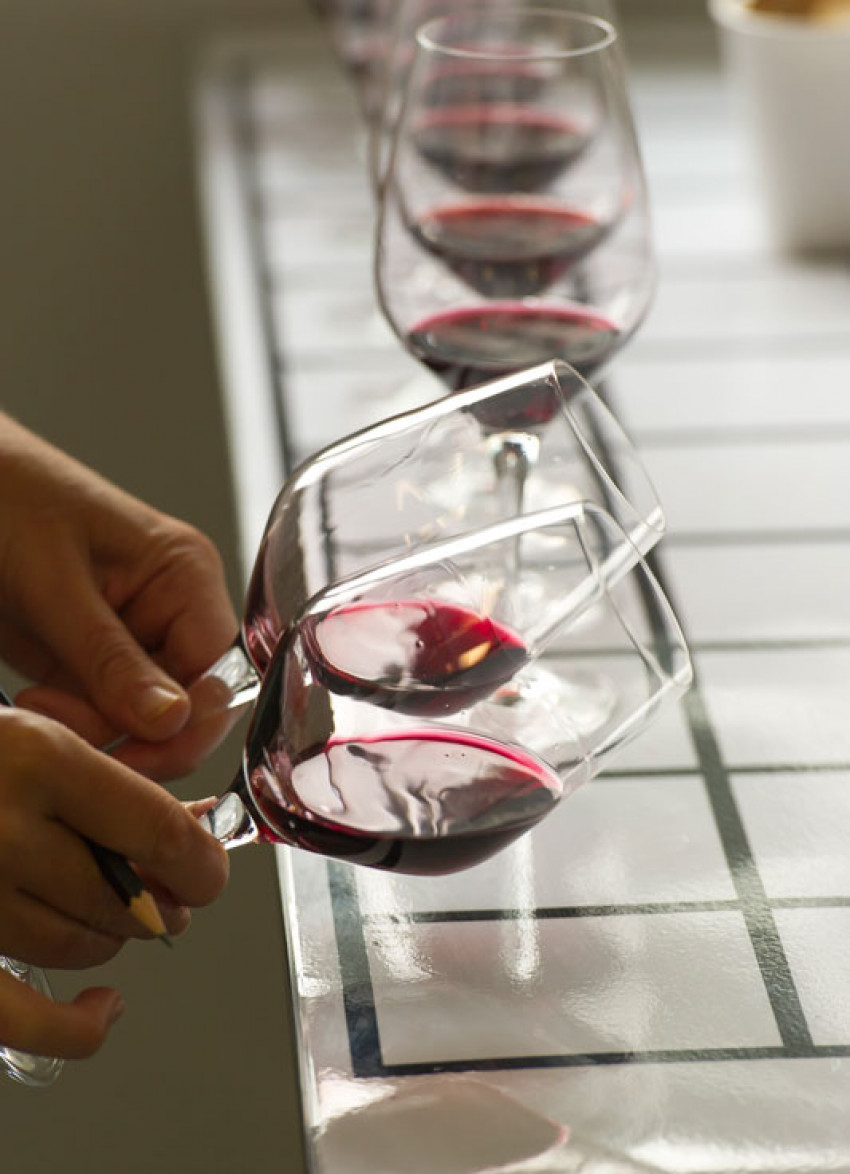 Occasionally overlooked in favour of the more exotic syrah or celebrated pinot noir, the Dish Tasting Panel finds New Zealand merlots are deserving of a place in the spotlight.
Varietal/Style: Merlot
Tasting date: March 2015
Entries: 70
Judges: Yvonne Lorkin (Dish drinks writer); Cameron Douglas (senior lecturer at AUT and Master Sommelier); Jo Gear (Senior Winemaker for NZ Wine Cellars); Ric Little (National Retail Sales Manager, Vintners NZ).
(NB: All wines are judged blind and the scores of winemaker judges for their own wines cannot exceed those of other judges.)
Notes from Yvonne: Merlot's a bit of a bore on its own – it really needs friends," moaned a winemaking friend of ours recently. We felt that was a tad unfair. Here at Dish we love our merlot – always have. But we'd never really tested the waters as to what was out there in the marketplace. Was merlot in a healthy way or on the brink of washing out?
The timing was, well, timely, seeing as so many reds from 2013 (aka 'the vintage of the century') were making their way onto our shop shelves, so we dusted off the good glassware, corralled a cracking team of judges and got down to the important task of deciding whether merlot needed to be bolstered by its Bordeaux brothers, or could cut it on its own.
The latter proved undeniable, with our top two wines consisting of 100 per cent Merlot. In fact, of the 28 wines awarded silver medals or higher, more than half contained at least 90 per cent merlot AND 98 per cent of them were from 2013. "The 2013 wines demonstrate maturity in New Zealand winemaking," commented Ric Little, Associate Judge. "Mother Nature gave us an awesome gift and we didn't stuff it up with over-extraction and charry new oak. The fruit was left to do the talking for the most part, and it spoke beautifully."
We've also heard the words "Hawke's Bay" and "merlot country" in the same sentence many times, and our results cemented that. Close to 75 per cent of all entries hailed from this 'Hot Red' region and all but one of our gold medal winners call Hawke's Bay home.
The quality of entries was incredible: more than 80 per cent took home a medal, the highest result we've had since our Dish tastings began. "The overall standard of the wines was universally high," noted Ric.
"There were a couple where the boundaries were being pushed from a winemaking perspective, but this resulted in interest/curiosity rather than failure."
Senior Judge, Jo Gear, agreed: "Merlot in New Zealand is in a fine place and deserves to be championed just as Syrah, Pinot Noir and Sauvignon are."
It's also clear that larger companies (often dismissed as focusing on the supermarket sphere) are taking advantage of their huge vineyard resources; finding sites that grow the best grapes and combining them with highly skilled and experienced winemakers on staff to craft some absolutely spectacular wines – often at very attractive price tags.
Slightly disappointing was the merlot malbec class however, with some of the wines appearing rather unbalanced and clumsy.
While our top Merlot blends were gorgeous, it was the 100 per cent examples that really shone with poise, elegance and generosity. "There were plenty of wines with great drinkability too," said Jo. "It was reassuring to see how many wines were recalled for a second look, with many wines capturing the attention of the panel for lots of different reasons. The hearty discussion that often followed is a sure sign of a healthy industry where interesting things are tried, boundaries are pushed and preconceptions challenged."
So merlot is in its happy place right now, and consumers have easy access to fantastic quality and value. In the words of the great Fred Dagg, "We don't know how lucky we are!"
Top Wines of the Tasting

1. Church Road McDonald Series Hawke's Bay 2013 ($27) ★★★★★
Intensely ripe, dark plum and berry characters ooze from this incredibly glossy, aromatic wine. Wrapped around its core of fruit is a layer of chocolate, espresso and vanilla, which leads to deep, concentrated, caramelised flavours and long, warming persistence of flavour. A stunning wine. "Beautifully balanced and showing amazing tannin structure," commented Yvonne.
---
2. Sileni Estates 'The Triangle' Hawke's Bay Merlot 2013 ($29) ★★★★★

Like our top wine, this was crafted from fruit grown in Hawke's Bay's Bridge Pa Triangle District. Offering savoury, meaty notes on the nose and palate, our judges also commented on the generosity and balance between fruit, oak and alcohol. Showing excellent complexity and weight.
---
3. Woodside Hill 'Woodside Hill Reserve' Merlot Cabernet Franc 2013 ($45) ★★★★★

"Great colour, dense and bright," commented Jo, "showing lovely oak, nice complexity, vanilla spiced plum, sweet fruit entry, generous, approachable and juicy." Our other judges agreed, adding that this wine from Waiheke Island showed floral vibrancy, pepper and cocoa characters, luscious texture and solid length of flavour.
---
4. Church Road Hawke's Bay Merlot Cabernet Malbec 2013 ($19.95) ★★★★★

"Lovely, fresh, firm and tense," noted Cameron, while Yvonne commented on its pretty floral perfume and gentle juiciness on the palate. Complete with cigar box and mint chocolate character, "deliciously drinkable" and "generous" were common descriptors amongst the team. Jo summed it up perfectly with her "fireside wine" conclusion.
---
5. Brancott Estate Hawke's Bay Merlot 2013 ($17.29) ★★★★★

A classic merlot, showing lots of upfront sweetness, plush, spicy red berry and plum flavours, followed by silky, powdery tannins on the finish. Our judges felt it had a lot of potential if you were disciplined enough to cellar it for a time. "Hints of great things to come," noted Ric. But at this price you could easily buy some to drink and some to cellar.
---
6. Kim Crawford Reserve Hawke's Bay Merlot 2013 ($16.99) ★★★★★

A classic merlot, showing lots of upfront sweetness, plush, spicy red berry and plum flavours, followed by silky, powdery tannins on the finish. Our judges felt it had a lot of potential if you were disciplined enough to cellar it for a time. "Hints of great things to come," noted Ric. But at this price you could easily buy some to drink and some to cellar.
---
7. Esk Valley Winemaker's Reserve Merlot Cabernet 2013 ($59.99) ★★★★★

Dark and glossy in the glass, this wine was definitely a favourite with our judges. "Cocoa-dusted berries, seamless on the palate, finely tuned and boasting elegant length of flavour," commented Yvonne. "Rich and satisfying," added Jo, while Ric loved its robustness and density.
---
8. Elephant Hill 'Le Phant' 2013 ($24) ★★★★★

Upfront bramble and dried herbs merge with lifted, light berryfruit and vanilla characters to produce a very nicely crafted wine sourced from their Gimblett Gravels, Te Awanga and Bridge Pa Triangle vineyards. "Yum" was a common technical term used by all our judges.
---
BEST BUYS
Our top wines all showed class, elegance, generosity, winemaking excellence and, for three of them in particular, Total Wallet Excellence by coming in at under $20 a bottle…
Church Road Hawke's Bay Merlot Cabernet Malbec 2013 ($19.95)
Brancott Estate Hawke's Bay Merlot 2013 ($17.29)
Kim Crawford Reserve Merlot 2013 ($16.99)
---
SILVER MEDAL WINNERS
Elephant Hill Merlot Malbec 2013 ($34) ★★★★½
Impenetrably inky coloured and scented with fresh berries, spice and dark plum, this is a wine that's big, bold and bursting with fruit. "Wild, rich and fun" commented Cameron, "well structured with smooth, warming grip" noted Yvonne.
Redmetal Vineyards Resolution Merlot 2013 ($60) ★★★★½
Complex aromas of dark berries and cocoa powder and showing a satisfyingly ripe fruity palate, our judges felt this was a very 'complete' wine, well made and worthy of your attention.
Villa Maria Single Vineyard Braided Gravels Merlot ($59.99) ★★★★½
Bold and peppery and boasting scents of hedgerow berries, cocoa and caramelized oak; all of which appear to soak through onto the palate. Dusty complexity, elastic tannins and nice weight on the finish.
Sileni Estates Cellar Selection Merlot 2013 ($18) ★★★★½
"Fruity, generous and inviting" commented Cameron, while Ric enjoyed the dense black plum and fine graphite character. Clean, fresh and stitched together with some dried herb notes – it's a nice example.
Selaks Reserve Merlot Cabernet 2013 ($18.99) ★★★★
With aromas of crushed redcurrants, dusky rose and hints of mint and herb, this is a lovely, fresh, juicy red with good density and texture in the mouth. "Comforting spices, succulent fruit – what's not to like?" commented Yvonne.
Redmetal Vineyards Merlot Cabernet Franc 2014 ($29.95) ★★★★
There's a lot going on in this wine. With its solid core of fruit, smoky oak and a vein of dried herb character soaking through – this is a very interesting wine with a bright future ahead.
Craggy Range Te Kahu 2013 ($29.95) ★★★★
This classic blend of merlot, malbec and cabernet franc has excellent colour saturation, super-fresh layers of spice and berryfruit, big front palate entry, bold tannins and a vein of cocoa on the finish. It's still very young and our judges all commented on its potential to age.
Villa Maria Cellar Selection Merlot Cabernet 2013 ($17.99) ★★★★
Lifted tobacco leaf, dark berries and solid oak layers lead to meaty, spicy flavours and a warming toasty note on the finish. "The lovely core of fruit carries length and charm" said Cameron.
Leveret Estate Hawke's Bay Merlot Cabernet 2013 ($19.99) ★★★★
"Very pretty and glossy in the glass" noted Yvonne. Our judges added their approvl to the good fruit/spice complexity, dusty pepper and earthy layers. "The palate is seamless" commented Ric. Youthful, firm and full of potential
Askerne Hawke's Bay Reserve Merlot Cabernet 2013 ($30) ★★★★
"Great fruit lift and attack on the nose" wrote Cameron "and the oak adds complexity and richness". Our other judges were impressed with the pepper, raspberry and earthy flavours and bold, drying tannins.
Babich Winemakers Reserve Merlot 2013 ($30) ★★★★
This wine had a rich nose and lots of concentrated dark plum, blackboy peach and smoky oak notes. "Bright, balanced, youthful and charming" commented Cameron.
Villa Maria Private Bin Organic Merlot 2013 ($15.99) ★★★★
Bright concentrated oak and fruit interplay makes this an instantly attractive wine. The mouthfeel is youthful and drying, yet the spiciness and power of the fruit gives it charm and warmth.
Villa Maria Reserve Merlot 2013 ($49.99) ★★★★
Attractive, glossy colour and loaded wth blackcurrant, boysenberry and beetroot aromatics, this wine has an almost slightly creamy sweetness. Combine that with good use of oak, bright acidity and a spicy finish, then you've got a saucy wine.
Sacred Hill HALO Merlot Cabernet 2013 ($27.99) ★★★★
Ripe plum, bramble fruit, liquorice and leafy notes make this an instantly appealing wine. Ripe and full of spice, this is one of those wines that really opens up in the glass over time. "Very juicy and appealing" noted Jo, while Yvonne found it "youthful and fresh".
Sacred Hill Orange Label Merlot Cabernet 2014 ($19.99) ★★★★
A very youthful wine showing mint, eucalypt and light berries, combined with comforting, warming tannins and a fresh, smoky, toasty finish. This is a nicely executed commercial style.
Alpha Domus The Navigator Merlot Cabernet 2013 ($29.90) ★★★★
Interesting floral lift on the nose, followed by fresh, sweet, cherry, plum and berry characters and strong, muscular tannins in the mouth. There's a lot of wine here – be prepared!
Esk Valley Merlot Cabernet Malbec 2013 ($19.99) ★★★★
With coffee and mocha notes on the nose, attractive cedar and deep berry characters, this is quite a sexy wine with a rich, buoyant mouthfeel and a long, juicy finish.
Cooper Creek SV Hawke's Bay Merlot Malbec 2013 ($24.99) ★★★★
"Very earthy on the nose, but I like the burst of berryfruit which comes through on the palate" remarked Yvonne. "Beetroot" "Vanilla" "Spice" and "Plum" were common descriptors by our judges.
Redmetal Vineyards Basket Press Merlot Cabernet Franc 2013 ($29.99) ★★★★
With its lifted violet and intense red berry characters, this wine had instant appeal. Fine-grained tannins work with hints of vanilla and pepper on the palate to create a really interesting wine.
Craggy Range Gimblett Gravels Merlot Cabernet Franc 2013 ($31.95) ★★★★
Our judges all thought this wine was so pretty and vibrant up front, with fresh berries, plum, spice and cedar notes all taking their place. "There's a lot going on in this wine" commented Jo and our judges agreed. "A smooth, warming, satisfying wine that's very precise" commented Yvonne.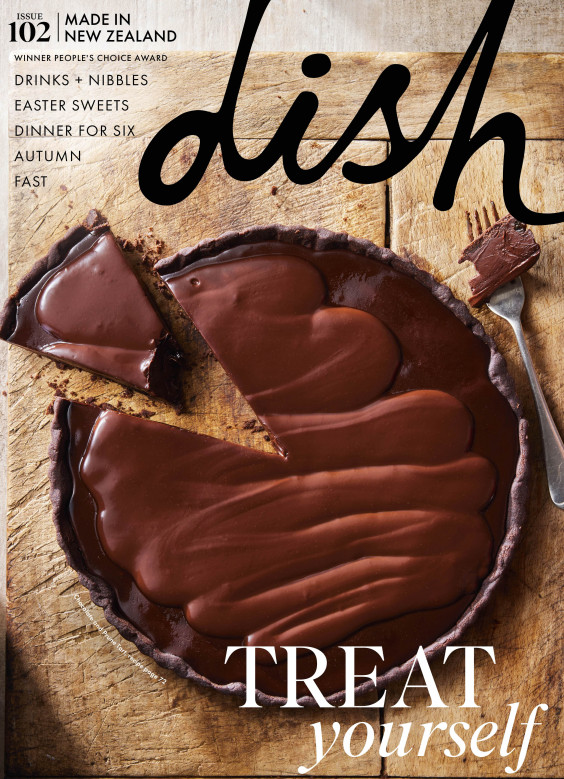 Check out our
latest issue:
Issue #102
Before we say goodbye to the the warmer weather, we're sneaking in one last bite of moreish nibbles inside the latest issue of dish. When it's time to retreat indoors, welcome the changing of the seasons with bountiful early autumn produce cooked to perfection. Our Dinner for Six Section will have you well prepared for all your family and friends by the time Easter rolls around with two stellar menus to choose from. And when the holidays are over, our snappy midweek meals will be waiting for you in our Food Fast section. You'll want to keep a glass handy, too, our top-rated Aussie Shirazes are the perfect accompaniment at dinnertime.