Tasting Panel – Sparkling Wines
Article by Yvonne Lorkin, from Issue #69. November 09, 2016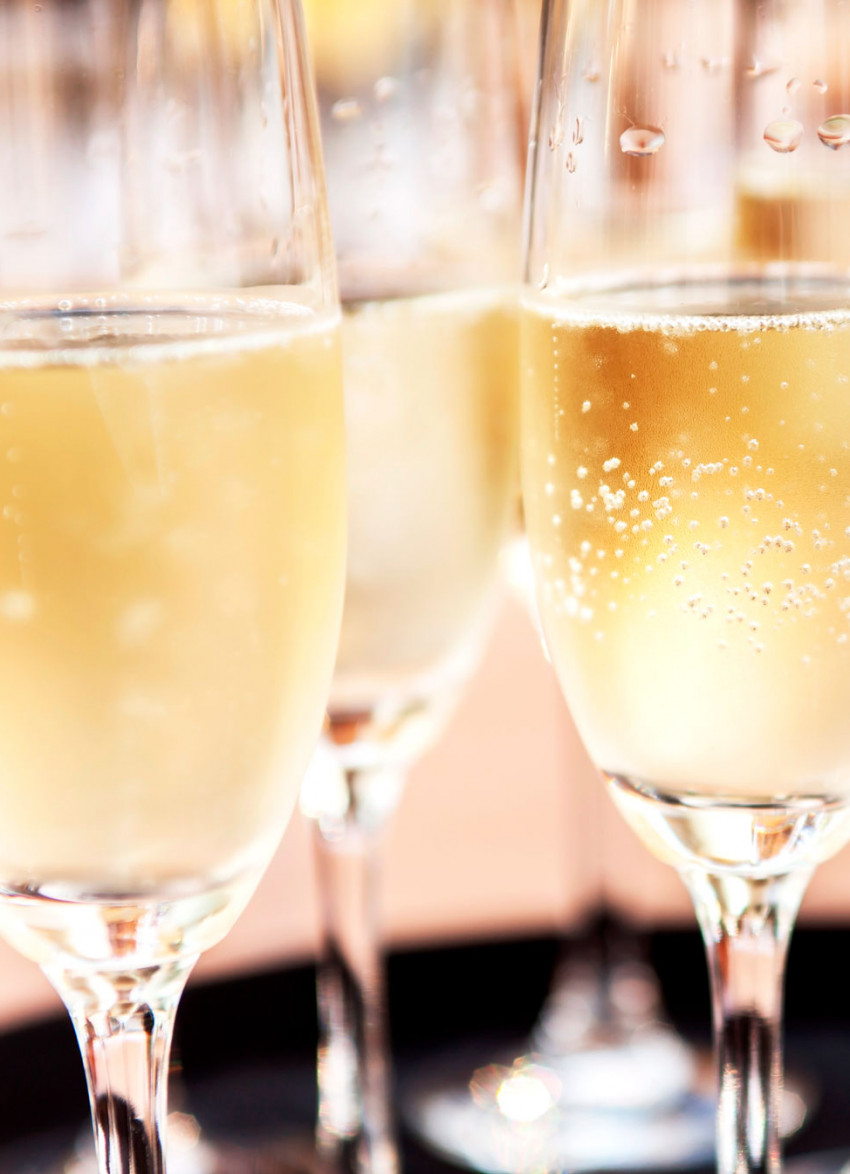 It's often on special occasions we pop the cork on something fizzy – and as the Dish Tasting Panel discovered, the quality of sparkling wines in New Zealand is definitely worth a toast.
Time for celebration
Fizzing with health is exactly how New Zealand's sparkling wine industry is faring right now, if the results of our tasting are anything to go by. The same number of entries seem to pour in each year, but the number of gold medals awarded has been increasing exponentially. This year our team of highly experienced judges found eight gold sparklers, another 11 earned themselves silver, and despite qualifying scores moving up to a minimum of 48 points out of 60, two dozen more walked away with bronze.
Once again, our top wine of the tasting was awarded to a rosé style which not only knocked our socks off, but showed that with nearly half of our top scoring wines being of the pink persuasion, it's a sparkling style to be taken seriously. Half of the gold medals went to "Blanc de Blancs" bubbles, which are made entirely from chardonnay and showed incredible delicacy and finesse.
"This 2016 tasting feels like a very welcome case of deja vu –very appropriate given the French ancestry of bubbly," says long-time Dish judge Jane Boyle. "Rather than the repeated success of what I fondly call the 'usual suspects' becoming boring or tedious, it makes me very proud of what these New Zealand winemakers have achieved in a relatively short time (when you look at the history of the style on our shores). Consistency, patience and skillful blending are just some of the winemaking essentials vital to producing great bubbly year after year. The fact the 'usual suspects' keep on repeating their success in our Dish tasting (and in other New Zealand wine competitions) is no fluke but a reflection of their dedication to their craft."
Jane's sentiments were echoed by Cameron Douglas, Master Sommelier and Dish Panel regular. "Sparkling wines from New Zealand's cooler climes have proven repeatedly they absolutely rival many of their counterparts from around the world," he says. "Finding just the right balance and harmony on the palate between the yeast autolysis, core of fruit, pristine acidity and mousse within the bubble was discovered in many of the wines on show."
What is also discovered during tastings like this, due to the "you can't hide behind anything" nature of sparkling wine production, is that any tiny fault is also immediately accentuated, and that's what we saw occuring in many of the lower-scoring entries. "They're not an easy wine to get right," explains judge James Rowan. "It's an exacting process requiring superlative amounts of care."
New Zealand now exports around 1.4 million litres of fine fizz, which is fantastic. We've proved our mettle with other varieties and now we're perfectly placed to give our export markets something with extra sparkle to latch on to. We're showing there's a consistency and ability to be able to produce quality bubbly year on year and we should applaud trailblazers such as Daniel Le Brun, Jane De Witt (Lion Nathan), Matt Connell (ex-Akarua) and Gary Duke (ex-Hunter's), for their foresight and dedication in sticking with what can be such an expensive and time-consuming style to do well.
"That we can enjoy world-class wines at pretty affordable prices (by world standards) is a real credit to those who made the decision to invest their skills, expertise and financial resources in our favourite celebratory tipple," says Jane Boyle. "We in the wine industry often shake our collective heads in disbelief at their ability to release these stunners with such apparent ease".
So let's raise a toast to our best bubbly baker's dozen for the season…
---
Style/varietal: Sparkling wine
Tasting date: October 2016
Entries: 73
Judges
Yvonne Lorkin (Dish drinks writer)
Jane Boyle (Wine consultant)
Cameron Douglas MS (Senior Lecturer AUT and Master Sommelier)
James Rowan (Winemaker at Westbrook)
Rating System
Gold ★★★★★ – ​Superb. Strongly recommended.
Silver ★★★★ – A cut above the rest in quality.
Bronze ★★★ – A good quality crowd-pleaser.
"Best Buy" status is given to wines which achieved Silver medal or higher, yet retail for under $25
(NB: All wines are judged blind and the scores of judges for their own wines cannot exceed those of other judges.)
---
Top Sparkling Wines of the Tasting

1. AKARUA
Central Otago Rosé Brut NV ($37)
★★★★★ Gold Medal
With its pretty pale pink hue and scents of strawberry shortcake, this wine was an instant showstopper. Lifted florals, red berry fruits, fresh, nutty complexity and a pretty, pillowy texture made this a clear favourite from the outset. Our judges were well and truly seduced. "Very pretty and showing excellent presence, structure and length," said James Rowan. Cameron agreed "Lovely yeast autolysis and a fine fruit bouquet and lush texture. It's beautifully balanced and textural."
---

2. DANIEL LE BRUN
Blanc de Blancs 2011 ($39.99)
★★★★★ Gold Medal
"I love this wine!" was Yvonne's immediate reaction. "I love the aromas of macadamia, creamy brioche, rich stonefruit and its multi-layered, biscuity notes in the mid-palate and long, seamless, elegant finish." Cue vigorous nods all round from the other judges. Cameron added it had complex citrus characters while James also loved its restraint and poise.
---

3. TE HANA
Sparkling Rosé Cuvée NV ($19 - Best Buy)
★★★★★ Gold Medal
Lovely berry brioche aromas leap from the glass of this "extremely well thought-out and presented example," according to James Rowan. "Toasty, complex and very champagne-like," added Jane, while Cameron felt its apple and hints of cherry gave it real personality.
---

4. DEUTZ
Cuvée Blanc de Blancs 2013 ($32.99)
★★★★★ ​Gold Medal
An exotic, enticingly rich, nutty methode which boasts beautiful breadcrust and shortbread aromas alongside bold acidity and solid, textural length. "It's full, rich and toasty," said Cameron, while Jane added, "It's like being inside a French bakery. It's all class and extremely elegant."
---

5. LINDAUER
Special Reserve Blanc de Blancs NV ($21 – Best Buy)
★★★★★ Gold Medal
Deeply fragrant with sweet brioche and beautiful yeast autolysis characters and a fresh, lemony mid-palate immediately made our team sit up and take notice. Here's a wine that is sophisticated and stylish and a classic example of a 100 per cent chardonnay that can be bold, almost masculine, yet elegant as well. Gorgeous persistence of flavour made it a firm favourite with all our judges and a world-class example.
---
6. BLACK BARN VINEYARDS
Blanc de Blancs 2010 ($70)
★★★★★ Gold Medal
Extremely pale and boasting ultra-fine beading, here's a rich, biscuity beauty that's maturing with sourdough crust characters, walnut and toast notes, clean, crisp acidity, lovely lees work and (according to Cameron) it's running on full power and presence. Black Barn are now serious contenders for sparkling excellence. Our judges say, sip now or forever kick yourself.
---

7. DEUTZ
Prestige Cuvée 2012 ($32.99)
★★★★★ ​Gold Medal
"Lovely lees complexity and presence and absolutely great mouthfeel," announced James Rowan, while Cameron commented on the alluring roasted orchard fruits, toasty bouquet and long, rich finish and its gorgeous nutty, multilayered texture. An absolute rockstar that should be on your try-before-you-die list. It's great to see a New Zealand icon just get better with age.
---

8. LINDAUER
Classic Rosé NV ($15 – Best buy)
★★★★★ Gold Medal
With its tiny, pinprick bead, very persistent mousse, lovely berry shortbread aromas, rich, generous, oozing breadcrust and biscuit flavours, layered with nutty complexity and creamy characters on the finish, it's jawdropping you can buy this for just $15 (and sometimes less).
---
9. HUNTER'S
MiruMiru Reserve 2012 ($34)
★★★★½ Silver Medal
"I love the biscuity nature of this wine – almond meal, rising dough and serious mid-palate richness," commented Yvonne. "It's a very satisfying wine, long and flavoursome but with real finesse and delicacy." Jane Boyle added that cashew nut complexity and sophisticated, classy characters gave this wine real generosity and drinkability.
---

10. MARGRAIN VINEYARD
En Rosé 2013 ($45)
★★★★½ Silver Medal
"Delicate, fragrant and floral, with calm, light yeast autolysis notes," commented Cameron. James really enjoyed the lifted berry fruits, bracing acidity and peachy, orchard fruits in this pinot rosé from these legendary Martinborough producers. Jane found a faint hint of mushroom which elevated this hard-to-find wine into excellence.
---

11. MELTON ESTATE
Summer Love 2016 ($25)
★★★★ Silver Medal
Cantabrian wine fans apparently make a pilgrimage out to Melton Estate each season to get their hands on this sparkling riesling with a hint of pinot noir pinkness. Cherry blossom, musky lychee and spice notes make it almost moscato-like. It's a lovely, succulent, summery sip.
---

12. ALLAN SCOTT
Cecilia 2011 ($28)
★★★★ Silver Medal
So pretty in the glass, with a delicate bead and persistent mousse, lemony, almond notes, orchard fruits and a hint of caramelised character make this a seriously delicous wine, crafted by Matt Elrick, currently Chair of the Methode Marlborough Society. So if anyone knows how to fashion fantastic fizz, it's him. Creamy, complex and worth your attention.
---

13. TOHU WINES
Rewa Reserve 2013 ($33.95)
★★★★ Silver Medal
The word "elegant" featured across all of the judges comments. "Plenty of white peach, well-handled yeast autolysis characters and a lusicous, almost chewy texture," noted Cameron. Our other judges loved the freshness and vibrancy of this sparkler. "It's also a very cleansing and precise style that I love," added Yvonne.
---
Look for the Dish Tasting Panel selection sticker, which can be worn by our top wines.
With thanks to Janet Blackman from the Professional Wine Studies Department and the AUT School of Hospitality and Tourism. For more on the programmes in hospitality, food and beverage, and hotel management, visit aut.ac.nz.
Water kindly supplied by Antipodes and glasses by Spiegelau.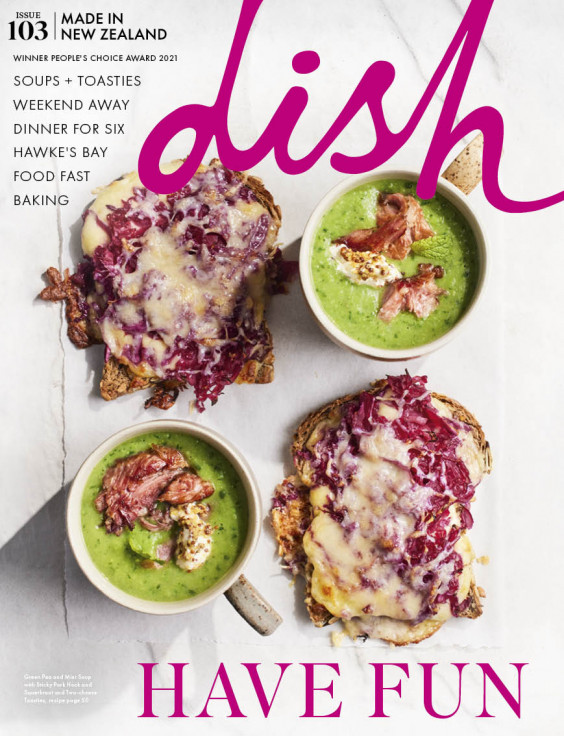 Check out our
latest issue:
Issue #103
Winter is on its way but rather than batten down the hatches, we're ready to have some fun with the latest issue of dish! Get your soup bowls out, we've got all the soul warming deliciousness you can handle, plus outrageously good toasties for a cheesy bit of fun on the side. Next, it's time to hit the road with an epic escape to Black Barn Retreat and some classic comfort food. Back home, there's plenty of sumptuous bakes to tempt you with and even more to tempt your guests in our latest Dinner for Six section. And be prepared for time to really fly by when you're having fun with our Food Fast section!