Cook the Books – Pride and Pudding
Article by David Parker. August 25, 2016
Photography by David Parker.
Part recipe book, part history lesson, our practical reviewer tests some sticky toffee puddings from Regula Ysewijn's Pride and Pudding.
Not to be confused with late 18th century romantic novel Pride and Prejudice, Pride and Pudding is a cookbook of classic British recipes mostly from a similar era.
I hadn't realised until I Googled her that the author, Regula Ysewijn, is not British. Despite growing up in Flanders (the Dutch-speaking part of Belgium) she has been a self-confessed Anglophile from a young age, so obsessed her parents even took her to Britain as a birthday treat one year. Later in life she learnt to cook by watching Jamie Oliver in his TV series The Naked Chef and started to write a food blog which spans back to 2010.
As all food bloggers worth their weight in salt seem to do, she eventually wrote Pride and Pudding. No small undertaking, Regula pored through about 200 books researching historical recipes and ingredients and spent countless hours collecting vintage moulds, plates and cutlery. Having lived in England for the first 16 years of my life, it seems quite odd to think about someone living in Belgium researching British puddings and writing a cook book devoted to it, but it also strangely makes sense. Britain doesn't usually have the prestige that other countries have when it comes to their cuisine but these classic historical recipes are still inspiring chefs such as Heston Blumenthal today.
I chose the Sticky Toffee Puddings to review from Pride and Pudding because who can go past a sticky toffee pudding?
For the recipe I needed apple butter – I didn't know where to buy it and although there was a substitute offered in the recipe, I thought the idea of the apple flavour in the sticky toffee pudding was really interesting and decided to make my own. I used this recipe as there wasn't one offered in the book (a little oversight I thought, wouldn't have been hard to add one in).
I chopped the apples into quarters (without peeling or coring them as lots of pectin is stored in the core and skin) and boiled them in the water and cider vinegar. After about 20 minutes the apples had fully broken down into mush and I strained them through a sieve. Then I measured out my sieved pulp and added ½ a cup of sugar per cup of pulp, then I added the rest of the ingredients and cooked the apple down slowly, stirring so it didn't burn until it was thick and brown. It took about an hour and a half... Or at least thats when I decided it was brown enough and gave up. I put it in a jar and left it to cool down before putting it in the fridge.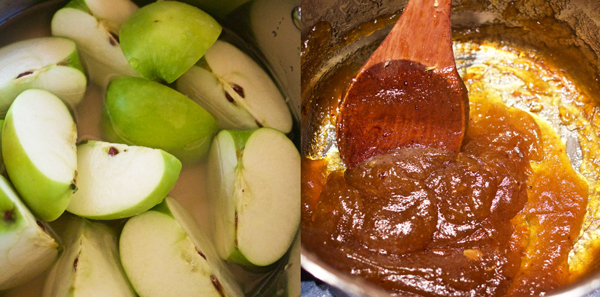 The next day I started making the sticky toffee puddings. First I prepared the pudding basins by rubbing them with butter and placing a little disc of baking paper in the bottom of each. I also cut all the circles of baking paper that I would cover them with in advance so I didn't have pudding batter lying around waiting to go in the oven.
Instead of dates as I'd usually expect to find in a sticky toffee pudding, this recipe calls for prunes. This is a welcome change in my opinion, I don't like the papery bits of dates – hopefully prunes behave a little differently. I soaked the prunes in boiling water for about 15 minutes and strained, then blended in a food processor and because I thought the apple butter was quite hard and thick and I didn't know how I was going to get it to combine with the batter I decided to blend it in with the prunes.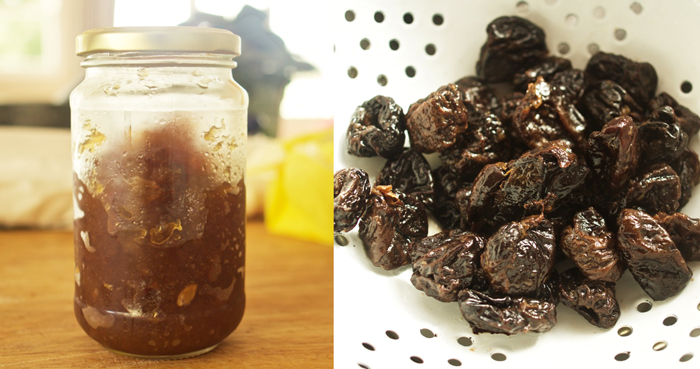 I beat together the butter and sugar, then added the eggs. Then I added the prune and apple butter puree and combined before adding the flour.
I poured the batter into the prepared pudding basins. Unfortunately I only had four basins, so instead of cooking them in two batches I just threw the rest of the mix into muffin tins to see how it'd turn out. It was at this point I discovered I hadn't cut the discs of baking paper large enough to fit over the tops of the pudding basins and be comfortably tied with string. Fortunately I remembered we had some pre-cut circles for cake tins which although I thought would be too big, but turned out perfect. It was still quite fiddly to get the strings tied around them though.
I took the puddings to the oven in an oven dish that I filled with boiling water and covered with tin foil.As soon as I had covered the dish in tin foil I forgot about it being full of boiling water and in carrying it fairly recklessly to the oven I managed to spill a decent amount of the boiling water onto my feet. Fortunately no feet were burned and there was still enough water in the dish for my liking so I didn't have to top it up. The spare batter I just left in the muffin tin but covered it in foil.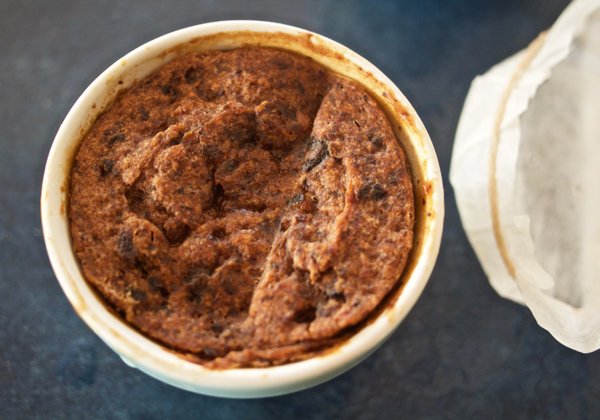 While the puddings were cooking I got on with the caramel sauce, melting butter in a saucepan and then adding muscavado sugar, cream and a tablespoon of apple butter. When the sugar had fully dissolved it was ready. So easy, so delicious! I was really worried about the puddings not wanting to come out of their basins but after they had cooled slightly I ran a knife around their edges and they popped out with no issues.
The book said to serve them with double cream and having grown up in England I am no stranger to double cream. I'm so glad that Lewis Road Creamery are making it now and it's available from most places that stock Lewis Road. It's thicker, but still pourable and I knew if I poured regular cream on the hot pudding it would swirl in with the caramel sauce and wouldn't look as pretty in my photo. It took a little bit of a hunt to find someone that had it in stock but it was worth it, just that little bit more luxurious than regular cream.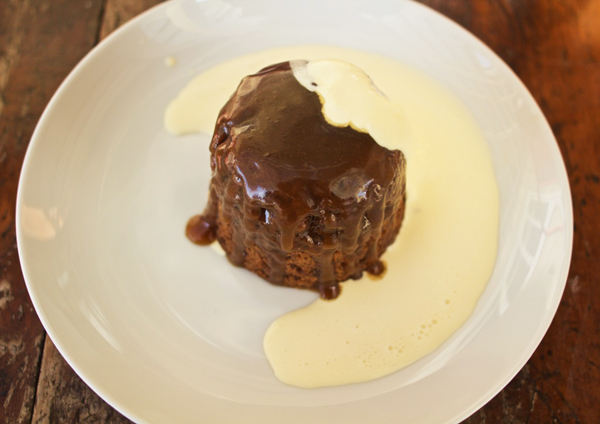 They turned out delicious. Even the ones in the muffin tray seemed to work out fine. I really liked them, they were just decadent enough without being too rich and the apple butter gave them a fruity tang. Not really what I'd expect from a sticky toffee pudding but they somehow seemed more wholesome (if that's possible). The puddings in the basins I thought were a little large for a single serving and I think I might struggle to make my way through a whole one. Fortunately I had more than enough willing volunteers that I needn't have worried.
The Book Cooked
Level of expertise required: Most of the recipes look pretty simple to accomplish, there are some hidden skills and tricks but creating humble British puddings is certainly a far cry from fancy French patisserie.
How many trips to the supermarket required? Hmm, I'm not going to pretend it wasn't annoying trying to hunt down the double cream and it would've been great if I could've just bought the apple butter but it wasn't too much fuss to make. I know lard is mentioned and that might be a struggle to find/make but most of the ingredients shouldn't be too hard to find. You will need special moulds for the fancy jellies etc which put me off trying them.
How closely did dishes resemble those in the book? I thought my puddings looked pretty spot on! A lot of the dishes in the book are very rustic so shouldn't be hard to copy. There is however some very pretty pastry work on pies and the fancy jellies that I think would be pretty tricky.
Ease of reading: There is a fair amount to read. If you're interested in the history I'm sure this would be great but it was a little much for my liking, this is a fairly hefty book to carry around! Although that being said it does go into a good amount of detail for any techniques and I thought it was nice that traditional techniques were offered for making ice cream etc. Maybe you need to be in the right mood for a history lesson.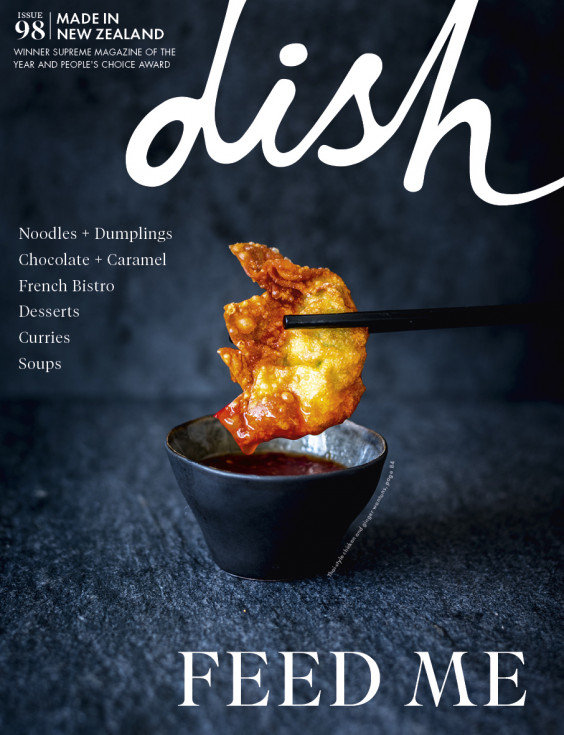 Check out our
latest issue:
Issue #98
We might be in the depths of winter, but the latest issue of dish will inspire you with delicious recipes to brighten even the most grim of days. We start with a selection of classic French bistro dishes – think beef bourguignon and creamy potatoes – before turning to sumptuous soups. Next, it's all about warming curries and bowlfuls of noodles and dumplings, perfect for those chilly nights. In the mood for something sweet? Check out our delectable chocolate and caramel treats, or turn to our Food Fast section, full of desserts quick enough to make on a weeknight.