How you can create your own perfume at home with Bombay Sapphire
January 18, 2021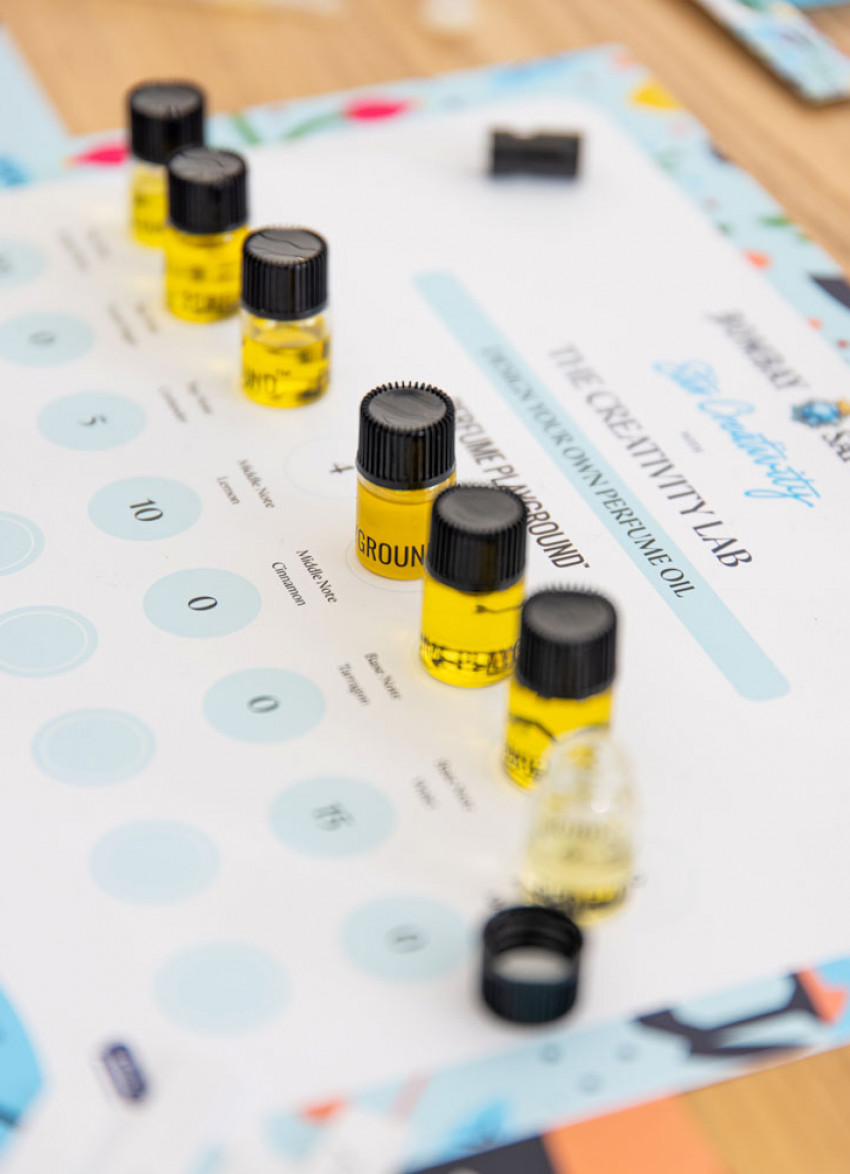 If you've ever wondered how perfumes are made or wanted to make your own, now is your chance... and it doesn't hurt if you're a gin fan either. We talked to Sam Copland, the perfumer behind the lab about creating perfume and how you can get involved.
Designed to help you unleash your creativity, Bombay Sapphire's 'Perfume Playground' experience will help you ignite your senses. You'll be guided through how to smell and pair ingredients while creating a perfumed cocktail garnish. On top of that, the kit includes the Bombay Sapphire Gin based cocktail, Scented and Sapphire.
The Perfume Playgrouns is one of four bespoke creative masterclasses on this February as part of The Creativity Lab by Bombay Sapphire - all designed to help New Zealanders 'stir their creativity'. There is also jelly-craft; Paintvine watercolour painting; candlestick sculptures; and a gin-themed 'Perfume Playground'. Participants will be sent a kit with instructions, everything they need to create the crafts, as well as cocktails to enjoy with the experience.
Here at dish, we were particularly captivated by the idea of an experienced perfumer, Sam Copland, guiding us through the botanical landscape of blending our own signature, gin-adjacent scents. So get into the creative spirits, we talked to Sam about how she dreamed the perfect gin-perfume experience up and what you can expect from the masterclass... Scroll down to get all the info!
---
dish: When did you become interested in perfume?
Sam: I became interested in fragrance as a young girl, I loved the way it transformed my mum's mood and completed a styled outfit before she went out on a date with my dad. The scent was Clinique Aromatics (1971). It was such a strong, warm and powerful scent, built around woods, like sandalwood and patchouli, with mossy notes, like oakmoss blended with Bergamot and Cistus. It also had a beautiful middle of florals like Rose, Tuberose, Orris and Ylang Ylang, it's a divine Chypre floral.
When in my teens I was drawn into pharmacies and department stores and started my wardrobe of scent from gifts from family. From memory, Sunflowers was my first fragrance, then Davidoff Cool Water. My first job after university was working at the company now known as Trilogy.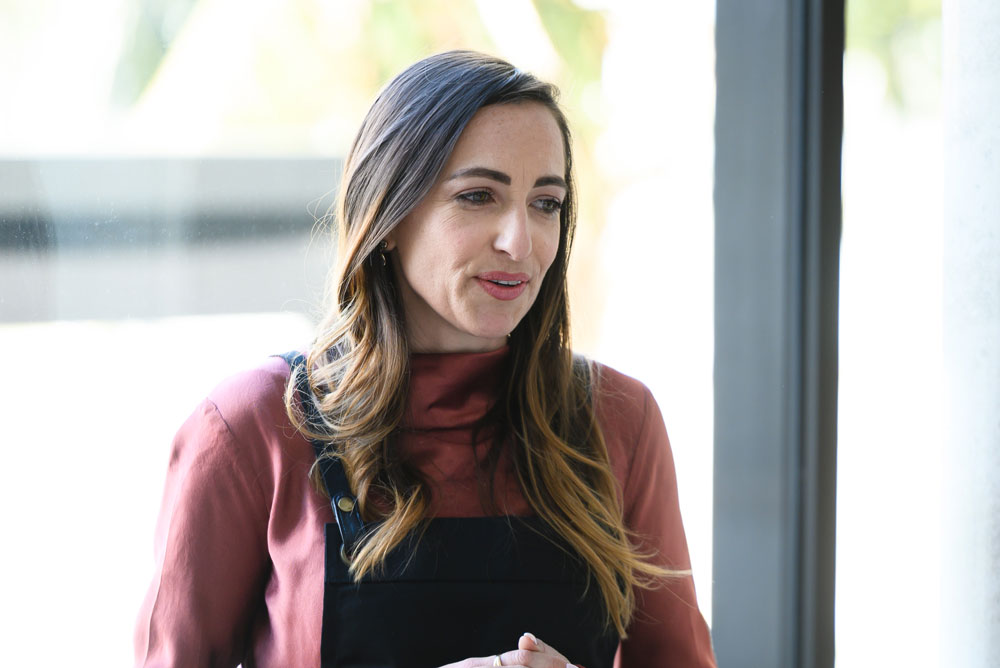 Sam Copland. Photo credit: Esteban le Tessa.
How did you become a perfumer?
I studied natural perfumery under world renowned alchemist Mandy Aftel, Berkeley (USA). Before meeting Mandy, over the course of six months I self-studied perfumery notes. I learnt about volatility, practised simple blends, trying to understand each raw material and how they interact with each other.
I made solid perfumes, which are more forgiving when scent evolution is not perfect. The honey-sweet aroma of the beeswax and jojoba softens your initial efforts, more, say, than liquid perfumes.
After about 12 months of study, I started my business and my knowledge and expertise has grown each day, alongside my customers' understanding, and now with my staff. It's experimental knowledge, embodied rather than rote learning from books. It helps that I have strong intuition and a deep reverence and connection with nature.
What is something you've learned in your time as a perfumer that might surprise us?
It's that you won't please everybody, and that's simply okay!
What is your all-time favourite perfume and why?
Opium, Yves St Laurent (1977), my best friend's mum, Rhonda, wore it. She had amazing gold jewellery and wore the hippest leggings in the '80s. I thought she was a goddess, and it reminds me of her. But, to be honest, I don't wear commercial fragrances now, as I prefer natural essences.
Any tips for perfume wearers?
Use a solid fragrance under a liquid perfume will help you to get greater longevity of your scent, especially natural scents, which is what I recommend wearing. Avoid spraying on your neck and chest as this can really damage your décolletage, especially with the sun rays in New Zealand. Spray on your clothes instead! Keep your scent away from direct sunlight, and definitely not in your bathroom!
How did you come up with the perfume playground experience and making a gin themed perfume?
To start, we enjoyed a Bombay Sapphire gin in a long, tall glass. As we sipped, we pondered about how to best tell the story of the gin. We recognised familiar botanicals of citrus and spice, so we thought we could start with what people already know. As you sit with gin for a longer period of time, you find the more subtle layers: the floral orris, the almond note, the anisic herbal notes and coriander seeds. Our perfume experience is like a reconstruction of the building blocks of gin. At each stage of the perfume composition, base, middle and top you start to learn to smell the nuances inside the gin.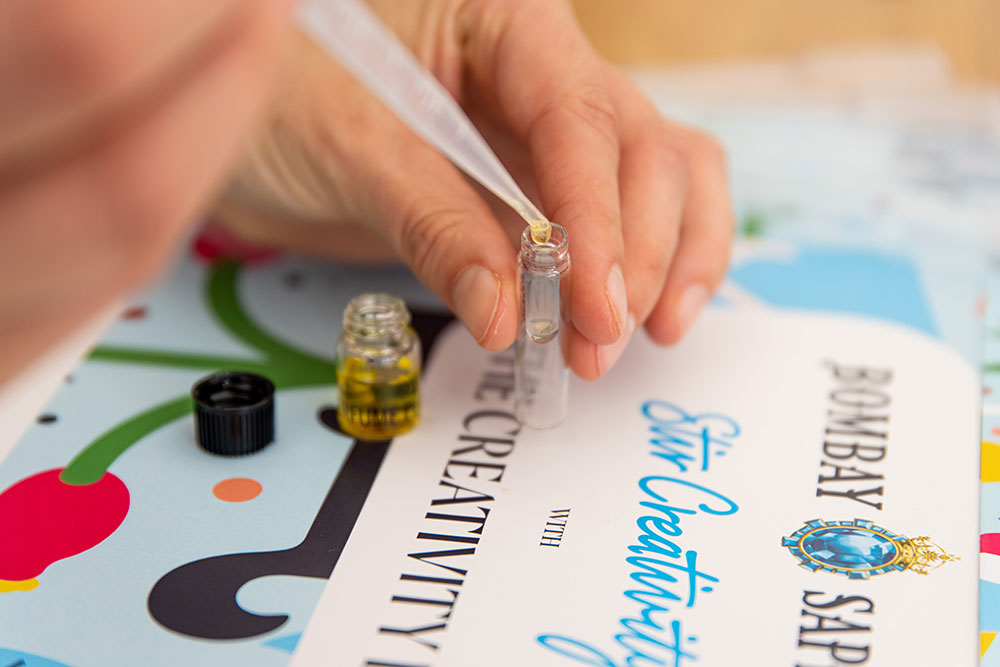 What is the wildest thing you've seen someone do in a perfume making workshop?
A couple came to an event at the Auckland Art Gallery, who didn't follow a single instruction. They wore black glasses the whole event and had their own mission to accomplish. It was very funny when one of the other group members told them off, because they were seemingly off-course and not keeping up with our guidance! It was probably more funny to me, as it was my mum that told them off - clearly couldn't help herself!
What is the Lab all about, what will people learn?
The Bombay Sapphire Stir Creativity Lab is about playfulness and creativity. Guests will create a unique perfume oil from an open source scent. The kits you receive once you've purchased tickets have everything you and a friend will need to get creative and join us for an interactive experience,
Since we have started the design process, and provide this, initially the focus is for guests to tell us how they'd like to finish the fragrance, with the notes that they're drawn to. It's each guest's own personal botanical journey, they simply add the final twist.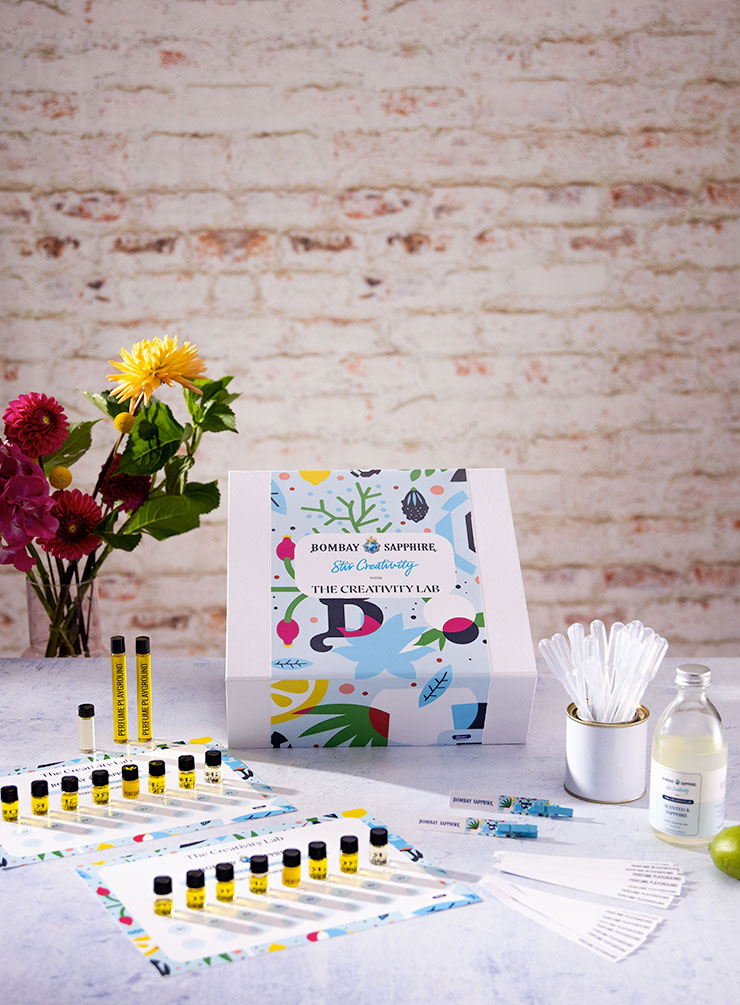 What do you hope people will get out of the Bombay Sapphire Stir Creativity lab?
To connect with nature, have some fun and to learn interesting facts about botanicals like Juniper Berry - its main chemical constituent is alpha-pinene which is found in many coniferous trees (namely the pine) and how it's often associated with purification. In the language of flowers Juniper symbolizes 'perfect loveliness, beauty and protection'. I'm excited for guests to have the opportunity to learn more about the world of scent, while enjoying a Bombay Sapphire cocktail.
Tell us about the Scented and Sapphire Cocktail that the experience is paired with...
The cocktail includes Bombay Sapphire gin, pineapple cordial, yellow chartreuse and lime. The final touch is for guests to roll their newly created scent onto their Bombay Sapphire scent strip and peg to the side of the glass. You can smell your new creation while enjoying your cocktail!
What do you love about being a perfumer?
The whole process - from the creative concept, botanical selection and sourcing, to designing, sampling, the review process with clients' and finalising the perfume!
---
The events extend to multiple bars across Auckland too, so your lab session can spill out into the city or you can show up at a participating bar to join in. Tickets are on sale on the Creativity Lab website at for $40 for two people. The sessions will run from Wednesday 10th – Saturday 20th February 2021.
---
Check out the Bombay Sapphire Instagram here or Facebook here.
Bombay Sapphire
bombaysapphire.com
Check out our
latest issue:
Issue #97
As we rapidly approach the shortest day of the year, the latest issue of dish is set to inspire and delight with a fabulous round-up of mid- winter dishes. We start with the humble-yet delicious sausage, which we celebrate it in all its forms. From there it's all about extreme comfort food with soothing pasta bakes and irresistible puddings. Love a good pie? We share five of our all-time favourites, with luscious fillings encased in crisp, flaky pastry. The cooler weather invites us to slow down, and we do just that with a selection of tender braises which contrast perfectly with our epic, time-saving Food Fast section.