Bracu Estate is a Destination Full of Wonder
Article by Liam Carr. July 01, 2022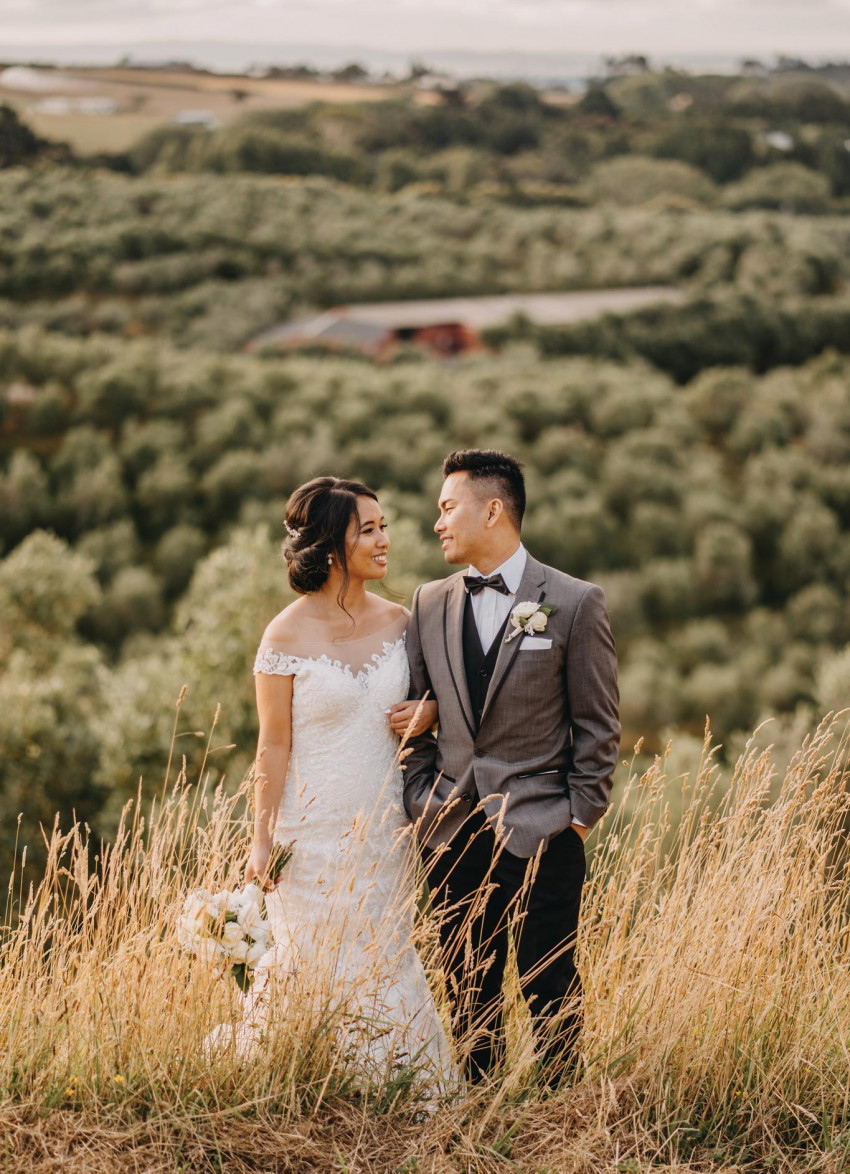 Bracu Estate is only 40-minutes' drive from Auckland City but it's worlds away from the everyday.
A few weeks ago, if you had asked me for suggestions about where best to enjoy great food, host a wedding or just get away from it all, my natural response would have been an idyllic vineyard or some far-flung country estate. But an olive grove? It's not the first thing that comes to mind.
In only a few short hours, however, Bracu Estate convinced me that it is truly a destination fit for all things food, functions and fun.
Bracu Restaurant
50 kilometres south of Auckland, neatly tucked away amongst the sloping hills of Bombay, Deputy Editor Maddie and I pulled up to the olive grove of Bracu Estate amidst the pouring rain. Scurrying out of the miserable weather, we arrived inside the beautifully restored Kauri villa of Bracu Restaurant, which is a stunning mix of elegance and rustic charm. Had Maddie and I not had business to attend to, I think we would have quickly made a spot for ourselves next to the cosy fireplace, complete with mounted deer head overhead.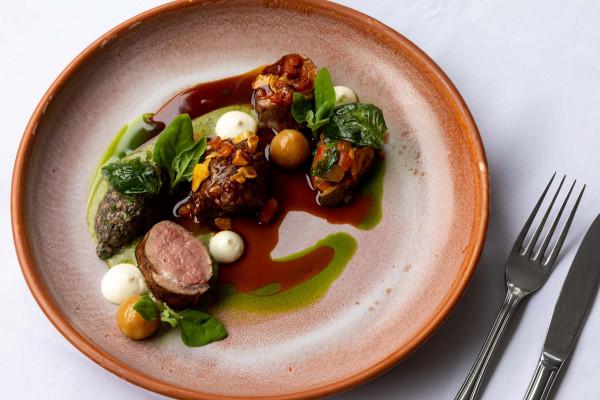 Our spot for lunch, however, was on the all-weather veranda, which I can confidently say is fit for purpose. Even in the rain, the restaurant lies within a truly exceptional setting, surrounded by a sea of olive trees, of which there are 27,000, and scenic natural beauty.
What I was most interested in of course was the food. And I was not disappointed. I was advised (and I would advise anyone else to do the same) to order the Beef Short Ribs. The beef was among the most tender cuts of meat I've ever eaten; it simply melted in your mouth. And like yin and yang, each cut of beef quite literally brought a different balance of flavour and texture to the table – one of the cuts was coated in crunchy macadamia crumbs, while the other rested next to a divine dollop of caramelised yoghurt. To say these accompaniments enhanced the flavour of the beef would be an understatement. The crunch of the macadamias perfectly complemented the tenderness of the meat, adding a delicious layer of texture that simultaneously felt like gilding the lily and was also completely necessary to the whole experience. The yoghurt, on the other hand, whether it was a trick of the mind or not, made the seemingly impossible possible by deepening the level of tenderness with its decadent creamy feel.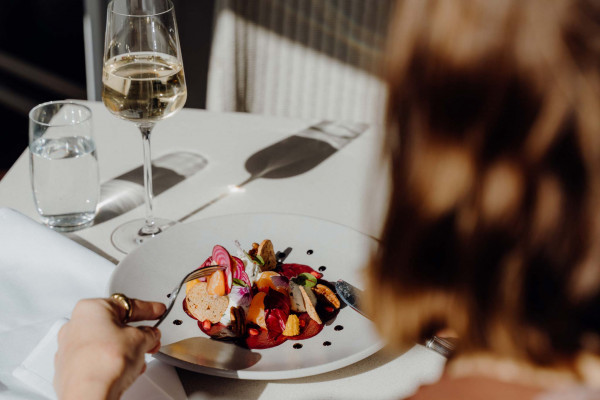 I wish I could say there was more to my review of the restaurant, but we were quickly whisked away to see the rest of the estate.
Wedding Functions
Our first stop on the estate tour was 'The Island,' an all-weather venue which sits in the middle of a lake with capacity for 100 guests. Again, I can vouch for the all-weather part of this venue – not a single drop of rain was getting through the barrier. Had it been a nicer day, I would have enjoyed 360-degree views of the olive grove and the neighbouring helipad available for those brides and grooms-to-be who like to arrive in style.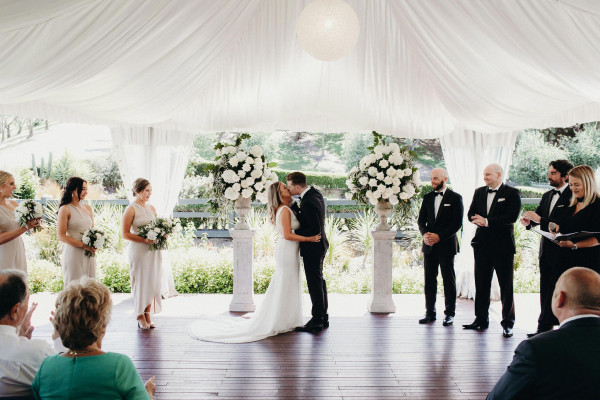 It's the perfect setting for a special event like a wedding, and apparently over 50 brides and grooms in waiting agree, as they're booked to have their wedding in the very spot I was standing. A number that I'm certain is only going to increase.
Next to the island is the Pavilion, a private function centre that serves as a natural spot to host a wedding reception (or ceremony) or any other event. The Pavilion continues the theme of the restaurant with its country home feel, dark wooden floors and large, open space. The great thing about this venue is that it is completely self-contained, so you can enjoy your special day complete with bar setup and catering, and zero interruption from uninvited guests. What's more, there are two boutique estate houses available so you can enjoy yourself and then retreat back to the comforts of your lodging when the party's over. And even if you don't have a special event planned, the houses are also available on Airbnb when you just want to enjoy peace and quiet in an idyllic hideaway.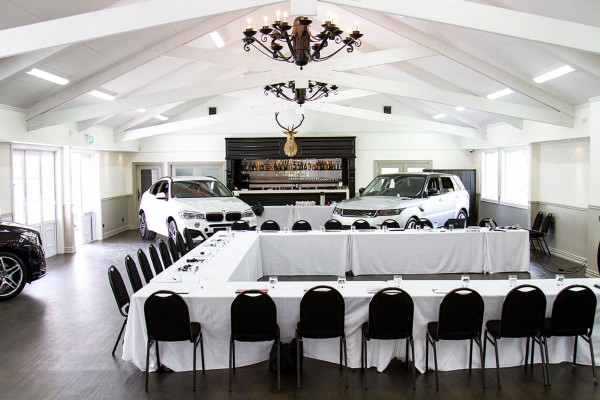 Perhaps most importantly, there is no turn-around time for weddings, so you can feel free to enjoy your special day without the fear of having to hurry things along for the queue of brides and grooms waiting around the back.
The Press
Slightly less glamorous but no less critical is the olive press. This is the beating heart of the estate where all the action takes place. If this were Willy Wonka's Chocolate Factory, Maddie would have played the role of Charlie as she was completely fascinated by it all. I suppose that makes me Grandpa Joe.
Amidst the deafening sound of machinery, we witnessed the entire olive oil-making process. General Manager of Bracu Estate and our tour guide on the day, Johno Smith, explained how the olives are harvested from the trees by a machine that shakes the fruit free and then captures it all with nets, like a giant mitt catching hundreds of tiny balls.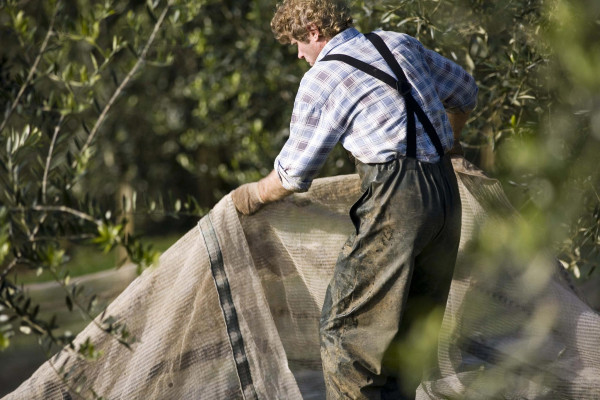 Bracu takes great pride in processing everything on the estate to ensure optimal quality of its oil. Everything is done same day, using top-of-the-range Italian-made Pierallsi processing equipment. I wouldn't be doing it justice if I tried to explain how it all worked but what I can say is that the olive oil that came out of it was by far the best I've ever tasted. I can't say that I typically drink olive oil, but Bracu's claim that theirs is drinkable is completely true. It has a beautiful, fresh grassy aroma and goes down smoothly before surprising you with a peppery punch in the back of your throat. I've never known olive oil to have such an impact but Bracu's is clearly different from anything I've tried before.
Beretta at Bracu
Our final stop on the tour, and right up there with the restaurant as being among my favourites, was the Lake House. It can't be considered a man cave since the activities are outdoors, but it's exactly the type of setup any man-child would go gaga for. This is typically where the groom's party might enjoy a stag do before the wedding or a group of mates and even colleagues would hang out for a bit of clay target, air pistol and air rifle shooting, as well as knife throwing and archery.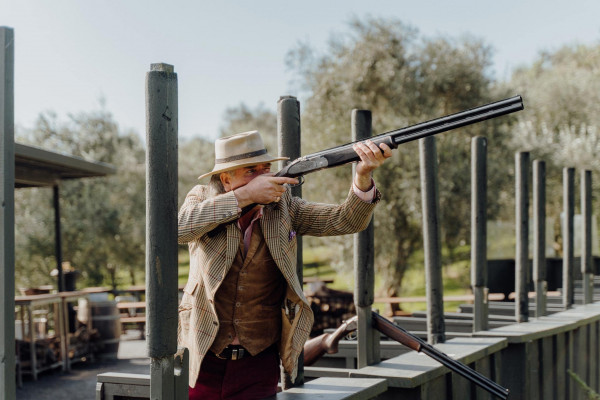 We were greeted by the charming Tim who showed us inside the Lake House which is set up for drinks and snacks, and stocked with tweed coats for you to either wear or just pose for photos in. The hunter within me, though, was itching to get stuck into the action. Wisely, we decided not to attempt the knife throwing given the slippery conditions. Nothing ruins a relationship more than accidental impalement. I did try my hand at archery, however, and while my technique could certainly do with some refinement, it was a thrill to release a few arrows. Although, I feel bad for Tim who I presume had to go find them amongst the bush later.
Next, I tried the air rifle shooting. I considered this a build-up to my eventual clay shooting, and it was a great experience getting used to the feel of the gun and locking in my sights. A few dings of the tin targets and I was ready for the real deal.
I've never shot a real gun before, let alone a shotgun, so I paid extra special attention to Tim's safety briefing. To be honest, I didn't think there was a chance in heck I would hit any of the targets, but with icy cool nerves, I loaded the barrel, brought the stock of the gun up to my cheek, closed one eye and watched the first target float across the sky – boom! The target exploded into smithereens. The feeling was simultaneously electric and fleeting as it was over in a split second. Then came the second target – boom! Yet another direct hit. As it turns out, I'm quite a sharpshooter, I eventually hit one of the more difficult targets on my first attempt as well. I was totally elated with myself and could easily see how this could become a very addictive hobby.
It was the perfect ending to our tour, both Maddie and I came away having not only learnt a great deal about Bracu Estate but also supremely enjoyed ourselves. Without question, I would come back to Bracu whether for a great meal, a private function or just to have a good time. And I would highly recommend anyone else do the same.
Located at 49 Main Road, Bombay, Auckland, Bracu Restaurant is open for lunch Thursday to Sunday from 12pm to 2pm and dinner Thursday to Saturday from 5.30pm to 8pm. To learn more about Bracu Estate's wedding, private events, accommodation and activity packages, visit bracu.co.nz
Facebook: @bracuestate
Instagram: @bracu.estate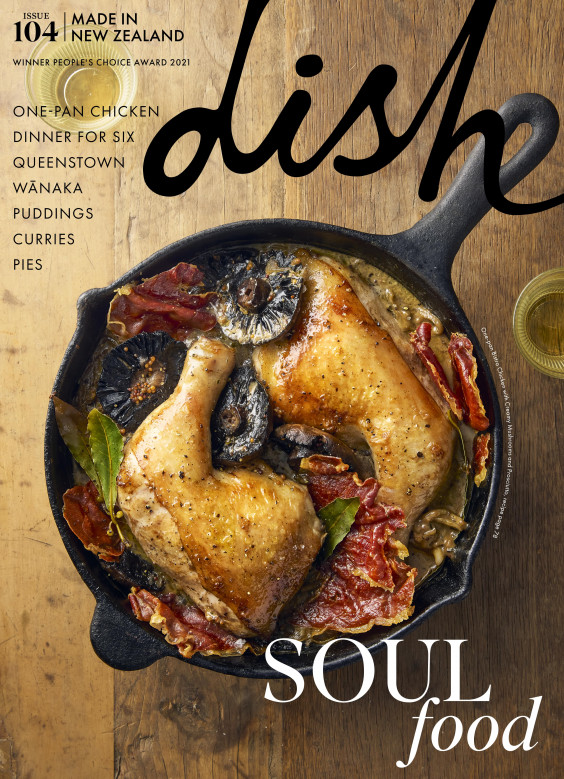 Check out our
latest issue:
Issue #104
The latest issue of dish has arrived just in time to crank up the heat and the comfort factor! Grab a spot by the fireplace with our Après-Ski inspired dishes - think golden, crispy potato rösti and mulled wine. The temperature rises with our spicy curries while our flavourful one-pan chicken dinners keep the dishes to a pleasing minimum. Our Dinner for Six section will bring friends and family together for two festive mid-winter feasts, but beware, the puds and desserts from our Sweet section may cause them to outstay their welcome. There's no time like pie time, but when you don't have any time, our Food Fast section will help you whip up some delicious meals in a hurry.