Tasting Panel – Smoked and Sour Beers
From issue #70.January 10, 2017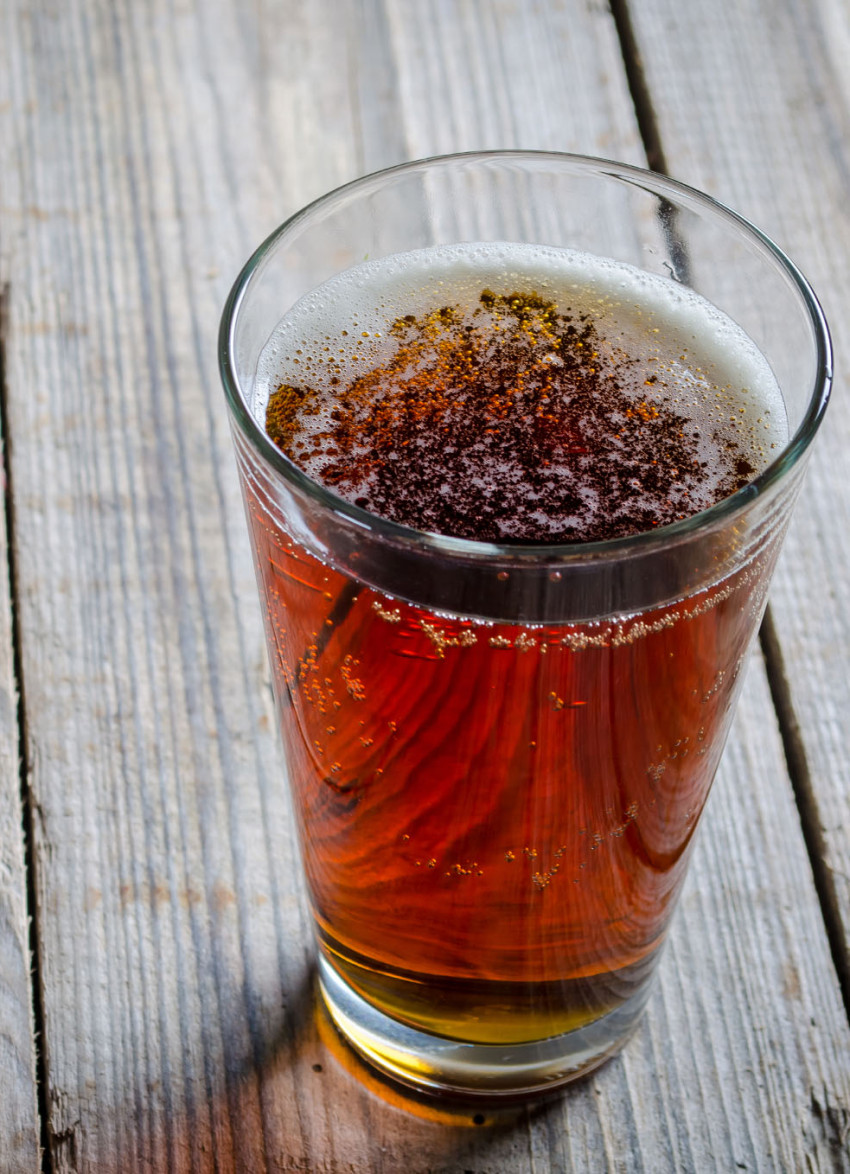 For something a little bit different, the Dish Tasting Panel focused on sour and smoked beers, which left the judges with plenty to say.
Beer in mind
Recently, in the cosy confines of a classroom at AUT in Auckland, our judging team swirled, sniffed, sipped and swilled their way through two dozen of New Zealand's finest examples of packaged sour and smoked beers. A two-in-one tasting if you will. We were thrilled with the number of entries because, to be honest, we had no idea how many would turn up. Despite breweries like Moa having set up commercial sour beer programmes as far back as 2008, these styles are still nowhere near commonplace; which is exactly why we wanted to run the idea up the keghose and see how it poured. As soon as we blew the froth off our top beers of the tasting, we knew we'd struggle to keep to our designated word count because everybody had something to say about them. "Sour beer is something of a catch-all for a variety of styles that have a decided funk on the nose and a tartness on the palate," says Michael Donaldson, our senior judge. "But not all sours are created equal." There are many different styles of sour, including wild ales, Berliner weisse, kettle soured, lambics and gose. Wild ales are fermented using the smorgasbord of yeast strains naturally occurring in the brewery environment. "These tend to have a silage-like aroma and super-dry acidic palate," explains Donaldson, "whereas barrel-aged beers draw their flavour from the bugs that live in barrels.
"Kettle-soured beers are pre-soured with the addition of a lactic acid forming bacteria (think yoghurt) before the beer is boiled and re-fermented with a more traditional yeast." Increasingly common are beers made with Brettanomyces, or "Brett", a yeast which can cause chaos if not managed properly because it imparts distinct barnyard and bandaid aromas and flavours. Our judges were also hoping to see a few gose (go-suh) – an old German beer that's salted rather than "sour" – and we weren't disappointed.
On the other side of the tap are smoked beers. They get their smokiness from the malts they've used. The degree and type of smoked malt used will affect the intensity and flavour. Manuka-smoked malt, for instance, imparts an intense bacon-like aroma. Smoke can be added to pretty much any beer, from pilsner to porter. We found some excellent examples, but they're an acquired taste, hence why there aren't many breweries taking that leap. When it comes to food pairing, steer clear of smoked food – that's overkill. "Instead use smoked beer to offset oysters and blue cheese," suggests Donaldson.
"I was really impressed with the quality of entries," says Alice Galletly. "They were challenging to judge, though. There was so much complexity and variation in the flavour profiles, particularly with the sour styles, sometimes I didn't know exactly what I was looking for until I was drinking it. Yet each of the beers that made it to the top 11 is unique and reflects a brewer with serious chops."
---
Rating System
Gold ★★★★★ – ​Superb. Strongly recommended.
Silver ★★★★ – A cut above the rest in quality.
Bronze ★★★ – A good quality crowd-pleaser.
​
Style/varietal: Smoked and sour beer
Tasting date: November 2016
Entries: 23

Judges:
Yvonne Lorkin (Dish drinks writer)
Michael Donaldson (Beer writer)
Cameron Douglas MS (Senior Lecturer AUT and Master Sommelier)
Alice Galletly (Beer writer)
---
TOP BEER OF THE TASTING

1. CRAFTWORK BREWERY
Red Bonnet Sour Cherry 500ml $16
★★★★★ Gold Medal
Flanders reds have strong fruit characters and the purity and freshness of the cherry notes in this cloudy, mahogany-coloured beer had our judges salivating from the first sniff. "Bergamot, chamomile, tea-like and deliciously dusty," commented Cameron Douglas, while Yvonne noted herbaceous sage and spices. Alice Galletly loved the high, yet perfectly poised, level of sourness. Fresh, funky cherry flavours abound in the mid-palate. "I love the lemony astringency and woody background notes," added Michael. An incredibly fresh, deeply complex beer which demands attention because it's "complete" in every way.
---

2. 8 WIRED BREWERY
The Big Smoke 500ml $9
★★★★★ Gold Medal
The Big Smoke, a porter by superstar brewer Soren Eriksen, was an instant wow moment for the entire judging team. "Lovely smoky smells of bacon and toast and an extremely generous mouthfeel followed by a dry finish," noted Michael Donaldson and Yvonne agreed: "Gorgeous, enticing and deeply savoury aromas of wild pork followed by roasty, nutty, seriously spicy notes on the palate." Smoked with German beechwood and New Zealand manuka smoked malts, Alice loved its peaty "campfire" character and tangy, crisp finish. A beautifully balanced beer and our top smoked entry.
---


3. CRAFTWORK BREWERY
Anniversaire 2016 500ml $16
★★★★ ½ Silver Medal
Here's a beer crafted using Brettanomyces yeast in its secondary fermentation to create a seriously tart and fruity red brett saison. Aged in a Waitaki pinot noir barrel on their own redcurrants for six months, this super-sour has a highly appealing musty, fruity, furry nose. According to Alice, it also demonstrated "a really nice balance of sour and malt in the mid palate". Bright and biscuity, with a layer of dried citrus peel and superb length of flavour, this
was a glass of beer our judges struggled
to put down.
---

4. 8 WIRED BREWERY
Gypsy Funk 500ml $17
★★★★ ½ Silver Medal
This proved to be a brew our judges kept coming back to. It's a complex, funky sour beer with a hit of tropical fruit from being dry hopped with Nelson Sauvin and Riwaka right before bottling. With its invitingly fruit and citrus oil characters on the nose, followed by slightly bretty, biscuit and sourdough complexity, it was definitely an eyebrow-raiser. Each judge commented on the fresh astringency and its lengthy, "calm" finish. "It's an exciting beer," said Yvonne.
---

5. CHOICE BROS
Strung Out on Lasers Gose 440ml $6
★★★★ ½ Silver Medal
Kerry Gray and Mike Pullin are the talent behind what fast became a judges' favourite. "Here's an incredible example of a gose," said Michael. "It's salty, but only slightly, and takes a fruity berry note from the addition of gooseberries, enhanced with the addition of Nelson Sauvin hops to enhance that sauvignon blanc character." Pink-hued and intensely tight and dry, Cameron felt it also had white pepper tones.
---

6. HALLERTAU
Little Beast Barley Wine 500ml $15
★★★★ Silver Medal
At 10% alcohol and eyepoppingly golden, this brew definitely is a bit of a beast. The smoke is more on the subdued side on the nose, but it really ramps up its intensity in the mouth. The smoke layers complement the sweetness in this beer – it's very malt-forward. Plus, this beer reveals a lovely saline note among the heady, yeastiness of the initial palate impact, making it a definite "drink me with food please!" beer.
---

7. MCLEOD'S BREWERY
Blackwatch Smoked Imperial Black Sour Scotch Ale 500ml $18
★★★★ Silver Medal

There was some conundrum about which class to enter this beer – so brewer Jason Bathgate decided to enter it in both. While it scored well as a sour, it really rocked in the smoked class. "Rich, creamy, masculine and boasting a fresh, bitter mouthfeel," commented Cameron. Alice enjoyed the dark, charred fruit notes in the glass and Yvonne loved the peat smoke, coffee, molasses and malt.
---

8. NORTH END BREWING CO.
La Mûre 440ml $6.95
★★★★ Silver Medal
Part of their "Salt and Wood" range, this is a kettle-soured saison, fruited with blackberries. Our judges all noted an intense clove and berry punchiness on
the nose and palate. "This is a highly complex beer," said Yvonne. "The sourness is incredibly clean and focused, there's a hint of baked apple and a gorgeous 'catch' in the throat when you swallow."
---
9. MIKE'S BEER
Fragaria Lambicus 330ml $4.89
★★★★ Silver Medal
This cloudy-bronze lambic style had more barnyardy brett notes in it than you could shake a lamb at. All sorts of crazy descriptors littered the judges notes, "farm animals", "bruised apple", "iodine" and "woolly" all made an appearance, in the best possible way. "It has the perfect nose," said Michael, and by far the most persistent head of the entire flight. A lovely creamy mouthfeel. This was a deliciously challenging strawberry sour.
---

10. CRAFTWORK BREWERY
Autobarn 500ml $16
★★★ ½ Bronze Medal
With its sour pineapple and bruised apple nose and woody tang, this grisette style, second ferment brett style, has a definite funky element to it. It possesses all those barnyard and bandaid characters you'd expect, yet there's a line of vanilla adding to its funk rather than sourness. It's very similar to a farmhouse Belgian saison and it's darned delicious. "It has balsa-like tongue-depresser dustiness," remarked Cameron, "which adds to the complexity."
---

11. 8 WIRED
Sour Poppy Red Ale 500ml $10
★★★ ½ Bronze Medal
This copper-coloured brew is very biscuity, malty and mealy on the nose, which subdues the sourness, until you put it in your mouth. "It smells like sweaty armpits," wrote Michael, "but in a really good way!" Soren adds probiotic yoghurt to the kettle and lets the microbes sour the wort for about two days. Our judges enjoyed the generous hop characters and sound, stonefruit notes. Clean, refreshing and seriously drinkable.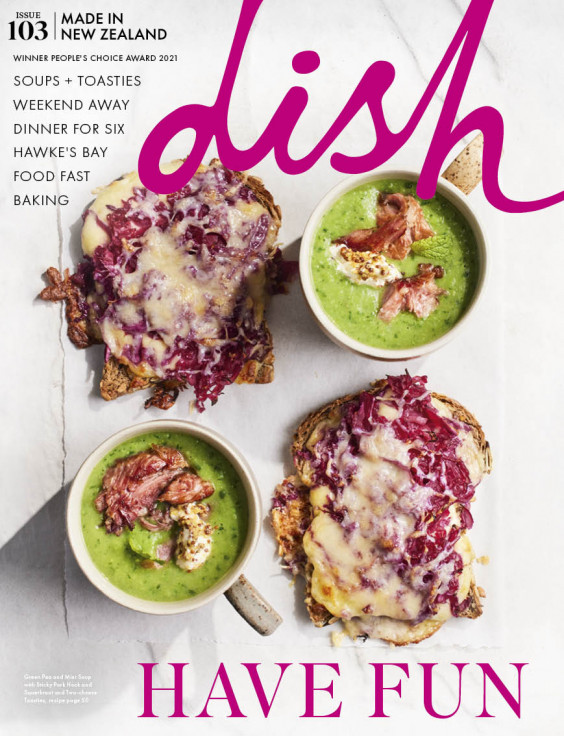 Check out our
latest issue:
Issue #103
Winter is on its way but rather than batten down the hatches, we're ready to have some fun with the latest issue of dish! Get your soup bowls out, we've got all the soul warming deliciousness you can handle, plus outrageously good toasties for a cheesy bit of fun on the side. Next, it's time to hit the road with an epic escape to Black Barn Retreat and some classic comfort food. Back home, there's plenty of sumptuous bakes to tempt you with and even more to tempt your guests in our latest Dinner for Six section. And be prepared for time to really fly by when you're having fun with our Food Fast section!