Tasting Panel - Porters and Stouts
From issue #72.June 12, 2017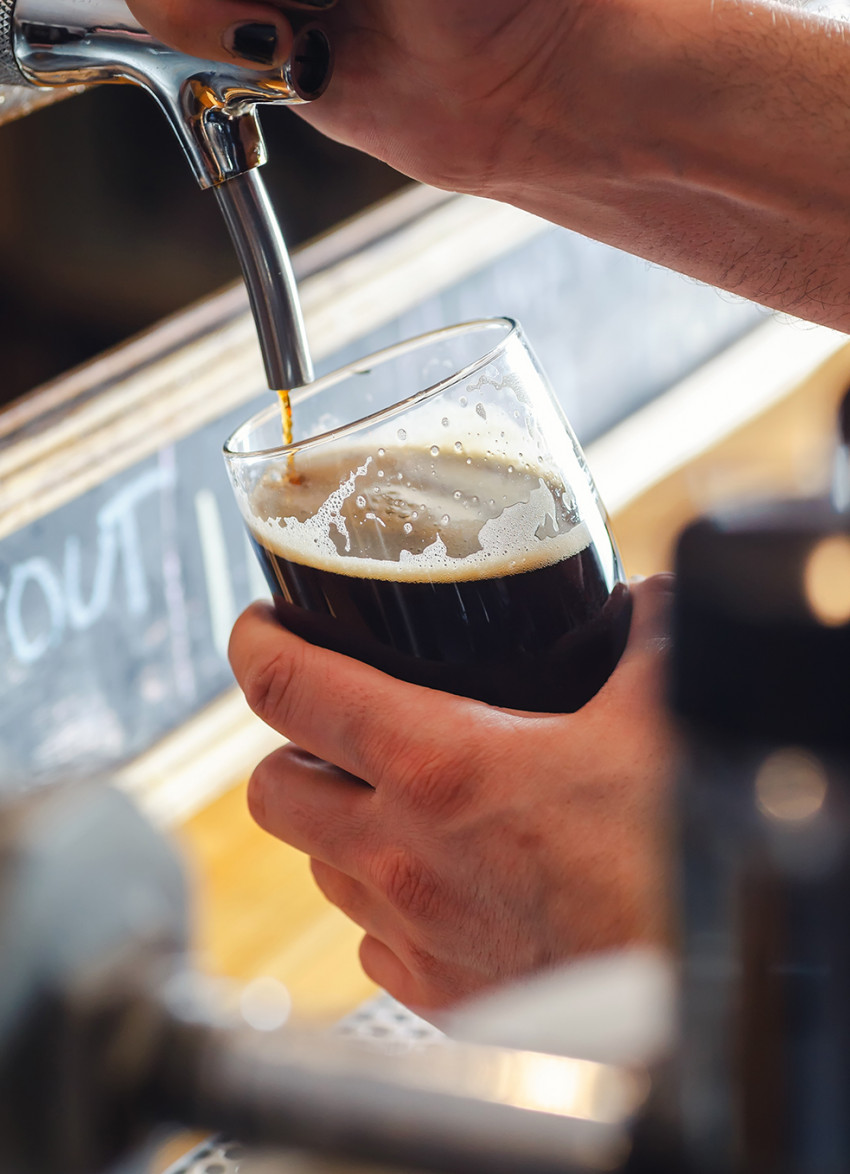 With the cooler months upon us, the Dish Tasting Panel turn their taste buds to the rich and dangerously delicious porter and stout-styled beers.
You know you have something special in the mix when every judge utters an "Oh wow" at little old number four in the line-up of our third flight of beers.

Normally the judging room is silent during the tasting of each flight, (so no one judge's comments influence the others as they concentrate on writing notes and scoring each entry). However, our usually extremely disciplined judges just couldn't help themselves, such was the Hallertau Porter Noir's immediate and outstanding impression.
Now the nights are long and shivery and our crock pots are on constant "low and slow", we felt the time was nigh to highlight New Zealand's rich, dark and dangerously delicious porter and stout-styled beers. And delicious they were, with an unheard of 15 per cent of entries scoring a gold medal (five per cent is usual), with stouts dominating. Our senior judges were Dish drinks writer Yvonne Lorkin; celebrated beer critic and author of Beer Nation Michael Donaldson; and Society Of Beer Advocates (SOBA) bigwig Martin Bridges, accompanied by beer enthusiast and author of How to Have a Beer, Alice Galletly.
Before we announce our school prefects, it's important to differentiate a stout from a porter. A seemlier definition might be that stouts are made with un-malted, heavier roasted barley, in contrast to porters where mostly malted barley is used.
One of the things we marvelled at was how free of faults this tasting was. "It's not just the pilsners and pale ales that Kiwi brewers do well," says Alice Galletly. "The beers in our first eleven also illustrate how diverse the category can be – we have everything from rich, heavy imperial stouts to crisp hoppy porters, and elements like chocolate, coconut, fruit and pinot noir. Even if I did nothing but drink Kiwi porters and stouts all winter (and after this tasting, maybe I will), I doubt I'd get bored."
"My personal favourites (and this is reflected in the overall rankings) were the big, boozy imperial stouts," added Martin. "They're richly decadent and not beers to be quaffed, but they're perfect for sipping slowly next to a roaring fire on a winter's evening."
When it comes to pairing foods with stouts and porters? Easy as. "Try a simple porter with a nice slow-cooked stew, or a richer stout with chocolate cake," urges Martin. "I find a big imperial stout goes wonderfully as an alternative to port alongside a cheese platter and there's nothing to compare with a rich imperial stout poured over vanilla ice cream." And with that, here they are, our Dark Lords.
---
Judges
Yvonne Lorkin (Dish drinks writer)
Alice Galletly (Beer writer)
Michael Donaldson (Beer writer and expert)
Martin Bridges (Beer expert and long-time SOBA member)
Style/varietal: Porters and Stouts
Tasting date: Saturday April 8, 2017
Entries: 40
Rating System
Gold ★★★★★ – ​Superb. Strongly recommended.
Silver ★★★★ – A cut above the rest in quality.
Bronze ★★★ – A good quality crowd-pleaser.
---
TOP BEERS OF THE TASTING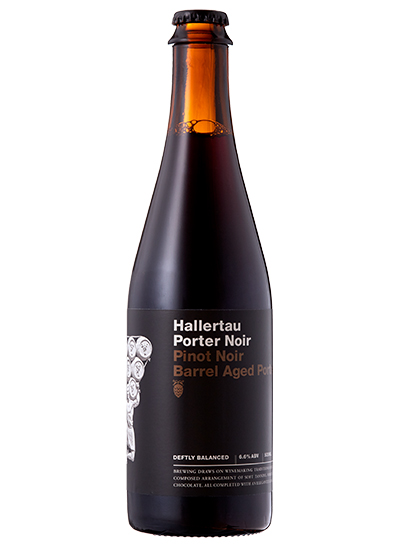 1. HALLERTAU
Porter Noir 500ml ($12)
★★★★★ Gold Medal
"It's like sticking your nose in a red wine barrel," announced Martin of this gorgeous, pitch black porter with the most beautifully persistent, pillowy head. The lift of sour cherries, dark chocolate, elegant bitterness and "pinot fruit funk", according to Alice, catapulted this porter, matured in pinot noir barrels, to the top of the class. With soft, nibbly tannins and complex, textural layers, it was our clear winner. "I love the vinous, tart nose and it's pretty as a picture in the glass," noted Michael. A stunner of a beer.
---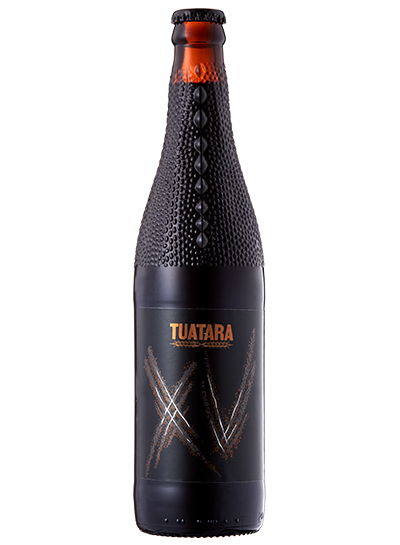 2. TUATARA
XV Russian Imperial Stout 500ml ($20)
★★★★★ Gold Medal
Bottle conditioned and aged for two years, this inky-dark, 11% ABV imperial stout is a sneaky one. The aromas are deceptively subdued with hints of marmite and caramel, but take a sip and your palate erupts with an overload of flavour. "There's a coating of mocha and liquorice preceeding a huge, long finish and lovely bitterness," noted Martin, while Alice caught nuances of fruit. "Dark as night, thick foamy head and its cocoa-malt character hangs in against the alcohol," said Michael.
---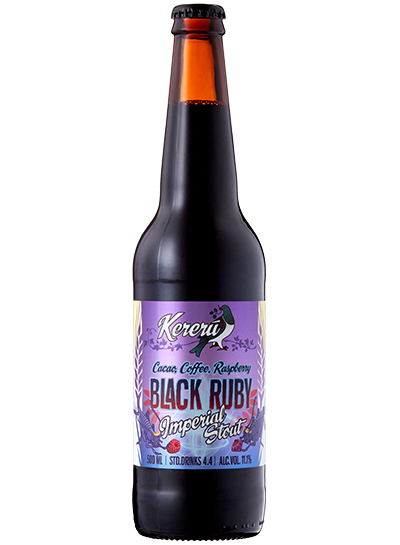 3. KERERU BREWING CO.
Black Ruby Imperial Stout 500ml ($16.99)
★★★★★ Gold Medal
Brewer Chris Mills infused the base of this beer with raspberries, espresso beans and Dominican Republic cacao nibs to produce a stout that had our judges head-scratching and salivating simultaneously. "Complex with fresh berry, cocoa, espresso and lovely woody notes," commented Alice. While raspberry dominates the aroma, it was the layers of brambles, mint, capsicum and chilli that really got our judges going. "A confusing yet amusing beer, with some delicious heat on the back palate," said Michael.
---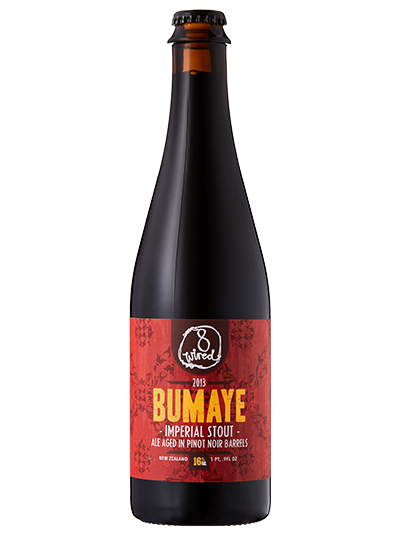 4. 8 WIRED
Bumaye Imperial Stout 2013 500ml ($19.99)
★★★★★ Gold Medal
"This beer is huge," announced brewer Søren Eriksen. "We basically took our biggest, baddest imperial stout recipe, loaded it with yeasts and sugars to push the ABV percentage up to 16%, then barrel-aged it for 3½ years in pinot noir barrels to smooth it out with a port-like finish." A real winter sipper, said Martin. The rich, dark fruits, sweet and sour, sherry-like flavours also impressed Alice, and Michael loved the "amazing aromas of alcohol-soaked raisins and dates, its slick, oily texture and high alcohol heat. I love the umami-like aromas and its dark, brooding, leather and tobacco notes that cloak the vanilla and spice."
---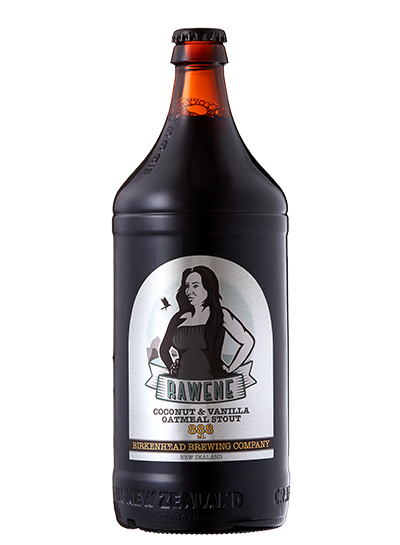 5. BIRKENHEAD BREWING CO.
Rawene Coconut & Vanilla Oatmeal Stout 888ml ($11.99)
★★★★★ Gold Medal
Rawene is the Māori word for "Raven" and this brew is a nod to the glossy, black New Zealand raven which became extinct in the 16th century. Rawene Street in Birkenhead has, since 1913, connected the local village to the Chelsea Sugar Factory, which, by all accounts did not benefit from the brew because despite its glorious, vanilla cola, coffee and toasty cocoa sweetness, did not have any sugar added. A soft, oily, marmite and medicinal note on the finish makes this a complex, conversation-starter of a beer.
---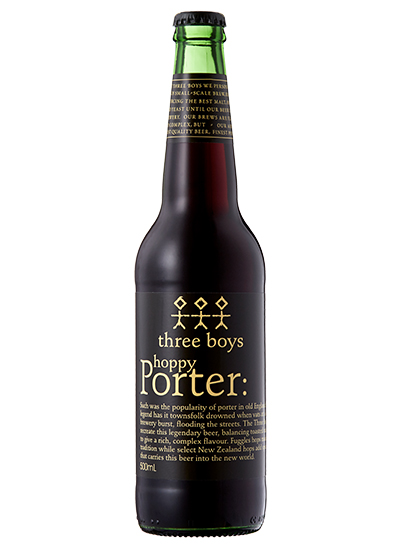 6. THREE BOYS
Hoppy Porter 500ml ($7.99)
★★★★★ Gold Medal
The Three Boys version of porter balances toasted malts to give rich, complex cocoa flavours with a combo of traditional Fuggles hops and Kiwi hops to add spiciness and citrus and pine layers to bring this beer into the new world. "With its hop punch on the nose, grassy firm malt structure and well-integrated hops, it's very hard to fault," said Michael. Yvonne loved the mahogany colour, fresh aromatics, charry, caramelised characters and smooth, vibrant length.
---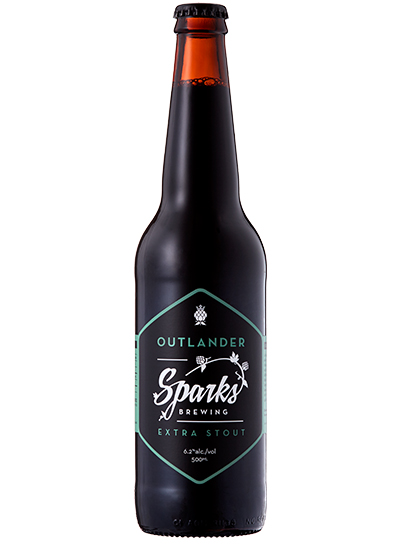 7. SPARKS
Outlander Extra Stout 500ml ($9.89)
★★★★½ Silver Medal
This Irish-style stout by Adam Sparks stood out from the crowd. "It's got a slight blue cheese note on the nose, which is definitely not a bad thing," grinned Martin. "Combine that with rich, dark fruits and solid blend of coffee and chocolate and a rich mouthfeel, it's delicious." Both Alice and Yvonne enjoyed the roasted peanut and smoky, mocha tones, fresh acidity and phenolic, chewy texture on the finish. "It shows savoury, umami notes on the nose, hints of char, ash and a medicinal sweet vanilla element," added Michael.
---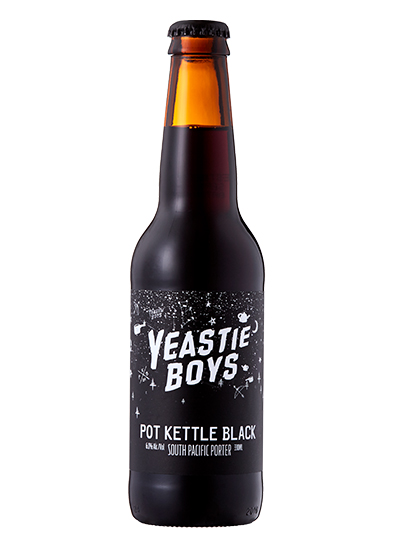 8. YEASTIE BOYS
Pot Kettle Black South Pacific Porter 330ml ($5.99)
★★★★ Silver Medal
Yeastie Boys makes new fans with every batch released. "With its fruity, hoppy nose, which merges with roasted, chocolatey flavours and some orangey, citrus hops, it's a beer I kept coming back to," commented Martin. Our other judges agreed Pot Kettle Black hits that sweet spot between providing a burst of hops alongside robust chocolatey, spicy, fruit notes, precise acidity and an ultra-long, nutty-fresh finish. It's a beer with a great track record for balance and that's such an important element in these hefty beers.
---
9. EMERSON'S
London Porter 500ml ($7.99)
★★★★ Silver Medal
A crowd favourite, this is one of those dark beers that is actually super-sessionable at just 5% ABV. While so many are a meal inside a glass, Richard Emerson's glossy, black and tan version gives all those deep, dark chocolate malt flavours you'd expect, with an edge of cherry and toast alongside refreshing acidity, nice bitterness, and a very smooth, silky texture. "I love the warm, chocolate nose, its smooth palate weight, gentle flavours and pleasurably dry, fresh finish," added Michael. "Vibrant and generous," noted Yvonne. "More please!".
---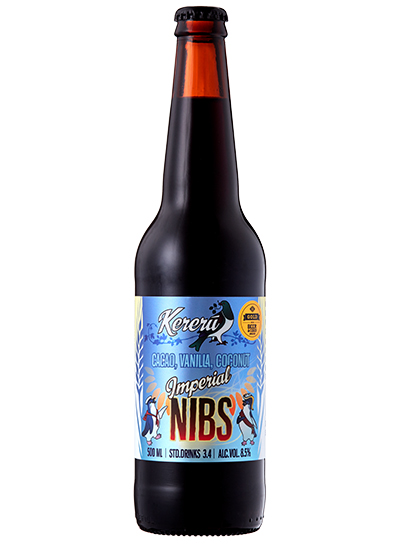 10. KERERU BREWING CO.
Imperial Nibs Cacao, Vanilla & Coconut Porter 500ml ($11.99)
★★★★ Silver Medal
Wow! This is a whole lotta beer inside one tiny bottle. Jet black and boasting a persistent, tan head, there's a rich decadent, liquorice-like sweetness that sneaks through as the beer warms in the glass. "The nose is fruity, with hints of banana milk, chocolate and coconut," noted Alice, who also liked the rich, slick, vanilla-laced mouthfeel. Michael enjoyed the warm dry coconut and cacao characters and soft, slightly hot, medicinal notes, while Yvonne kept chanting "Chocolate Wheatens and Coconut Rough" over and over again…
---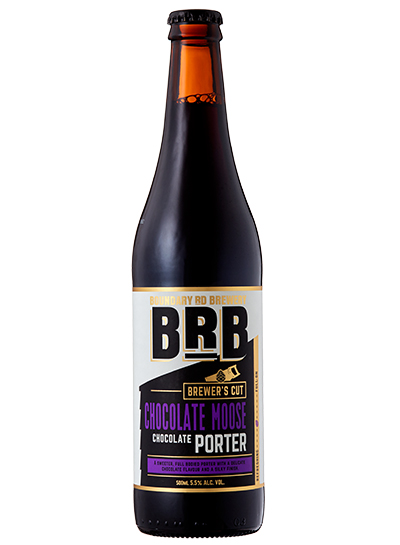 11. BOUNDARY ROAD BREWERY
Chocolate Moose 500ml ($5.99)
★★★★ Silver Medal
This chocolate porter bursts with sweet lollies, raspberry and "chocolate Chex" characters according to Martin, and our other judges agreed. "The mouthfeel is all powdery chocolate alongside dark chocolate notes especially on the finish – it's a very nice dessert beer." Alice enjoyed the sweet banana and chocolate cake aromas, woody notes and its vanilla edge, while Michael called it a "chocolate bomb with fruit cake on the nose, slight green apple and glazed cherry characters and very pleasant". Yvonne couldn't agree more: "Smoky, sexy, balanced and beautiful."
​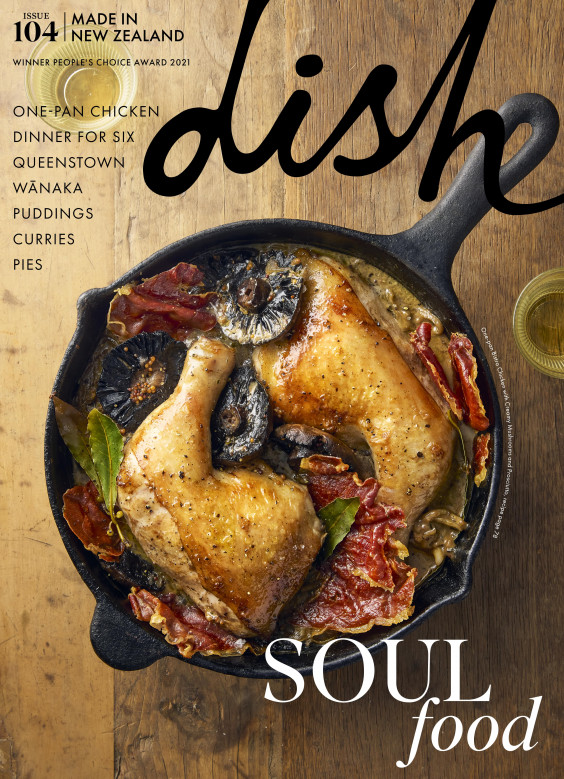 Check out our
latest issue:
Issue #104
The latest issue of dish has arrived just in time to crank up the heat and the comfort factor! Grab a spot by the fireplace with our Après-Ski inspired dishes - think golden, crispy potato rösti and mulled wine. The temperature rises with our spicy curries while our flavourful one-pan chicken dinners keep the dishes to a pleasing minimum. Our Dinner for Six section will bring friends and family together for two festive mid-winter feasts, but beware, the puds and desserts from our Sweet section may cause them to outstay their welcome. There's no time like pie time, but when you don't have any time, our Food Fast section will help you whip up some delicious meals in a hurry.