Cook the Books - New Thai Food
Article by David Parker. February 22, 2015
Photography by David Parker .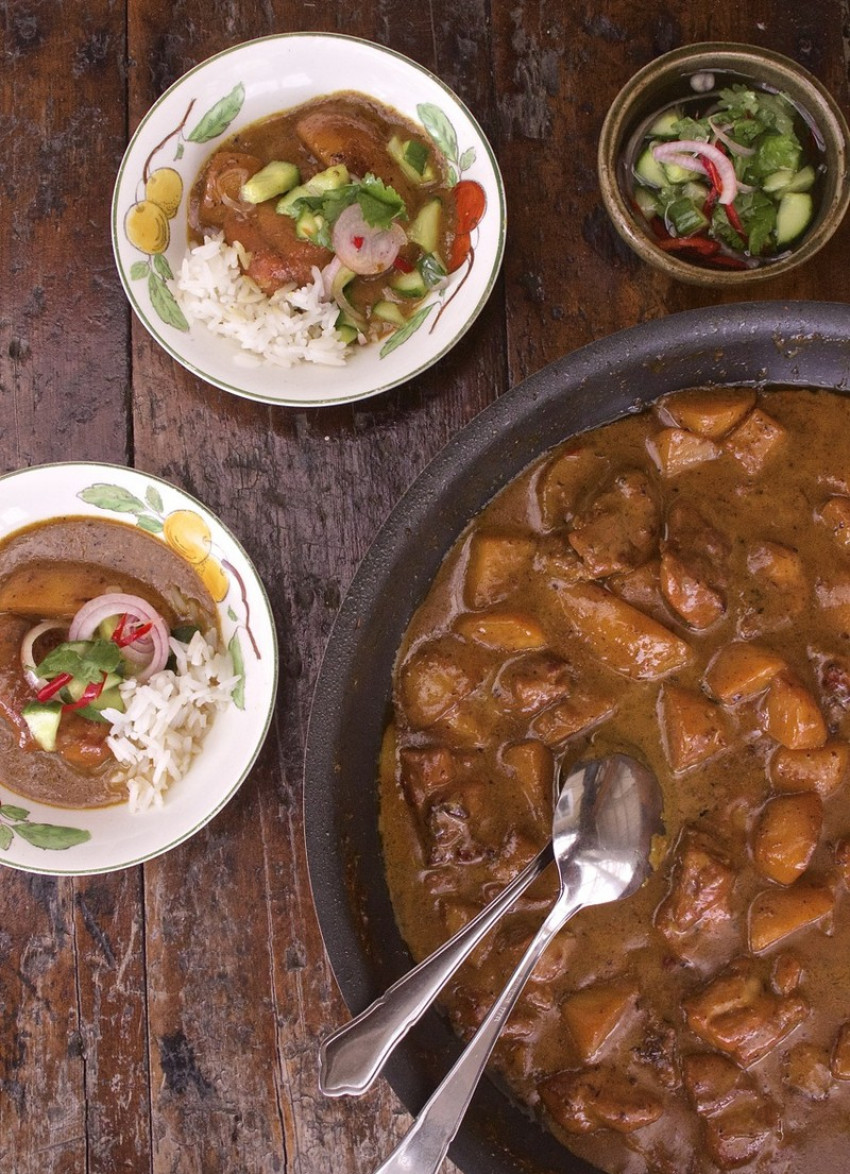 This week David Parker reviews Martin Boezt's latest cookbook, featuring adapted recipes from his Thai restaurants in Melbourne and Sydney.
I was excited about this book - an unpretentious, fresh look at Thai food. It was inspired by some of the dishes from the 13 years that Martin Boetz's Longrain restaurants in Sydney and Melbourne have been open. It takes much-loved recipes from the restaurants and adapts them for homecooks.
Flicking through the book I was a little disappointed that all of the recipes I wanted to try didn't have a photo to compare to (essential for this column). To be honest it's at this point that I generally put a book down in a shop - I know it's shallow but I want to see the photos! I eat with my eyes and I generally read the titles after seeing a photo of a dish that interests me. I decided that the yellow curry would be a good benchmark for the rest of the book (it being a classic Thai dish) after the accompanying cucumber relish caught my eye.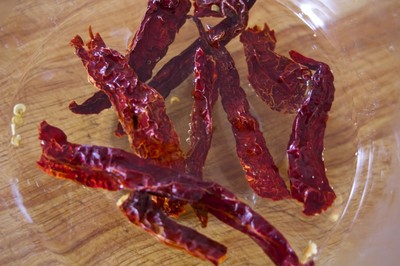 I started with the essential yellow curry paste, soaking red chillies for 20 minutes while getting on with preparing the rest of the ingredients.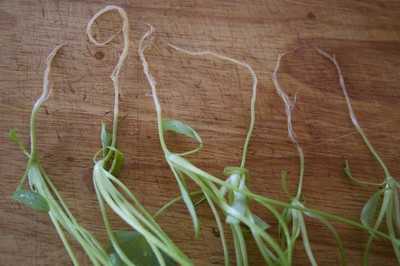 In Thai cooking the use of coriander root is (apparently) quite common; it has more of a subtle flavour than the leaves. I bought a little pot of coriander from the supermarket but the roots were disappointingly small. With the coriander in our herb garden having died a horrible death only a short week ago they were all I had, so I put a bit of the stem in too. I am after all, a big fan of coriander.
The recipe also interestingly calls for fresh turmeric, which looks like ginger if it were actually 'ginger' in colour. I think someone slipped up in the naming department of those two. After somewhat of an ordeal I managed to find it at an Indian supermarket. I'd looked around for a while but couldn't find it anywhere, a staff member even told me they hadn't got any in at the moment.
The search was interrupted when a bird relieved itself on me from the rafters of the supermarket. Just after I had brushed it off a helpful man beckoned me from behind plastic curtains to their storage area and we pulled out a giant box of fresh turmeric! Perfect! It left me wondering if this was perhaps some sort of karmic experience?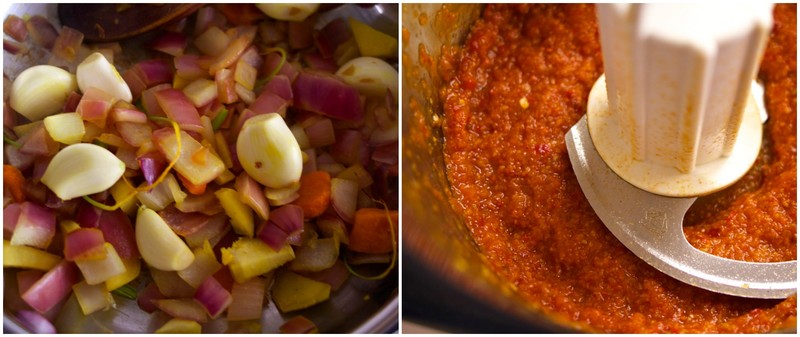 Back to cooking, I dry roasted the onion, coriander root, fresh turmeric, garlic and fresh ginger...oh wait, what is this? The recipe also mentions galangal, apparently similar to ginger, but it wasn't listed in the ingredients! I hadn't bought any so I'd have to do without. I let the dry roasted ingredients cool and blended them into a paste.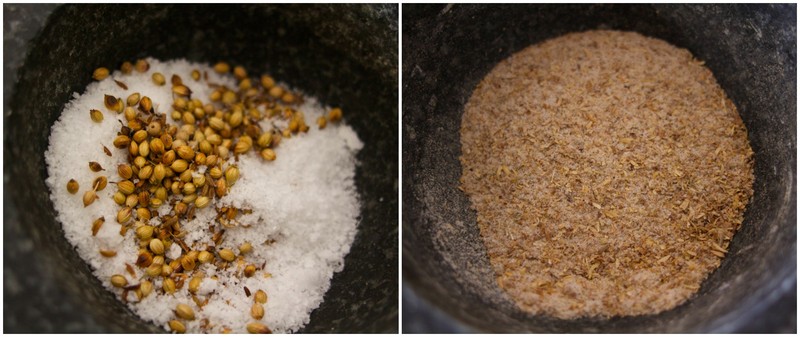 Then I dry roasted the fennel, cumin and coriander seeds. The book said to put them through an electric spice grinder with the white peppercorns and sea salt. I didn't have the luxury of an electric spice grinder so I had to do things the old fashioned way with a pestle and mortar. It took quite some time, but challenge me to an arm wrestle now, I dare you. I added them to the paste and set aside.
Before cooking the curry I made the cucumber relish by dicing cucumber and thinly slicing red onion and julienning (which I took to mean cutting in thin, rectangular strips) ginger and chilli. However, later I inspected the photos and the chilli appeared to be sliced into thin, round slices. It was too late for my chilli, so rectangular they stayed.
The other ingredient needed for the cucumber relish is a sweet vinegar made from rice wine vinegar, sugar, coriander roots and pickled garlic. Somewhat annoyingly there was a separate recipe for the sweet vinegar that I hadn't looked at, so I didn't have pickled garlic and just used a piece of regular garlic. I simmered the vinegar until the sugar dissolved and left it to cool before dressing the relish.
Finally I could start cooking the curry. First I fried the curry paste in coconut oil.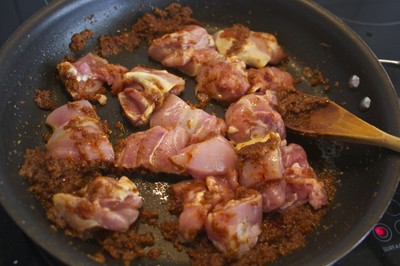 Then in went the chicken. I couldn't find thighs with skin on (I didn't look very hard) so I just went skinless, it's better for you right?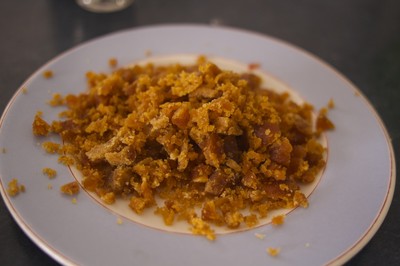 I added the palm sugar and fish sauce and when the sugar had dissolved I added the coconut milk and potatoes then left to simmer until the potatoes were done.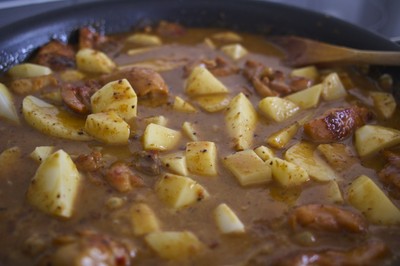 The potatoes weren't done by the time the book said they should be and the sauce seemed to darken up much more than in the photos before they were fully cooked. I had even cut them into smaller bite-sized pieces (as directed by the recipe) rather than the quartered potatoes in the photos. (I actually checked the photo halfway through my chopping, cursed the book and cut a few more to match the photo). The other thing I noticed at this point was that there appeared to be curry or bay leaves in the photo, I re-read the recipe but there was no mention of any leaves being added.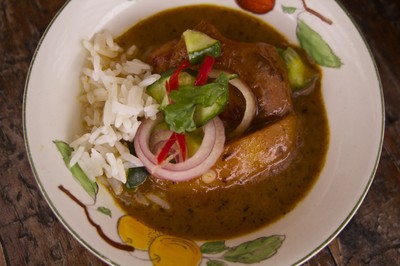 The flavour was VERY intense, the rice and cucumber relish helped balance it a bit but the fish sauce was so strong, I felt like it could do with much less fish sauce, or maybe less salt in the curry paste. I'd even added some more coconut milk when it was cooking to try and tame it a little! The cucumber relish was as delicious as I imagined when I saw it glistening in the book but there was too much vinegar for my liking. When I carefully drained some of it away the freshness worked well to compliment the curry that had been simmering for almost an hour at this point.
I did enjoy it but I think it could do with a little tweaking for my tastes. I can't speak for the rest of the book but there were actually a few little errors in this recipe, as I pointed out, and while they weren't the end of the world I start to lack confidence when ingredients are missing.
The Book Cooked
Level of expertise required: I think there are going to be a fair few ingredients you won't have come across if you've never ventured into Thai cooking before, but the book describes how to prepare them well. Without thinking I chose one of the simpler recipes but the others don't look too complex. I think if you want to get the most out of this book you will need to be patient and really care about food, these aren't quickly thrown together meals.
How many trips to the supermarket: You do need to find the right shops for these recipes as a lot ulitise specialist ingredients. If you're in Auckland, the Indian supermarket in New Lynn had everything I needed.
How closely did the dishes resemble the pictures? Based on this recipe, 6/10 and I am being quite tough here. I'm still concerned that maybe the curry or bay leaves or whatever they were would've made all the difference!
Ease of reading: Very easy! The recipes are simple to read with little embellishments and good descriptions on how to tell if ingredients are cooked properly.
Pretty on the coffee table or destined to be battered? Potentially neither. It looks pretty, sure, and the paper is nice but noone felt compelled to look through it when I left it lying around the house. As for being battered in the kitchen, while I love Thai food I don't think I'd cook these recipes all of the time. There are a few showstopper recipes like the Eggnets with Pork, Prawn, Bean Sprouts and Cucumber Relish, and a few of the desserts look very interesting, but I'm not sure how often I'd actually use this book.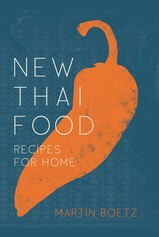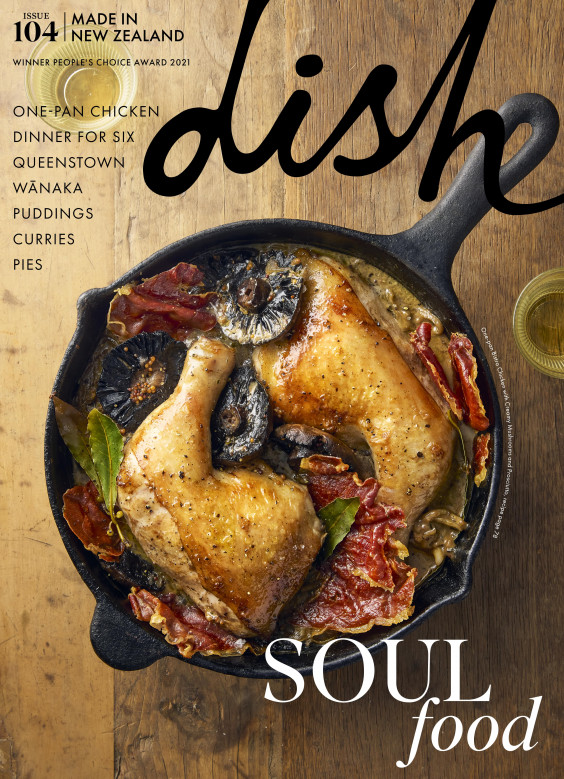 Check out our
latest issue:
Issue #104
The latest issue of dish has arrived just in time to crank up the heat and the comfort factor! Grab a spot by the fireplace with our Après-Ski inspired dishes - think golden, crispy potato rösti and mulled wine. The temperature rises with our spicy curries while our flavourful one-pan chicken dinners keep the dishes to a pleasing minimum. Our Dinner for Six section will bring friends and family together for two festive mid-winter feasts, but beware, the puds and desserts from our Sweet section may cause them to outstay their welcome. There's no time like pie time, but when you don't have any time, our Food Fast section will help you whip up some delicious meals in a hurry.